Bartolomé Esteban Murillo was a portrait painter for today. History records just two self-portraits, but they point past his textbook works to his greatest strengths, in empathy and illusion. With their sentiment and bravura, his figures would look at home on social media. They lead me, too, to a fuller review (abridged here), as my latest upload.
Not that Murillo makes selfies. He takes no interest in where he was on a given day, and he sets himself apart from the crowd, as if literally set in stone. Yet his larger output has no shortage of sentiment and sickly smiles.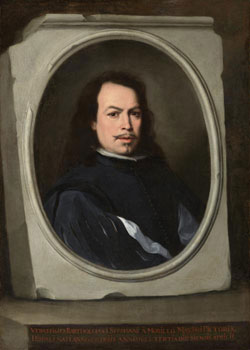 It runs to women and most especially children, dressed like urchins but basking in light. One little boy leans on a sill, but he might have stepped right out of the street. They seem no more important than what the artist and loved ones invest in them, but that is enough.
For all that, Murillo did not often have time for portraits. The Spanish artist found a ready audience for religious paintings and genre scenes, with all their cherubs, ragamuffins, sweetness, and light. With both portraiture and fiction, through February 11, the Frick illuminates his practice of each. It also centers on his two known self-portraits, painted in the early 1650s and around 1670, from barely fifteen surviving portraits. They show him in his thirties, fashionable and confident, and again in his fifties, after the death of wife. They show him, too, staking out the image of the artist over the course of his life and the primacy of illusion in his art.
What if only two portraits of Rembrandt had survived, some twenty years apart? From more than a hundred self-portraits (counting prints and drawings as well as oils), one can trace Rembrandt's growth as an artist and his changing fortunes, but the differences would be starker still. One would see him as a young man, taking pride in his experiments with himself and vision. And then one would see an older Rembrandt, bankrupt and almost defeated, but every inch a painter and every inch a king. Nothing looks more regal than his work clothes and maul stick, which he used to steady his hands while painting—but which he wields like a scepter. And nothing better attests to the growing command of mass, light, layering, and impasto.
Murillo's self-portraits seem far more of a piece—the first a gift to the Frick from Henry Clay Frick's descendants in 2014, the second from the National Gallery in London. He has much the same dark cloak and rippling white shirt in both, as well as much the same precision and light. He seems equally proud in both, too, of his stature as a man and an artist. The Frick describes the older Murillo as forlorn and weary, but he raises himself even taller than before. He also sets both paintings in oval frames, and those frames are fictions. They are meant as trompe l'oeil, or to deceive the eye.
He has painted them both, in the first case with a surrounding stone slab. A collector might have mounted a portrait in just such a frame, but only a well-off collector fully invested in the work. The stone appears chipped and weather beaten, because that investment has already stood the test of time. In the second, Murillo ups the ante, by reaching out to grip the pretend frame. He is calling attention to his mastery and his presence, even if he needs the gesture at his age to bear his weight and to sustain his pose. A shelf below holds the tools of his trade, from brushes and paint to a compass and a fine stylus for red chalk. A transcription dedicates the painting to his sons, because he wants them to know of his achievement.
The curators, Xavier F. Salomon and Letizia Treves, also include the boy leaning on a sill, along with a measured and lively portrait of an older child of noble birth. Which is closer to reality? Murillo is unlikely to have taken his sketchpad to the street, like Vincent van Gogh desperate for a patient sitter. Then again, he did not have to try. Where a Dutch painter might treat even a portrait as a genre scene, he treats a genre scene as a portrait, with a claim to truth in place of a moral. They deserve a place on the Web.
Read more, now in a feature-length article on this site.