Aiming for Gender
John Haber
in New York City
Trigger and Found: Art and Gender
For the New Museum, gender is not just a fluid concept: it is dissolving into a mist.
At "Trigger," the first thing one sees may be a smoke machine. Thanks to Candice Lin and Patrick Staff, it emits an almost invisible spray—of fog fluid touched only lightly by an herbal tincture. The show's subtitle speaks of "Gender as a Tool and a Weapon." Could this, too, be a tool or a weapon, only turned back on gender itself? One could ask much the same about the entire show. It aims high, and it rewards looking, but it cannot quite pull the trigger.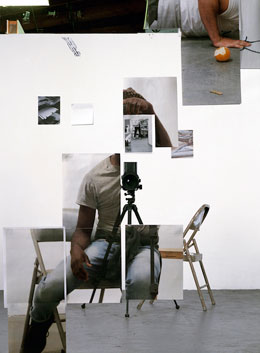 It brings together forty artists and nearly as many approaches to gender. Some positively shout at the viewer, literally or figuratively. Seemingly endless text on the facing wall, from the House of Ladosha, uses block caps on an acid green to rub in its point. Others do their best to vanish, like Carolyn Lazard, who does no more than pipe white noise into the elevators. Many are among the most interesting artists out there. Yet the chaotic presentation may leave visitors and gender alike lost in a fog.
So is there a specifically gendered art? Shows like this may affirm that others can compete with the big boys on their own terms—or probe how their experience has changed the rules of the game. "Found: Queer Archaeology; Queer Abstraction" has another answer altogether: dig deeper. For the Leslie-Lohman Museum of Gay and Lesbian Art, "in a world that prefers we be hidden, we excavate." Perhaps, but they may be covering their traces as well.
The fog of the culture wars
If "Trigger" is lost in a fog, it is the fog of the culture wars. To speak of gender as a fluid concept is already to take a stand. (The museum will not insist that one use the rest room for one's gender at birth, and neither will I.) And the New Museum has been taking a stand since its birth. It was among the first to place "the concerns of the homosexual community" at the heart of contemporary art with "Extended Sensibilities" in 1982. It angered practically everyone with "Bad Girls" in 1994.
Art has always had a vested interest in gender. From men and gods on Grecian urns to the Virgin Mary and from reclining nudes to Cubist fragmentation and postmodern swagger, it has been exploiting, defining, and shattering sex. Cubism more or less began in a brothel, with Pablo Picasso and Les Demoiselles d'Avignon. "Trigger," though, largely sets aside questions of female self-assertion and the representation of women in museums. It concerns itself instead with LGBTQ issues. At least I think so, because show makes it ever so hard to know.
With so few artists and collectives over all three floors for major exhibitions, plus the lobby, it sounds well-paced and conducive to thought, like the 2017 Whitney Biennial. Yet it takes serious work. The curators, Johanna Burton with Sara O'Keeffe and Natalie Bell, arrange matters by neither subject, theme, nor anything else that I can determine. Wall text begins with each artist's past work, leaving one unsure just what it is describing. Much of it appears in low light, daring one to read it. I am still frantically turning the pages in a list alphabetical by artist, trying to recover my notes.
"Trigger" opens with relatively quiet pleasures. One could mistake the smoke machine for a press photographer's equipment or an item in the gift shop a foot or two away. The white noise machines could pass for smoke detectors. The text above the admissions desk and elevators does its share of shouting, but I could not swear to what. Now and then, one might encounter Nayland Blake in the lobby as well. One is unlikely to recognize him or his gender in a bear suit.
Upstairs, things get louder fast but no less elusive. Mariah Garnett speaks of Encounters I May or May Not Have Had with Peter Berlin, a porn star, but her film installation looks more like reflections from a disco ball. An "action center" by A.K. Burns and A.L. Steiner contains porn, but also eggs and a garden hose, and a witch delivers pizza. Liz Collins turns a long corridor into a Secret Cave of paintings, fabric, and ever so much else—including a sock monkey dedicated to Blake. (A peephole in the wall may or may not refer to a landmark in the art of gender identity, Etant Donée by Marcel Duchamp.) Blake's bear suit more often hangs upstairs, too, like the victim of illegal hunting.
Some artists refuse to shout, not even about gender. Nancy Brooks Brody acknowledges her admiration for Minimalism and Agnes Martin. One will have to take her word that the wavy parallels allude to "sites of hidden or illicit sexual pleasure." Ulrike Müller makes the relationship between abstraction and the flesh even more oblique. Diamond Stingily hangs a thick black cord by the elevators, as if it had woven through every floor. One might never know that it owes its blackness to human hair.
Provocations and deliria
Are they failures, provocations, or deliria? Maybe all three, but the artists are up against a tough topic. Most everyone, last I looked, had a gender—maybe even one that a person clings to lest it dissolve in heartbreak or a mist. And, as so obvious from Robert Rauschenberg among friends like Cy Twombly and Jasper Johns just months ago at MoMA, gays have contributed to almost anything that matters to contemporary art. Yet their work looks almost nothing like the younger generation here. That could speak to change and self-discovery or just to curators eager to make a point.
In turn, the mess of contemporary art without an avant-garde has made every single strategy in this show available to all, cis or straight. What distinguishes loosely painted bodies by Christina Quarles here from such influences as Nicole Eisenman and Sue Williams? What distinguishes her from Helen Johnson in the lobby gallery, through January 14? Not much, but then that speaks to the relevance of gender to art now.
It also allows "Trigger" to offer new perspectives on both gender and the show's contributors. It includes artists better known as African American women, like Mickalene Thomas and Tschabalala Self, or Latin American, like ektor garcia. A chandelier of black breasts hangs above much the same thatch hut that Simone Leigh brought to a park in Harlem.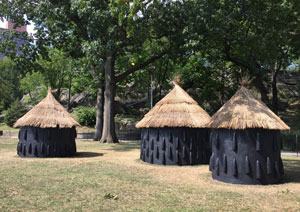 Stingily's braided hair is about race as well. Troy Michie and Paul Mpagi Sepuya revisit the black male, while Wu Tsang adds an I to LGBTQ for immigrant. Pretty soon the acronym will exhaust the alphabet.
The show also includes rising artists that have gained attention quite apart from gender. Willa Nasatir has her near abstract photographs, Ellen Lesperance her fabric art, Stanya Kahn her stoneware of torn heads and snakes, and Sadie Benning the view through car windows on a rainy day. Leidy Churchman runs from exaggeration after Marsden Hartley to abstraction herself. If an herbal fog makes you think of Anicka Yi and her multicultural stories, she appears as well. Her Plexiglas furniture has a haunting transparency and modernity, even with more tendentious claim of bacteria from female art workers. Among slightly older artists, Harry Dodge is still rummaging through whatever crosses his mind, the more scatological the better.
Not that politics has gone out the door. Sharon Hayes is still documenting it on video of students at Mount Holyoke, the women's college. Tuesday Smillie and Sable Elyse Smith settle for slogans, in fabric and neon, and Gregg Bordowitz for a lecture on coming out as gay. Nor has queer stopped meaning camp, just as with the porn and disco ball. Reina Gossett and Sasha Wortzel pour on the glitz and glitter with a trans singer in performance, with her back a cracked mirror. Pauline Boudry and Renate Lorenz call their dark installation, with a debt to Jean Genet, Toxic.
Still, good art can demand attention without posters or theater. The African American woman strutting her stuff, in a video by Vaginal Davis, sings of Blick und Begehren (or "gaze and desire). More often, though, Davis makes hellish red reliefs from nail polish and hair spray. Where the AIDS crisis once established the nexus of art and gender, Josh Faught has his Anti-AIDS Quilt. Connie Samaras photographs a queer retirement community at night. In a show just short of coherence, it could be the one place to call home.
Digging for identity
The Leslie-Lohman Museum may itself take some digging. It has existed in one form or other for thirty years, but I overlooked it until a helpful review in The Times. It lies just down the street from the Drawing Center in Soho, but it has no more space than many a gallery, including Deitch Projects a few doors away. It may ask to play a modest role as well. Selections from the museum's collection lean heavily to portraiture as assertions of LGBT identity, despite a disfigured mask by Nicole Eisenman and a horse bound in white by Deborah Bright as Wild Secret Girl. But then its portraits range from early photography by Wilhelm von Gloeden and Wilhelm von Plüschow to Jimmy DeSana in performance, daubing white stuff in his crotch.
Portraiture appears in "Found" as well, only more layered. Rodrigo Moreira, Troy Michie, Gaye Chan, and Frederick Weston all use collage, overpainting, or folds to suggest a blurring of gender or ethnicity. Photocollage by Matt Lips compiles male role models in western culture. The passage from identity to multiplicity recurs in text art, when Eve Fowler quotes Gertrude Stein: This Is It with It As It Is. That by no means rules out it as it is not.
As curator, Avram Finkelstein two strategies, often at once. Artists may be recovering a sense of identity from found fragments, much like archaeology. That may mean a child's toy for Robert Lucy, sculpted hair spray for Maia Cruz Palileo, or floral slippers for Boris Torres. Alternatively, they may be recovering an identity from its use by others. Karen Heagle takes her self-portrait as a male from Egon Schiele, L. J. Roberts sharpens a memorial to the Stonewall riots by George Segal, and Alyse Ronayne treats her studio to a messy "real allegory" after Gustave Courbet. Ken Gonzales documents a lynching, but with the victims taken out of the picture, leaving only the appalling crowd.
It gets hard to distinguish recovery from effacement. Which is at issue with slim red neon by Lucas Michael, set against the wall like a door without a passage or a picture frame without a portrait? What of sandbags in plaster by Anthony Goicolea, trapped between mirrors as Infinite Compression? What of Anne Frank's house after a visit by Justin Bieber, in an installation by Buzz Slutzky with room on the bed for The Autobiography of Alice B. Toklas and Eichmann in Jerusalem? Archaeology has become less a discipline than a metaphor. So, too, has abstraction.
It appears almost as an afterthought, despite the show's title. Yet it follows much the same strategies of effacement, reflection, and recovery. Michael also buries an image in black graphite, while Carrie Yamaoka treats vinyl and epoxy as a blackened mirror. Nancy Brooks Brody takes the gallery's or the viewer's measure with metal strips embedded in the walls. Alyse Ronayne creates abstract painting with spray tan, Brian Christopher Glaser with shampoo ads, and Sam Gordon with studio sweepings. Still more detritus serves Maika'i Tubbs as abstract sculpture or oceanic stones.
Any archaeological find carries the risk that one may have seen it all before. So too often does the entire show, now that appropriation and abstraction have started to blend together. One may miss true pioneers of gay abstraction, like Robert Rauschenberg and Jasper Johns—or one may prefer an installation by the museum's windows, by Rachael Farmer, for a more personal history. Pairs of white ceramic women navigate mountains of gray quilting. What look like characters from The Handmaid's Tale refer instead to Farmer's Mormon ancestors. They leave it up to the viewer to dig deeper.

"Trigger" ran at The New Museum through January 2, 2018,"Found" and Rachael Farmer at the Leslie-Lohman Museum of Gay and Lesbian Art through September 10, 2017.