Searching High and Low for Video
John Haber
in New York City
The X-Initiative and Aernout Mik
At the X-Initiative, one notices mostly the emptiness. Cryptic drawings by Keren Cytter lie here and there, between puddles of darkness. Video titles like Atmosphere and Les Ruissellements du Diable ("The Streaming of the Devil") hover, ominously or comically, on two walls. A single film by Luke Fowler plays behind a partition on another ghostly floor, although a different film each day. Like his characters, one might as well be stumbling alone in the dark.
Tris Vonna-Michell gives his floor over to three headsets, two small but clunky monitors on pedestals, and two or three photographs of peeling walls. The attendant could be presiding over an abandoned building, and in a very real sense she is. The space has stood in need of a permanent tenant since Dia left Chelsea. (A postscript asks what might replace it.)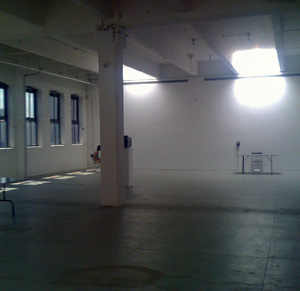 After searching four vast floors for video of nonexistent spaces, are you more confused than ever by the borders between site and nonsite? Did documentary give way to ghosts? Did political history collide uncomfortably with artist egos? All of the above applies, too, to Aernout Mik. His videos take over more floors of the Museum of Modern Art than even exist at the former Dia:Chelsea. Only sometimes, though, does his art know when to take sides.
Emerging artists or survivors?
Of course, Dia:Chelsea did abandon ship, and only the Independent art fair each March has moved in. Stairway lighting by Dan Flavin goes back to its early days, when Dia helped organize Sunday art walks. A few of Jorge Pardo's garish tiles linger in an alcove, where Seth Price delivers an illustrated video lecture on the materials of art, culture, and information. Fritz Haeg even imagines the rest of the lobby's eight thousand square feet as a survivalist community. The four tents of Dome Colony X sit amid the gray silhouettes of the San Gabriel mountains on the walls, illuminated only by light from the street. On a warm summer day, the outside air will have to do for air conditioning as well.
The survivalists may not last long. A consortium of dealers, driven by Elizabeth Dee, is halfway through a year's lease. In fact, the shows upstairs are a lesson in survival—and in the politics of art. Three young artists develop a buzz abroad. They appear in the New Museum's 2009 "Generational," but critics barely notice them and deride the show. And sure enough, barely a month later The Times greets them here like royalty.
Each contributes a memorial to survivors, with a tale of life on the margins—starting with their own. Vonna-Michell, who also performed on Governors Island for PLOT/09, slips between Berlin and Japan. The Brit has only one real character, though, himself. As he describes what he sees, his voice accelerates past documentary or lyricism. Egotism blends into virtuosity and comedy. Even the grungy photographs capture not city walls but previous installations.
Luke Fowler romanticizes madness and Scotland, just as he romanticized R. D. Laing at the New Museum. His documentary about Cornelius Cardew, a quirky composer, played two year's back at P.S. 1. And his Monumental Detours/Insignificant Fixtures lends a housing project an aura of mystery—with isolated walls, glowing street lights, and traffic that may slow up or whoosh by. Richard Youngs, another Scottish musician, slowly intones "Warrior" over it all. For all his reverence, though, Fowler adds displacements of his own. His documentaries may include found footage or, conversely, a close involvement with his subjects.
In one video, Cytter's birthday celebration devolves into drops of blood, and a cake catches fire. In another, friends prepare dinner while barking at one another in an English they may or may not understand. The Israeli artist, who lives in Berlin, hint at a similar story in her drawings. A five-pointed star, for example, designates the rooms of a house and a Christmas tree. Like Fowler's sincerity, her joking references to Hitchcock and Polanski feel awfully serious. For her, too, though, art is clearly not at home.
That same day in The Times, Roberta Smith praised yet another artist from "The Generational." Anna Molska's video looks like a documentary on working conditions in Eastern Europe, but it borrows its dialogue from an old play. Do expectations collide, or does an obscure classic just get a contemporary restaging? Either way, a temporary gallery was tracking an artist before the buzz died. It took a high floor in a Broadway office building, without a name on the door, and the guard had to call up. Talented international artists had come to New York, but careers that take more time and less hype may find themselves mostly on the margins.
Choreographed chaos
I had always thought of the Dutch as an easygoing sort—tolerant of others, kind to strangers, and resistant to authority. With Aernout Mik, the gloves are off. His videos depict a society torn between violence and chaos. They also make it hard to tell one alternative from the other. Most often, his characters cannot either.
In Training Ground, armed personnel compel others to lie prone. Yet people seem to move everywhere and nowhere. Bodies on the ground convulse spontaneously, and others march past to no purpose at all. In Schoolyard, students riot, while more sober figures climb over cars to plead for quiet—or maybe for the cops. The mobs rush off, except when they gather of their own quasi-religious momentum. In Vacuum Room, the meeting of some legislative or international body devolves into boredom, protests, random interruptions, and strewn paper.
In Scapegoats, the threat of fascism grows more ominous still, and so does the threat of unmeaning. Soldiers in fatigues shoot into the air, in an assertion of impatience or sheer power.
They force men and women into an arena, line them up, and give the more resistant a gratuitous kick in the pants. When a soldier hands someone a cigarette, the human gesture only adds to the air of impending massacre. But then soldiers, too, join the lines, while other civilians grab seats, as if to pass the time. The same scarred, bloody faces appear in and out of uniform.
The descent into fascism or chaos need not be paramilitary. For Mik, it may stand for capitalism. Osmosis and Excess slips between the aisles of a megastore and a line of wrecked cars, descending a hillside like lemmings. In Middlemen, stock-market floor traders stare at their computers or into space, pen at ready, as if waiting for a miracle. In each video, the continuous loop has no clear beginning or announced length. Are the masses gathering or dispersing? Is the death blow about to come, or has it already passed?
The viewer shares in the gathering and dispersal. Mik's eight videos require eighteen projections and eight floors of a museum. Vacuum Room covers both the inside and outside of a partition, arranged in much the same U as the meeting table. Each channel carries a separate moment or camera angle, so that one's movements place one in the action. Middlemen occupies MoMA's lobby, where people waiting may or may not be watching, and another video faces the street. It takes a map and some ingenuity to locate them all, like a treasure hunt without treasure.
Mik works fast for such sprawling epics. Most date from just a few years ago, although he created Schoolyard for this show. The crowds recall Spencer Tunick, with his preposterous nude scenes. See where MoMA's commitment to education leads? Andreas Gursky might have photographed the public spaces of Middlemen and Scapegoats, but without the action. At his best, though, Mik conveys real dread.
Video art as war games
At their worst, Mik's videos convey nothing at all. The scattered installation increases the risk. I might worry more about the breakdown of democratic norms if I were not in search of yet another video monitor behind the sixth-floor toilets. In Fluff, from 1996, the actors, too, are going nowhere fast. Young men sit around unwrapped furniture, like a dorm room the week before classes. So what if a stray sock lands on someone and sticks to him—or if a dead body lies on a table in the center?
The installation also calls attention to the museum's limits. Could MoMA's 2004 expansion have added floor after floor of wasted space, like a shopping mall during the recession? Debates over women artists relegated to storage point to a real truth, sexism aside: the permanent collection has outgrown the museum. Mik's tour of eight stories suggests that the museum has also outgrown its collections. The museum that defined Modernism now spends most of its square feet hiding video monitors from a whole other millennium.
Mik's video belongs to that age. It is the spectacle of the society of the spectacle. No wonder his political agenda comes to life only when he discovers high production values. Yet the most ingenious video applies the same editing to mere outtakes. Near the basement theater, Raw Footage takes unused newsreels of the Bosnian wars—from men hiding from shells to children playing with grown-up guns. When soldiers herd civilians into cars, are they uprooting the innocent or bringing them to safety?
Mik succumbs to perfectly familiar temptations. He wants politics to become poetry. He wants a political theater to become theater. He wants to navigate between preaching and saying nothing, at the risk of both. Any number of very good artists, from Emily Jacir to Eve Sussman, have done them all. On top of that, he is good at them.
Raw Footage alone makes the dilemmas of political art urgent. Where does random gunfire escalate a war? Where is it so hard to tell warriors from civilians and war criminals from saviors? Where does the innocent eye become an indifferent bystander to murder? In the real world, of course. Mik wants those questions to run through his fictions as well, even if they do not always succeed.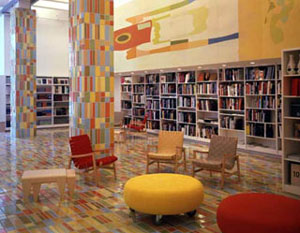 When they work, the videos feel both staged and real. In Middlemen, paper from stock trades falls to the ground in slow motion. It shares the dreamy realism of a ticker-tape parade, in documentary footage of Lower Manhattan by Jem Cohen. In Raw Footage, the sole video with sound, soldiers slam round after round into their rifles as in a ritual. Each click also belongs to the present. Mik may want his parables larger than life, but every so often they return to earth.
A postscript: Dia:Nowhere
Amid the buzz over the X-Initiative and plans for a Whitney move to the Meatpacking District, one can easily overlook a discordant note. Sure, the plan gives a great museum the space it needs, scales back disruption to its neighbors and to its own architecture, saves money in the process, and anchors development of the High Line. It brings the Whitney closer to hundreds of galleries—and, by implication, the display of living artists. However, Dia:Chelsea has made all this possible in the worst conceivable way, by giving up on Manhattan. It has become Dia:Nowhere.
To his credit, Jerry Saltz keeps hammering home at Dia's progress from "clueless to criminal." Ironically, the Whitney comes closer to Chelsea only because the foundation that seeded the neighborhood has abandoned it. Dia's home on West 22nd Street stands deserted, Jorge Pardo's bookstore tiling muted even in sunlight. An institute once dedicated to recent art now rises above it all, in the stately monument to Minimalism called Dia:Beacon. All that remains of Chelsea's origins are the plinths and trees that Joseph Beuys planted along West 22nd Street, now with the ironic overtones of a graveyard.
Instead of merely lamenting, Saltz asks who else might tenant the building. He suggests the Drawing Center, still in Soho without its promised place at Ground Zero. I shall guess that Dia's four stories would quadruple its space. However, it might find that excessive, and it might have to scale back Dia's galleries meant for large work. It might encounter whatever structural problems supposedly plagued Dia's ill-fated restoration. It would ignore the cultural growth of lower Manhattan in favor of a ridiculously overdeveloped arts scene, and it might run into financial obstacles without government funds dedicated to the blocks near Ground Zero.
Besides, the Drawing Center would have to get its act together. While I do not rule the idea out, then, how about some other ideas?
The Studio Museum will open a branch, as Saltz also suggests, but only if Mary Boone takes her stable of white males to Harlem.
MoMA will build some more, after assuring the board that it will not really add space for the permanent collection.
David Zwirner's gallery will simply take over all of Chelsea and be done with it.
Martin Creed will install electric lights, shocking England by winning the Turner Prize all over again.
Marina Abramovic will live there for good, at least until her retrospective, stark naked and subsisting only on bread, water, and take-out from Mario Batali.
It is already a work of performance art, only no one has noticed.
Dia will open a discount ticket booth for trips up the Hudson.
The chain stores in Soho will finally catch on that galleries have moved and want a piece of the action.
Tom Wolfe will declare it a landmark!!!!!!
Fed-up gallery-goers will preserve it as one last respite from art.
I report. You decide.
Note: On February 20, 2007, Dia hired a new director, Jeffrey Weiss, from the National Gallery of Art in Washington, to replace Michael Govan, who had departed for the Los Angeles County Museum of Art. Weiss soon left, and on June 23, 2008, Dia announced that it had hired Philippe Vergne, deputy director of the Walker Art Center in Minneapolis. The Whitney finally voted for its new site on May 25, 1010.

Keren Cytter, Luke Fowler, and Tris Vonna-Michell ran at the X-Initiative through October 25, 2009. Anna Molska ran at Broadway 1602 through September 5, Aernout Mik at the Museum of Modern Art through July 27, and Anthony McCall's latest at Sean Kelly through July 31. Later reviews follow the X-Initiative into "phase three" and the Whitney's vote for its new home in the Meatpacking District.