Moving Images
John Haber
in New York City
The 2011 New York Art Fairs
Blown over by the art fairs, in the damp wind of a first March weekend? Thrown by so many unrevealing single syllables, like Pulse, Pool, Verge, and Scope? Still cannot remember that the Armory Show left the Park Avenue Armory years ago, while something else entirely has moved right in? Dismayed by the raft of alternatives?
You should be, with good reason. The Armory Show alone had nearly three hundred exhibitors on its two Hudson River piers, ever so close to midtown Manhattan and ever so far. And it shared more than a few with the Art Show in the armory. Even Independent has spawned a competitor, only half ironically called the Dependent. On that Friday evening, on a dark street at a small hotel, a long line formed for an elevator to see it. It could easily have outnumbered the entirety of weekend visitors to Soho galleries as late as 1980—and yet, for all the hype and all the talk afterward, the major fairs have lost exhibitors, big time, in just two years.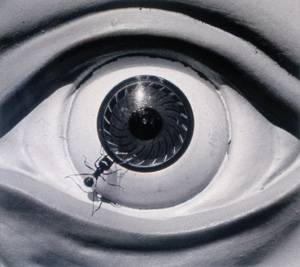 I felt confused myself this year. Verge has left for Dumbo and spread out, into something more like a routine open-studio weekend, but excluding the neighborhood artists. Pulse has contracted into the faceless Metropolitan Pavilion in Chelsea, where it picks up yet another art fair named Impact upstairs, while Scope has left Lincoln Center Plaza to take its place downtown on West Street. Had one fair become ever so much better? Had the other lost it entirely, or had I? Maybe both, but not for trying.
Modern or contemporary?
The dynamics are as complicated as the art market in the recession. Big money has regained its clout as (like the fairs themselves) seemingly an irresistible force, while art provides more people with cheap thrills than anyone would have dreamed in the days of Soho or East Village art. The Armory Show now shares tickets and a shuttle bus with another once defiant competitor, Volta. And I could not help noting just how young and into it those waiting for an elevator truly were. They could have had other alternatives, too—including a whole fair just for Korean Art and a brand new one, Moving Image, just for video. You know, I dreaded it all, and it was fun.
Just to anticipate questions, the fair in the armory has quality from start to finish, while the Armory Show can at least claim to have everything, although the 2009 Armory Show had at at least a hundred booths more. The first, run by the American Art Dealers Association, displays the likes of Helen Frankenthaler and Joseph Cornell in calm, capacious surroundings. Dealers are mostly from New York, many on the Upper East Side. When Greenberg van Doren lends part of its booth to Eleven Rivington, it shows how much the Lower East Side has entered the mainstream, but it feels like a gift. Indeed, the entirety benefits the Henry Street Settlement. Art, economics, and idealism are getting harder and harder to sort out.
The Armory Show still looks like an encyclopedia, but it may have to settle for the collected works of Joyce Carol Oates. Compendious, dependable, fashionable, and slightly racy, as scrutinized in photographs this year by Andy Freeberg, the fair has people jostling for room to move between its piers. A focus on Latin American or Caribbean art helps connect the piers as well. Yet one cannot help noticing the gaps, between defectors and galleries that skipped the whole costly ritual. The few single-artist booths look stranded, like a fence of neon lights by Iván Navarro for Paul Kasmin. It would work just fine for a dog run in Vegas.
Still, the Armory Show answers a pressing question, even with Frieze from London still to hit New York. Is Modernism dead? Apparently so, at least since last year. That is when the fair sorted out the modern on one pier and the contemporary on the other. Naturally, the latter pier is shorter, wider, busier, and more confusing to navigate. I could swear that it radiates out from White Cube, the London gallery known for Damien Hirst.
But just what counts as modern? Of course, galleries have their own answers and short memories. One expects, no doubt, to find a heavy emphasis on American art from Charles Burchfield through Robert Rauschenberg. One expects dealers, too, to consign any number of living artists to the past, such as John Chamberlain (who I should add died later in the year before a Chamberlain retrospective) and Alfred Leslie, although Leslie keeps fighting back. After all, that translates into higher prices. One may not expect Barbara Kruger, Cindy Sherman, Stephen Westfall, or Julie Mehretu.
One may not expect, too, how quickly the market churns through the past. Only months after Leo Castelli and the Met's roof held Big Bambú by Mike and Doug Starn, a print goes for sale elsewhere. Even Alex Prager counts as modern. It makes a kind of sense, since her redheads in photographs and video draw on film noir as well as fashion. Yet they belong to a New York decades younger than that in the photorealist streets of Richard Estes. In art fairs, as in art, past meets present whether it wants to or not.
Child-friendly alternatives
The Armory Show confirms something else as well. Money cannot buy everything, and I do not mean love. Sure, a gorgeous history includes Joan Mitchell, complementing her display at Lennon, Weinberg. The modern has surprises, too, including a weighty tabletop mosaic by Lee Krasner and an early painting by Willem de Kooning, then still studying Cubism. Yet it has too much lesser Abstract Expressionism and Pop Art, too little of textbook modernists. For the record, if you see a work by Pablo Picasso, just leave it alone, please.
The fair has one last lesson. With growing popularity, art has also grown child friendly. For a few days, one can set aside battles over censorship of art. People want a chance to pose in front of cute giant animals, and they definitely get their wish. Much the same dynamic colors Volta NY, now a sister show. It has big works, bright colors, familiar imagery, and an imitation Jean-Michel Basquiat.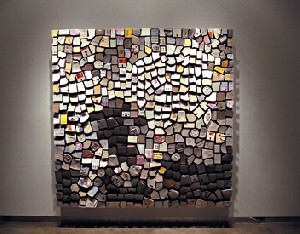 Volta in its first year was a breakthrough. Christian Viveros-Fauné and his colleagues invited galleries to escape the bustle and anonymity, by displaying a single artist. By now, though, key galleries appear to balk at the constraint. Perhaps they need to move their wares to collectors and art advisors hitting the city for just the weekend, which means display in bulk. They can also find more of their peers in other fairs—and thus, perhaps, more clients. They have their own exhibitions when they wish to spread out or to focus.
I enjoyed seeing again a Trash Mirror by Daniel Rozin, at Bitforms. His found materials create a shadow of passers-by caught on camera. They have uncanny echoes in the digital patterns of light from Jim Campbell, in Madison Square Park this winter and with Bryce Wolkowitz gallery in Moving Image. Rozin got there first—and less complacently at that. I saw little else, however, from New York. Galleries from elsewhere, too, are more reluctant to treat a single artist to a single installation or a simple hanging, rather than a cluster of objects.
Is there any alternative? Artists themselves keep asking, as in a recent history of alternative spaces at Exit Art. And the market does not make the answers any easier. Of course, artists can book their own hotel rooms, as at the Gershwin for Pool—but the results, with few exceptions, are not pretty. They tried the same strategy last year for Verge, at which I spoke on conceptual art and the handmade. To capture a Brooklyn accent for its move to Dumbo, one might rename it Voyage.
They do a little better at the Dependent, thanks to risk-taking dealers and rooms better suited to a nap. The curators include Canada from the Lower East Side and many names I simply did not know. Another room has a duly smutty video collaboration of Larry Clark, Matthew Barney, Richard Prince, and others. A stuffed animal by Mike Kelley has a comfy spot on a hotel bed, and people cannot resist cuddling it. Still, hotel rooms amount to very costly open studios. Besides, those elevators do not come often.
The pulse of the independent
It may help to turn to a fair that staked out an early position as an alternative. And Pulse still does the job as well as any, with several underrated galleries. They might be from Chelsea, like von Lintel, which has displayed swirling illusions by Mark Sheinkman and the tracks of light by Marco Breuer. They might be the unusual cluster from down near the Holland Tunnel, like Art in General and Pablo's Birthday, which has displayed the stranded gender icons of Carla Gannis. Quaintly but lovingly, Simon Okstheyn for Black and White in Williamsburg has photographed old manual typewriters. Another Brooklynite perpetually on the move these days, CTS, displays the art of an unraveled American flag.
Yet Pulse can also feel chastened—not just by defectors, but also by its move from piers and then a warehouse off Houston Street. It no longer has room for installations set apart. Booths simply stock gallery artists, and more and more represent cities hoping to be up and coming. A Toronto gallery displays a painting of Harlem River bridges, while a German photographs the reading room of the New York Public Library. The first thing I saw was Isidro Blanco's New York skyline tilting off the wall at Black and White. This fair is a home away from home.
Actually, Scope lies half a block south of that West Street location. It was worth a visit just for the bathrooms, parked out back. This must be New York's only Hudson River trailer park. Scope also gets to sprawl out, changing in the process from embarrassingly cheesy to ostentatiously so, filled with giant ants, nudes, and tapestries. A sign directs one not just to water and cookies, but also to the promise of love and condoms. As so often in life, I found neither.
Scope is all about blowing up the familiar to poster scale. It also has few New York galleries to help, although I spotted at least one Lower East Side newbie, Hendershot, with mildly surreal faces by Michael Chistiakov. First, however, I saw issues of Artforum, sculpted into colorful rolling landscape—from Francesca Pastine at Harwood, a San Francisco gallery. These Excavations are not just appropriation art and not just appropriation of the art world, but also perilously close to Noriko Ambe without Ambe's rich allusions to her source materials. The most garish booth of all parodies a gallery as obviously as possible, with gilding and carved frames out of Pierre Gouthière before the French revolution. It calls itself Artists Wanted.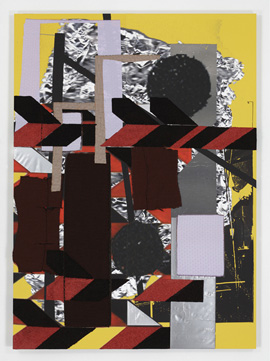 And so they always are. That is why I came more and more to value two last fairs, Independent and Moving Image. Elizabeth Dee and Hotel, a London gallery, started Independent in 2010 in the former Dia:Chelsea. Dee has since used the space for other collective efforts in the X-Initiative. The fair has an auto body at its center once again, this time partly remade by Folke Köbberling and Martin Kaltwasser into motorcycles, for Jack Hanly. After similar mash-ups in just the last six months by Liz Cohen at Salon 94 and at least two others in Chelsea, I want this cliché to end.
Like the automobile, Independent in its second year still has its uneasy combination of the established and the edgy. It includes Feature from the Lower East Side and White Columns, the nonprofit. It has room for art presses, and it has a wide-open layout that alone declares democracy and attention to art. So what if they jostle for room with Gavin Brown and posh dealers from London and the Continent? So what if different displays get different amounts of floor space? This, it says, will be about works of art, not dealers.
Which images to seek
On the other hand, it can intimidate anyone who wonders exactly what anything is. Not much comes labeled, and one may not dare to ask. One may also sense a transcontinental style, with a matching theme of transit. One can connect a metal cube with a kind of grand tinker-toy interior, by Michel François at Bortolami, to a metal screen by Carol Bove at Hotel one floor above. One can see them both, too, in hints of architecture in collage by Meredyth Sparks and Lizzie Fitch at Dee. One can move easily from the auto or from François's Ciel Bleu (blue sky), an entire of wall slightly crumpled light blue paper, to an airplane fuselage elsewhere.
As one artist's wall text has it, one may not know "which images to avoid, and which to seek." Still, from the moment one enters, one knows that this fair means business. It starts with a new painting by David Salle at Maureen Paley of London, of a woman falling below a threatening wire fence and twin light bulbs. It includes big abstract painting with a hint of the conceptual, by Walead Beshty at Wallspace and Victoria Morton at the Modern Institute from Glasgow. When Ida Ekblad, at Karma International from Zurich, threads a massive rope through steel, Mark di Suvero might have come to grips with the Chelsea Piers. One can always ascend to the roof for a great view, to know for sure.
Along with risk and adventure, art fairs go light on something else as well, new media. Video takes time, while fairs demand a relentless pace. Besides, videos take electric outlets. In its first year, Moving Image squarely addresses both and, for me, did much to salvage a long weekend. It takes over Waterfront New York, off Eleventh Avenue in Chelsea, for just three dozen works. It keeps the loops fairly short as well.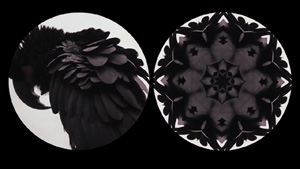 As for power, it runs two parallel brackets down the tunnel-like warehouse, suspending identical flat-panel monitors from each. This encourages a certain uniformity, although Moving Image does allow three sizable installations. Artists tend toward slow, natural movements, whether in nature or in dance. They float and swim. Airplanes appear to pass back and forth beneath a ceiling light. Martin Kohout from Future in Berlin even calls his video Moon Walk.
Winkleman, which helped organize the fair, contributes three of its artists, including Leslie Thornton and Janet Biggs. P.P.O.W. takes the occasion once again to stick up for David Wojnarowicz and Carolee Schneemann, whose mop plops down on a TV bearing the image of an Arab woman—with a very funny as well as punishing beat. Pace contributes with Corban Walker digital self-portrait as a surly dwarf and with Michel Rovner in a variant on her video petri dishes, and James Cohan and Elizabeth Dee contribute as well. Galleries this classy are definitely moving images.
So, however, are less well-known Europeans like Shana Moulton, who crafts a Philip K. Dick novel out of Pepto Bismol. So do two from the Lower East Side with disturbing approaches to commerce and gender. Glen Fogel for Participant, Inc., displays an engagement ring rotating on surrounding screens, while Genesis Breyer P-Orridge for Invisible-Exports continues his (or her) merging with his late wife by painting with her blood from a shattered perfume bottle. The first looks to me no more challenging than actual advertising, while the second creeps me out, but they are a huge step from cuddly animals—and a reasonable step for the art fairs. Rovner shapes her tiny images of people in motion, shot from above, into the brush of calligraphy facing typography that never quite reveals its words. If most art fairs seem exclusive, this one is still an open book.

The 2011 New York art fairs ran March 3–6. Portions of this review, concerning Pulse and Scope, first appeared in Salondagmara. Updates take up the 2012 art fairs including Frieze New York, 2013 art fairs, 2014 art fairs, 2015 art fairs, 2016 art fairs, 2017 art fairs, and 2018 art fairs, including Frieze and NADA. Another related review reports on a panel discussion of "Art Fairs: An Irresistible Force?"