Multiple Exits
John Haber
in New York City
Exit Biennial: The Reconstruction
Jeanette Ingberman: 1952–2011
Like everyone else, sometimes I get fed up with art. Tired of high-rent galleries, fat artistic egos, and pompous subject matter? Consider Exit Art. In its new home, the legendary alternative space leaves an entire exhibition under construction. A postscript eight years later says farewell to a co-founder and with her, ultimately, an institution.
Alternatives
Exit Art could have chosen its new location with its name in mind, not to mention its mission as an alternative to the Manhattan art world. As I left, I nearly wandered onto an exit ramp from the Lincoln Tunnel. It gives new meaning to the bridge-and-tunnel crowd that flocks to a Soho that even Exit Art has left behind.
One can almost forget the Chelsea scene and its pretensions just a few blocks south along Tenth Avenue. Biennials, between the Whitney and abroad, diligently comb galleries and studios. Yet they end up anointing dealers and artists, in and beyond Chelsea, creating a kind of perpetual art fair for the age of globalization. For its reopening exhibition, Exit Art discovers something of value in perpetual starts. It invited entries, and I knew none of its roughly three dozen artists, chosen from some six hundred submissions.
One can definitely forget New York's perpetual plans for the raw neighborhood, south of Clinton (or Hell's Kitchen) near the city's troubled convention center. When it calls its reopening show "The Reconstruction," it could be speaking for more than art.
Then again, art and real estate have come and gone around Exit Art before. Its Broadway loft, opened in 1982, found itself part of Soho's rapid growth to the south and east. As art largely abandoned the neighborhood, or perhaps vice versa, things only get worse. It still offers artists a venue, seven days a week, rather than a stipend or sales. Even the classic alternative space at P.S. 1 now conforms to museum hours in Queens.
The new space, although on street level, picks up where the old one left off. One came to it as much for sprawling, chaotic displays that tested one's endurance as for the art. The opening's spotty quality is no exception, but it gives the chaos a refreshing new dimension—in time.
Artists had a month to set up, and much of the work will continue to evolve till the end of the new exhibition's eight weeks. Artists arrived not with traditional or new media in hand, much less full-blown prefabricated homes, but with the tools of the trade. Some had yet to create the work's materials as well. Lisa Hein and Bob Seng, for example, began erecting a five-foot wall of Jell-O bricks and mortar, while Orly Genger began knitting scarves, blankets, and sweaters for what would become shifting sculptural piles, like Carl Andre grown soft or Eva Hesse grown warm and comforting. And one could see it all in the making, for the descent of artists marked the exhibition's opening celebration, too.
Reopenings
In one memorable definition, an installation amounts to the leftovers of a performance. One may enter the space. One may redefine the work by one's presence, as if filling what Ilya Kabakov calls his Empty Museum—or by ordering the letters by Richard Tuttle. Yet it memorializes the artist's experience and conception, like photographs of an actual empty museum by Wijnanda Deroo. It gives an esthetic veneer to suffering and self-exposure, like the austere mix of meditation, starvation, and elegance from Marina Abramovic barely a few months earlier. It reasserts the avant-garde gesture by the artist's very absence.
Exit Art shifts the emphasis away from any authority, even that the artist, the work, or a curator making choices. By bringing the public into the picture from day one, it creates multiple points of opening. It makes each moment in the work's life indeed a reconstruction. It also creates a performance above and beyond any single artist or work. It takes cooperation, if not collaboration, simply to make the art without stepping on any of it. Monika Goetz promises to document a blind person's response to the space, but I did quite badly enough on my own.
In the good old days, back when an installation meant hanging pictures, one spoke of a vernissage. At previews then, collectors and friends gathered for drinks while the painter added a final layer of varnish. Here the gallery, artists, and anyone who cared to show up might as well have flung a metaphoric varnish at each other—like Whistler's pot of paint thrown, said a critic, at the public. After all, they would have had at least a month to get art and themselves out of the sticky puddle.
I first visited two days before the official second opening, the deadline for installations. The large staff went about its duties, open to view behind Johnny the Whip Savannah's razor-wire fence. Jenny Polak and a companion worked high above on In Situ Sanctuary, a wooden hiding place between gallery pillars, by no means ready yet for the Internet access and counter-surveillance equipment. Allessandra Lee Michelle Torres padded about in a robe and slippers. She was taking a break between stints naked in an incubation chamber like the one in which she first came into existence, but she looked almost as lost as a newborn child. Back within the tank, never quite asleep, her legs bruised where gloves allow a visitor's hands to penetrate, she seemed more exposed than in her baby photo and hospital papers pinned nearby.
Otherwise, I pretty much had the place to myself. Colin Zaug's pretend weather center descended from the ceiling, as did the upside-down house by Frantiska and Tim Gilman. Ted McGurn's freshly painted plywood loop, reaching almost to the ceiling, awaited a more daring skateboarder than I. Rob Andrews was not at work cleaning the floor, a little bit each day, with only a toothbrush. J. Gabriel Lloyd and John J. McGurk were not serving brunch from their spare, sculptural cube, and Peter Simensky was not selling his pricey, homemade candy bars, but then I never liked peanuts.
Other work remained decidedly in progress. The Jello-O bricks, still only a few feet tall, gleamed and sagged, and Kate Gilman's house invited my furnishing it. Derek Coté's cardboard scaffolding, without nails or glue, leaned in pieces by a pillar, still very much subject to gravity. A collective, TAG, had not begun spewing out its wall of mist, and Sean Langlais's log was not whistling at me yet, assuming it will have much to say. Marcus Wetzel's small island lacked its surrounding lake, Larry Bamburg's pick-up truck its own simulated water, unless I missed the point. With his jigsaw puzzle of TWA 800, Christoph Draeger will leave a disaster in the making for the show's duration.
Reconstructions
A more staid curator might have broken up the sprawltown, perhaps into neater themes. Some artists treat "The Reconstruction" (nominally a biennial, although later shows will turn out to have taken their own direction) as the gallery's entrance into a community. Tamara Gayer's Skyline, a freestanding mass of skyscrapers, copies the view outside. Christian Tomaszewski's Made in USA amounts to a more literal mirrored wall, while Lynn Koble's wall comes with sonic echoes. Joshua R. Marks maps the area's convenience stores on Plexiglas. Union Gaucha Productions supplies a bicycle rack, should one prefer to explore midtown west without an artist's homilies, free of charge.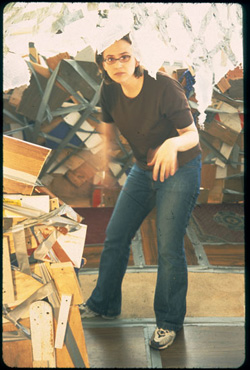 Others interpret this community in terms of its people—as the global city. Mariam Ghani sets out computers, tea, and ornamental pillows. One can visit an imagined Kabul through either the immediate environment or a Web log. Wanda Raimundi-Ortiz offers cosmetic "makeovers" according to Puerto Rican stereotypes or fashion, depending on which cultural and commercial prejudices one hates most. Sunsook Roh leaves a Korean poem about loss of country, and Robert Chambers accepts shoebox welcoming presents from Miami artists less skilled, I can only hope, than he. Polak's sanctuary draws on terrors of Jews in a world war, the Underground Railroad before another kind of Reconstruction entirely, or immigrants today, and Anne Rowland's Crawl Space looks more accessible but no more inviting.
Others obviously take reconstruction as hard, dangerous work. Drew Heitzler scrapes his own whitewash off gallery windows. Along with all the other walls, Jesse Bercowetz, Matt Bua, and Ward Shelley simulate a ramshackle Sweatshop with more than enough graffiti outside—and goodness knows what halfway visible inside. The Beaver at Large, a pretend dam of twigs, looks more comforting, but Rebecca Herman and Mark Shoffner cut off one's path completely. Jade Townsend gives Duane Hanson a sinister turn, with a dummy construction worker dead on the floor, as if it had fallen from the installation's own scaffolding.
Last, others imagine reconstruction in personal times, as a moment of birthing, perhaps for the adult body. If Genger's knitting alludes to motherhood, Daniella Dooling makes the ritual more explicit—and funnier. Her five tapes, playing simultaneously in frantic fast-forward, show her Learning to Knit as the news drones along audibly at the same breakneck speed. Torres gives incomplete, repeated births particular poignancy, but I see the metaphor in Michelle Rosenberg's buzzing sound sculpture of intertwined headphones as well.
Papo Colo and Jeanette Ingberman, who conceived the show, do not adopt my scheme. Rather, by keeping the sprawl, Exit Art recognizes the connectedness of all these themes. All describe reconstruction in a way that makes sense for art, as a progressive self-definition, like the "building cuts" of Gordon Matta-Clark. More important, the sheer mess keeps the exhibition alive. It keeps the visitor an active participant. It keeps installation as an act as well as an artifact. Instead of action painting, one has a kind of action curating.
Does the work sound variable at best, recycled at worst? Do the perpetual openings end up reinstating the glibness of other biennials? Does "The" in the title end up reinserting claims to authority? Sure, but hold off on theoretical paradoxes and make a graceful exit toward art. This whole definitely adds up to more fun than its parts, and one should not act surprised when another gallery in relocating, Smack Mellon, mimics its theme for its "Site 92." Besides, with a new space and a show called "The Reconstruction," one should come away most with the thought of progress and promise.
Postscript: a last exit
When Exit Art opened its survey of New York's alternative spaces, it had many stories to tell. Its "Alternative Histories" included dozens of institutions, past and present. It included all but the entirety of art since the early 1960s, and it revealed its secrets slowly in photographs, posters, documents, and cardboard cases. It obliged one to ask how alternative art spaces have changed—and whether an alternative or change is still possible. It offered all the same a gesture of solidarity and hope. Who knew that it would also become an elegy?
Jeanette Ingberman, Exit Art's executive director, died at age fifty-nine, of leukemia. One could try to measure her impact with the artists that have passed through her world, names like David Wojnarowicz, Ursula von Rydingsvard, Sue de Beer, Julie Mehretu, Shirin Neshat, Rirkrit Tiravanija, Roxy Paine—and still counting. Her very first project with Papo Colo, the co-founder, included Tehching Hsieh and David Hammons. Ida Applebroog showed at Exit Art and has given her name to its annual award. That award with its cash prize attests to Exit Art's care for artists, more than any museum display of emerging artists ever could. So does its turning the entire space over to artists, for a simulated "Studio Visit."
Or one could try to gauge her by her themes. From the very first, with "Illegal America," shows looked to outsiders. They ran to politics, with such recent examples as "Love/War/Sex," "The Presidency," and "Négritude." They even had room for "Geometric Days," of Modernism through the eyes of young painters. Shows can be dogmatic, formulaic, slapdash, or all at once, as artists choose between riffing on a theme and business as usual. They are always, though, about art as a work in progress, much as the Whitney has called a show "Undone."
Some alternative spaces are all about the curator. The New Museum may never find a definition after Marcia Tucker. Others are showcases for an artist's collective or local community. These days, the days of open studios and "do it yourself," they are moving from dictatorship to free for all. Exit Art has offered instead a collaboration, between a curator's ideals and finding out what they mean in action. "The Building Show" or "The Labyrinth Wall" identified the design of a show with unfinished architecture. "Global/National" made politics itself unfinished architecture, as artists like Kate Gilmore helped identify global capitalism with "the order of chaos."
Ingberman never had to decide between politics and the canon, because she lived all along with both. She grew up in Brooklyn, the daughter of Holocaust survivors. She meant to study ancient Egyptian art until she took a class at Columbia with Meyer Schapiro, who championed both medieval art and Jackson Pollock. She took graduate classes at CUNY with Linda Nochlin, the feminist art historian, and Rosalind Krauss, of postmodern theory and October magazine. She worked at both the International Center for Photography on Fifth Avenue and the Bronx Museum on the Grand Concourse. It was as chief curator in the rough and tumble of the Bronx that she met Colo, who became her husband and Exit Art's artistic director.
By 1984 they had a space on Broadway in Soho, moving down a block in 1992. They called it "Exit Art / The First World" back then, because talk of the Third World marginalized the already marginal—but they must have relished the confusion. With Exit Art's 2003 move between Chelsea and Hell's Kitchen, they managed again to find a fringe even in Manhattan. I first felt their necessity with dangerous performance art by Chris Burden and others. They were already looking back by then, and so now are artists everywhere. Ingberman will be missed, and I hope that her combination of leadership, devotion, and chaos survives.
Exit only
It will not, in turns out, survive at Exit Art. When Exit Art moved to Tenth Avenue then, it seemed to speak for art on the edge. It had its largest and airiest space ever, enough for large work, a typically chaotic show, and even a café/bar counter. (Who expects a free drink at openings when the future is at stake?) It could hope for walk-in crowds, but also a space apart, between entrances to the Lincoln Tunnel. And it called the occasion "The Reconstruction."
It had left Soho's European shopping mall behind, to half a mile north of Chelsea. It had also opened its last decade. The neighborhood keeps changing, with the Elizabeth Foundation for the Arts, maybe New York's finest studio program, near the Port Authority. The promise of the High Line keeps edging north. A quirky group show at Exit Art mixing formalism and free association even included an artist from a gallery down the street. Still, as its final show proclaims, "Curatorial correctness has never carried much weight."
The reason is Ingberman's death from cancer. Forget Bushwick: the whole idea of an institution for alternative art is under pressure. It makes sense, then, that its final show gives simply a history. Exit Art was already looking back, with its 2011 history of alternative spaces, and now it adopts the same archival format of posters, display cases, and boxes. One could be leaning over to pore over something lost long ago.
I am not sure it offers the best way to remember, but one has to try. Besides, if alternative spaces can get a bit self-involved, that is part of the fun. Group shows can grow too large or not. Curatorial correctness may not carry weight, but political correctness often does. Something about seeing an archive rather than real art rubs that in, and this one literally takes art with its gloves on. Still, one has to say what happened.
Ingberman was chief curator in the Bronx when she and Papo Colo opened Exit Art in 1982 in a Canal Street loft, and it soon reflected its surroundings with a focus on illegal immigrants. Invisibility, though, has all sorts of resonance when it comes to alternative art. The documents here have an actual photograph of the master of it, Hammons, who appeared in the first show along with a railroad track, coal, and a John Coltrane record. Among the many receiving early exposure, I can add Carrie Mae Weems and Adrian Piper. I have listed more than just exemplars of race and gender, too, at length.
Exit Art could have found a way out, but it might just become something else in the process. The New Museum still looks for a place between political art and theme park without Marcia Tucker. Here, at least, one can spot Roxy Paine with mahogany and clay instead of showy metal forests, not unlike Paine's airport security checkpoint. I still want to cry out for alternatives, not just artist collectives, self-curatorial protests, and good intentions. Maybe Colo alone is not going to pull it off, though I wish him peace, health, and success in whatever is to come. He calls this "Every Exit Is an Entrance," and I hope not to New Jersey.

"Exit Biennial: The Reconstruction" ran at Exit Art through May 4, 2003, with an opening March 8 and a "midway opening" April 5. A related review, of "Alternative Histories," considers further the past and future of alternative spaces. Jeanette Ingberman died August 24, 2011, and its last day open to the public was May 19, 2012.