Open and Shut Case
John Haber
in New York City
Open Ends: Art After 1960
The Museum of Modern Art's final act of self-examination spills over three entire floors, but its most telling moment may well come at the very start. In a show called "Open Ends," it makes one ask a tough question about Modernism today. Should the accent should fall on open or the end?
As one comes off the first escalator, that floor alone holds eleven exhibitions and installations, spanning the last few decades and forcing a look at both the museum's past and its future. Where does one turn first, and how will the temple of Modernism cope with a fat wallet and today's art scene? Before one can even decide, James Rosenquist's F-111 overloads one's senses. Rarely seen at its full length, the mural covers the hall with bright colors and brusquely juxtaposed images.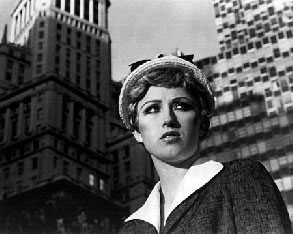 And then one looks up, and none of it matters. Barnett Newman's Broken Obelisk takes one safely back forty years, and one realizes after all: in its heart, the Modern can never leave that moment. Is Modernism at an end, and would this museum know? The question should not totally undermine the true openness and beauty of a hefty, thoughtful presentation.
Open housing
"Open Ends"—it stands for eleven mini-exhibitions and another thirteen large-scale works, all based on a great museum's permanent collection. In the first two-thirds of its farewell to the millennium, the Modern took on the years leading up to 1960. For today's fragmented gallery scene, the mini-exhibitions once again abandon chronology and even the old division by department. They mix painting and design, photography and architecture, past and present, textbook classics and rarely seen works, high and low. If that sounds especially appropriate to this final segment of a monster survey, it is.
The exhibitions sound all too familiar at first. "Innocence and Experience"? Come on, I had just got over the protests against "Sensation" and the banality of the latest Whitney Biennial. Besides, Snug Harbor had a beautifully disturbing show of its own about the idea of childhood innocence a year or so ago, already forcing Lewis Carroll alongside present-day art. And with a theme like that, what happened to painting, from Eric Fischl or David Salle to John Currin, Cecily Brown, or Lisa Yuskavage?
In fact, however, that is the point. The Modern allows curators to step outside of their accustomed roles—in "Innocence and Experience," asking the photography curator to address a theme involving painting and sculpture. It gives the chance to try new takes on hot ideas and recent decades, both dulled by their closeness. Besides, I think I can live without Fischl and Salle at this point. I could stand the reminder of Diane Arbus and Nic Nicosia. I liked imagining that a nude family by Charles Ray or stuffed animals by Mike Kelley had just stepped out of a Sally Mann.
Even the independent installations amount to a fresh look. Broken Obelisk looked both too monumental and too small out in the famous sculpture garden, where it will eventually return. Here one encounters it with a well-deserved shock. As before, of course, the base, a four-sided pyramid, meets the point of a tall, inverted obelisk, the irregular top seemingly broken off. Only now it just fits into the space, and the base just fits one's own stature.
The new scale brings back what one should have seen all along but never could outdoors. It connects the vertical to Newman's painted "zips," his stripes in extended, open fields of color. The column's precarious balance and blatantly ripped top edge destroy any pretensions to storied monuments or an art beyond the human. It illuminates a generation's rethinking of the sublime without larger-than-life heroes.
However, Newman has retreated inside, because the garden has turned into a construction site. And the survey is coming to an end, so that the museum can shut down for expansion, with the addition of new galleries, but also upper-upper-upper-middle class apartments high above. In that context, the title "Open Ends" and the stress on curatorial choices carry overtones of a plea for cash. Give us freedom to grow! After all the good signs I have mentioned, I have to say that I left thinking only of a powerful, conservative institution. In practice, it comes off surprisingly old hat, as if art, like the curators, already have all the answers.
New homes
I shall get to all that, but I prefer to start with the good news. Remember how the middle survey segment, on 1920 to 1960, included mini-exhibition on war and utopias? Modernism demands the eternal fighter and the eternal cynic, but also the eternal optimist. At its best, "Open Ends" provides a skilled, invigorating look back. Consider its three-part strategy.
Long before Postmodernism complained of an elitist distinction between fine art and pop culture, the Modern was collecting furniture and film along with painting and sculpture. As with "Innocence and Experience," these mini-exhibitions get in the hands of the "wrong" curator, with interesting results. In "Matter," for instance, the design department takes a modernist cliché and turns it against formalism. Like Clement Greenberg, artists and critics have often spoken of the material presence of a work. Here, that means not the flatness of a picture plane, but monumental balls of twine and the clothing they perhaps ought to have produced. Jackie Windsor and Joseph Beuys, who provide these two, have not often sat so close.
Second, the exhibitions think of 1960 through 2000 as two generations just waiting to be pitted against one another. The curators like to set Minimalism and Pop Art against artists today. When David Hammons gives the American flag Afro-American colors and a naturalistic droop, it helps personalize a Flag for Jasper Johns as well.
Johns already, of course, does more than half the work, with one of the great paintings of its time. He gives flags or targets a painting's close viewing distance and his loving encaustic. He pulls one in, as if one were responsible for each salute and at risk with every shot. He also makes that feeling of strangeness part of an appreciation for sheer beauty. Thanks to a juxtaposition with Hammons, one steps back again, to accept a different kind of responsibility. Instead of the impossibility of identity, the flags now suggest the impossibility—for black or white America—of not having one.
This segment, "Pop and After," has loads of fun with another familiar theme these days, appropriation of appropriation. Of course, Rosenquist's work gets a full display it has probably never had before, along the entire second-floor corridor. And as for those flags, a contemporary context brings out an unfamiliar side of the 1950s, not the facelessness that provoked audiences after Abstract Expressionism, but a physical engagement with the viewer. Art then already had a performance side that parodies older forms. Facing a giant bra by Vito Acconci, which amounts to two comfy sitting rooms with music, a witty soft fan by Claes Oldenburg looks more than ever like a deflated statue of the male hero.
Third and last, "Open Ends" gives separate space to big works. Besides Broken Obelisk, Pipilotti Rist toys effortlessly on video with feminism and post-feminism, as she will later with Pipilotti Rist in retrospective. Untitled Film Stills may stand as the official postmodern classic, but Cindy Sherman deserves to see them all together again. The resin cast of a water tower by Rachel Whiteread, all five tons of it, has moved up from Soho to bathe its translucent shape in the light of an even more touristed neighborhood.
Old home week
Not every mini-show succeeds equally well, not just because not every curator pulls it off, but also because the strategies do not always work so well. Sure, in the company of "Matter," Eva Hesse's tubes look intriguingly like a set of living-room chairs, a definite improvement compared to the goofy splayed furniture of the psychedelic era on display nearby. Other artists, though, do lose out. Next to that painted clothing, Robert Morris's soft sculpture or the chaotic third dimension of Lynda Benglis seem far too natural for their own good.
Another, less successful exhibition gives the print curator charge of works in series. The theme loses its roots in Modernism's serial projects from Monet to Mondrian. Besides, well, duh. Of course prints come in series. Again, works seem all too natural and all too banal. The title, "One Thing After Another," takes on a nasty, unintended edge.
Far more seriously, however, the survey breaks down at times because the Modern seems never to have outgrown the 1960s. The simplistic scheme of generations buries the real waves of art since the early 1980s, and it makes the past an unquestioned standard for the present. With its different departments, the museum had it all. Similarly, by not incorporating much art from other thirds of its history, unlike the first two forty-year segments, it never really turns on Modernism's past.
Take even one of the finer exhibitions, devoted to architecture. It offers little that might place well-known modernist or postmodernist buildings under scrutiny. (Perhaps the Modern has no intention of letting a competition start up between its expansion plans and the Guggenheim's.) Instead of showing Modernism's stifling blocks or Postmodernism's ironic, commercial side, it leaves Rem Koolhaus and Andreas Gorski as fantasies of play, almost like science fiction. Other photos and drawings compare architecture to flowing waste. As if trapped back in Minimalism, it seems to say, architecture dissolved happily into what Robert Smithson called "entropy."
Even the pairing of photography and installation in "Innocence and Experience," plus the safe age of work on display, starts to defuse it. Can Sally Mann compete with the wreckage that children lived through even then, back in 1982? Can she compete with reality—or that version of it—that the media feeds one today? Deborah Mea-Pelly's photographs would at least have added a little self-awareness in a Hollywood age. Alice's creator and Joseph Cornell preside over what remains like a warning of what was to follow.
In the same way, the museum comes off looking cautious in its acquisitions. Few stars of today appear, but few chances to throw one for a loop do, too. Another of the large-scale works, by Ernesto Neto, stretches a cloth across portions of the lobby. I imagined it taking E. V. Day's billowing, dissolving dress at the Biennial. Yet it excludes not just one young artist, but also the Marilyn Monroe movies, distant longings, feminist hopes, and trashy, shredded self-displays on which she and so many recent installations thrive.
Home away from home
The first third of the Modern's massive survey, from 1880 to 1920, took over the joint with the theme of "People, Places, Things." It might have meant something akin to Robert Rosenblum's naughty revisionism at the Met, the Guggenheim, and elsewhere. No, it had no intention, thank the lord, of re-packaging modern art as a continuation of traditional genres. It spared me seeing again Rosemblum's pride of place to lousy art and his awful straightjacket on Modernism.
Or it might have meant, say, something like the museum's own "The Modern Still Life." There modern art played with received categories to the point of obliterating them. The exhibit tried to break the barrier between the subject of painting and the art object itself, as with Dada. In practice, the Modern meant nothing at all, leaving vacuous categories. (People? Places? Things? I guess that covers it.) Most of the Modern's greatest hits got to look curiously boring.
The second third, "Making Choices," did better, downright thriving on curatorial choices. Over forty years riddled with art movements, artists and viewers alike had to face tough creative choices, and the curators made new choices of their own. The parallel to the creative act of the time, paradoxically, did not ignore or condescend to the artist's acts. It often freshened things by pointing to themes I had not noticed. Especially in a big room that took off from Walker Evans, I had a pleasure near to free associating—and with a relevance Freud might have approved. Every time Evans confronted a new subject, it pointed to another side of Modernism and beyond. With a dispassionate look at poverty to blank facades or billboards, one recognized art's immersion in the underside of life, the flatness of Pop art and collage, and art as text.
The final third has neither empty themes nor exciting ones, and that amounts to both the strength and the weakness of an ambitious, top-notch effort. It starts to take on the present, in all its familiarity, but it cannot quite accept the postmodern carnival or pull away from it.
One last concession to the present stuck with me. Damien Hirst fills a wall with thirteen drug bottles. He calls the flat, Warhol-like images a Last Supper, and the labels call each image a familiar food. In place of the spirituality and betrayal in a Renaissance Last Supper, one enters a world of instant gratification, the ultimate in fast food. Then, too, pills have literally supplied too many a final meal. Had the Modern come to an end, too, in a the ultimate act of denial?
In one of my favorite scenes, Margaret Dumont greets Groucho with all her never-failing high spirits. "As chairwoman of the reception committee, I welcome you with open arms!" "Is that so? how late do you stay open?" After the Modern's last supper for a while, how far into the future can its modernist ideals survive? Will they need a reconstruction? "Open Ends" seems a bit too determined to find out.

"Open Ends: 1960–2000" opened in stages at The Museum of Modern Art, and it shut down progressively between January 2 and January 30, 2001.