Sprawltown
John Haber
in New York City
Between City and Suburb: Patrick O'Hare and Tadashi Kawamata
Pulse Park, James Bleecker, and Degrees of Remove
After World War II, families hurried to escape the city. Has the city caught up to them?
Richard Ingersoll, a historian of architecture, captures those years of urban flight and runaway development in a short paperback, Sprawltown: Looking for the City on its Edges. The title sums up the puzzle. What marks the edge between city and country? Did suburban homes and highways create an alternative to the city or only shift its edge outward? Should one call the result a city, a town, or just a part of one huge global development—sprawl?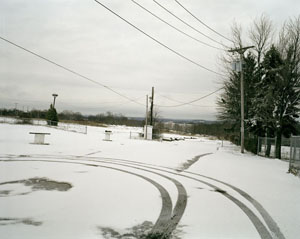 Artists should know, even before the latest real-estate boom and its collapse. Postwar art had its own fascination with edges, in abstract painting. Contemporary art necessarily converges on cities. Who else will display it? Besides, art has a habit of eroding boundaries. Some recent shows make it difficult to know just when one has left the city or the country.
Patrick O'Hare photographs the edge of cities and suburbs, until one hardly knows which one has seen. Tadashi Kawamata and Rafael Lozano-Hemmer evoke suburbia and the hectic pace of Times Square in another kind of space in-between, Madison Square. James Bleecker photographs urban decay, in the form of an elevated freight line, just as it is turning into a public park. Last, "Degrees of Remove" takes shifting edges seriously.
Sprawl out
Sprawl is a beautiful thing, a natural thing. Not that I would want to set foot there, and Robert Frank hardly did either in all of The Americans. Lovers of architecture might not rush off any time soon either, and more than enough critics have linked suburban sprawl to environmental degradation and a loss of community. So more subtly do paintings by Amy Bennett or photographs by Robert Adams—or more slickly those by Martin Adolfsson in five continents. But really. If you do not believe me, ask Patrick O'Hare.
Not every visitor to P.S. 1 reaches the third floor, in a corridor surrounded by office space, but then not everyone reaches exurbia either, with its disturbing mix of restricted zones and open spaces. Those who do will find the photographs all the more disturbing for their beauty. Freshly fallen snow extends its traces across scorched earth. Clouds gather, overwhelming crowded lots with their shadows and scale. Industrial sheds and stunted fields dissolve together into mist. One could almost overlook that these echoes of Hudson River landscapes translate in practice into chill, darkness, and blindness.
O'Hare includes all the expected signs of clutter, displacement, and decay. Parking lots step in as factories crumble. Houses struggle to maintain their show of uniformity. The weave of power lines could easily have outgrown its use. Blank walls and a Do Not Enter sign form barriers—beyond the barriers created by nature and the photographer's distant point of view. Human beings and other living creatures hardly appear, assuming they still exist or belong.
Still, people chose this way of life for esthetic as well as financial reasons, even if they are starting to regret it. Edward Hopper teased out the puzzle long ago. A summer 2008 exhibition of "Sprawl" at the Jersey City Museum tried to explain it, as indeed did a show called "Sprawl" in Tribeca a few years before, and Robert Smithson reveled in it. They parallel the sordid dream of the open road in photographers from Robert Frank to William Eggleston. O'Hare also fits in with apocalyptic fantasies of entropy and waste in many recent exhibitions, such as "After Nature" at the New Museum.
Hare, however, avoids excess and special pleading. He reverses the terms of human intrusion on nature, as nature reasserts its hold. Why romanticize the purity of either one? Some vehicle or other must have outlined those patterns in the snow. Another vehicle or a change in the weather will efface them. So ends the Romantic garden.
Another twist on nature by the East River, the New York Waterfalls from Olafur Eliasson, has come down. And the buzz surrounding his retrospective has died with it. Eliasson's fascination with lights, water, illusion, and gamesmanship lives on anyway, in the two-level space downstairs. There Leandro Erlich appropriates perhaps the ultimate symbol of suburban paradise.
Erlich's apparent swimming pool defeats visual expectations right from the start. A wooden deck bars the usual view to the basement and all but cries out for beach chairs. It also has stairs off to the side, and one can hardly resist seeing where they lead. Once downstairs, one can penetrate the pool's shimmering depths without encountering a drop of water, by walking right in, for Erlich has created the shimmer with lights alone. The work amounts quite literally to shallow trickery. It takes courage to breach the imaginary wall all the same—and another kind of effort not to dive in.
Go climb a tree
For a while, Wall Street boomed while O'Hare's communities decayed—although without the careful planning of sprawl that David Goldblatt documents for Johannesburg. But who says that art cannot keep pace with the headlines? And who says that New Yorkers cannot reach out to those in need? Sure, the subprime market has crashed, Wall Street has tanked, and untold numbers across America fear losing their homes. Fortunately, through year's end the president-elect can turn to Madison Square for answers. There an artist invokes another symbol of suburban or rural paradise, the tree house.
The global financial crisis hit on September 14, 2008, and President Bush signed a bailout measure on October 3. The day before, Tadashi Kawamata had already completed his Madison Square Tree Huts. Passers-by might never notice, but high overhead a handful ring the park—ramshackle, at an awkward angle to tree trunk or ground, small, windowless, and lacking the modern kitchens of luxury high rises a block west, but strangely airy and welcoming. Some will think of tree houses from childhood. New Yorkers will think first of affordable real estate in Manhattan. They give new meaning to "go climb a tree."
They are even environmentally sensitive, like what Lisa Kirk calls her House of Cards. "Under no circumstances," Kawamata stipulates, "is the tree bark penetrated, scraped off, or otherwise harmed." They also have a charming, if accidental relationship to the Metropolitan Life tower close by. Once a source of insurance to troubled families, it is now under conversion to condos. Even if anyone could touch the art, a lucky few would have snapped them up faster than you can say Craig's List. Still, they have to set one's heart pounding.
If so, Rafael Lozano-Hemmer with Pulse Park below will measure it. By day, bulky, black klieg lights bar access to the oval green at the park's center. By night, lights flash across it, illuminating the grass in broad stripes. They respond, the artist claims, to the heart rates of those passing, thanks to two sensors overhead. Does technology like this really exist? And if so, what makes visits to the doctor so dreadful?
Other digital artists have used real-time data to map physical landscapes—from the Dow Jones Industrial Average to seismographs. Does any medium have a unique claim to representing nature, and what if the artist is lying about his very premise? When the lights here stopped blinking, had everyone in the park died, including me? Another work could explore treacherous questions about new media and conceptual art.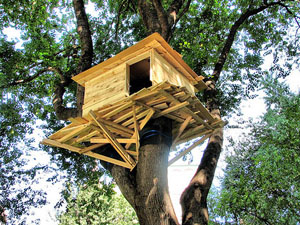 Not this one, but it is soothing all the same. The tree huts similarly echo the greenery without ever transforming it.
Unfortunately, like the tree houses, Pulse Park, too, has impeccable timing. In theory, one can grab a third sensor at the installation's center to read one's own heart rate. In practice, wire fences surround the green, in preparation for winter seeding. One should see both works as basking in nature rather than helping nature to bask in creative art. One can appreciate a city's riches, in the restored playground, tall trees still in leaf, and picture-perfect grass even into November. The president-elect will have to face global warming, too, but even that briefly holds out its chilly comforts.
High and low
As the economy soared, so did art and real estate—beyond anyone's wildest imaginings—while leaving more artists, home owners, and renters than ever behind. As the economy tanks, no one can count the losers. The Rose Museum, LA MOCA, or the National Academy needs a rescue mission or a mission statement, the press indulges more than ever in its fascination with auction prices, galleries vanish silently, and artists fall even further behind. Each arc in its way exaggerates the messy story of wealth, risk, and inequality elsewhere.
Modernism had it right after all: art is both a part of this world and a distorted mirror. Things cannot simply return to normal either, whatever that means, as many hope. The place of art in the world—its institutions, its audiences, and its career paths—has changed too much along the way. At least one change, if it happens, will necessarily be invisible. If progress on the High Line stops, how would anybody know?
At last count, renovation continues on the High Line, the long-abandoned freight tracks that run through Chelsea. It should easily beat out completion of a much more practical rail line, the Second Avenue subway. One will know, of course, if one ever gains access to a completed public park. One will would know, too, if the Whitney resumes plans for a new home at its foot, in the Meatpacking District. Still, Diller Scofidio + Renfro want most for the High Line to blend in with the whole idea of abandonment. Instead of a pristine park for Modernism's ideal city, they want to preserve the scent of wildflower above and the historic hulk of an elevated railway below—but somehow photographers, like Joel Sternfeld, always show the wildflowers. Opponents, myself included, ask if the High Line does not mesh real urban dysfunction below and yet another myth above, America's old identification with a garden paradise.
James Bleecker offers something to both parties. His photographs have their own romance with the landscape, but with its literal underside. They take its harsh beams, trestles, and surroundings at night, with nary a wildflower or human being in sight. They can even accentuate the confusion of exterior and interior, neighborhood and confinement. One shot, with the structure in the foreground and a solid diagonal wall a few yards away, looks like a parking garage. The lane of an actual parking lot, with two-tiered elevators for cars to either side, could lead into a scene from Blade Runner.
A science-fiction dystopia has its thrills, too, and Bleecker's long exposures allow flashes of light to float free, like light sabers. They also allow long vistas where we critics of the High Line know only blockage. Frank Gehry's IAC headquarters dominates wherever it appears with its fantastic bulk and intense illumination. It approaches pure white amid the sepia tones. Obviously the soft, brown shadows—even in large digital prints—indulge in plenty of nostalgia themselves. However, Bleecker looks not to the Hudson River School but to vintage New York.
Modernism's love-hate relationship with American Romanticism has its problems, especially when transposed to the twenty-first century. Is Bleecker wrenching nostalgia into the present, for a period that readily combines abstraction with photography, distorted spaces, and found objects? Or is he evading the politics of actual places even more? Does it matter if I grow nostalgic, too?
At a remove from the city
Art did not come easily to suburbia. In light of Eric Fischl or Lisa Yuskavage, Hopper still seems ahead of his time. Even his own remarkable amalgam had a long investment in other subjects and other genres, from the landscapes of the American West to urban realism. Postmodernism could simply turn to the underside of both, as when Catherine Opie photographs highway ramps from below, Lee Friedlander a side-view mirror, or Nan Goldin her acquaintance with the night. As Modernism came under fire, its love-hate relationship with the ideal city remained relevant. Piranesi preceded Le Corbusier, and Maddy Rosenberg, for one, never lets one forget it.
In a sense, the current shows are all about learning to forget. How very suburban! As all these artists illustrate, one can think of cities as sites of connection and growth. Buildings and sidewalks mean density, but also choices—open spaces and an open future. "Degrees of Remove: Landscape and Affect" sees instead the paradox of confinement and decay.
The group show at SculptureCenter really does look for the city on its edges. It also gives the search theoretical underpinnings. Perhaps it takes its cues, like past shows there, from those amazing basement tunnels. Eteam uses one as a dumpster, its history tracked on crude computer-generated text and video. Oscar Tuazon interrupts the rest with a treacherously raised and tilted floor.
Mostly, though, the installations depart from one's expectations for a sculpture center. Anthony Hamboussi lines one tunnel with photographs of La Petite Ceinture, a railway that once formed a beltway around Paris, its access now barred by housing projects. Carla Herrera uses sound alone to convert another into a Mexico City market, where one can neither profit from nor arrest the illegal traffic. Tim Hyde similarly layers denials of access, with a handsome woman's face that blocks views of a KGB site. Only with Cyprien Gaillard do buildings take flight on video—with explosions of colored smoke preceding and mimicking a subsequent demolition, both with corporate sponsorship.
Over it all presides Luis Buñuel, as the young couple in his Phantom of Liberty quarrel over how best to rip up tourist photos. The other works, too, have the air more of a stale lecture than an exhibition, as does the enormous quantity of wall text—with philosophical and literary deities from Buñuel and Kafka to Rosalind Krauss and Walter Benjamin. Perhaps it echoes the theme of oppressive chaos that the dim lighting makes them all but impossible to read. One can pick up copies at the front desk, but not of text on individual artists.
I looked for signs of the former factory's history, in hope that a site of actual decay, confinement, and recovery could bring some of this lecture alive. Just as the interior of SculptureCenter no longer produces and repairs trolley cars, mass transit still has to fight for funds in a new president's stimulus package. It is just too hard to give up highway funding—and the dream of escape. I looked, too, for signs of life amid the pebbled garden by Maya Lin, which Ugo Rondinone covers in spray paint. Where the city described downstairs has no future, Rondinone's blinding yellow has no time for nostalgia. Art and politics could learn something from that.

Patrick O'Hare and Leandro Erlich ran at P.S. 1 Contemporary Art Center through January 26, 2009, "Sprawl" at the Jersey City Museum through August 24, 2008, Rafael Lozano-Hemmer's "Pulse Park" in Madison Square Park through November 30 and Tadashi Kawamata's "Madison Square Tree Huts" through at least December 31, James Bleecker at Allen Sheppard through January 24, 2009, and "Degrees of Remove: Landscape and Affect" at SculptureCenter through November 30, 2008. Richard Ingersoll's Sprawltown was published in 2006 by Princeton Architectural Press.