Undo It Yourself
John Haber
in New York City
The 2008 Whitney Biennial
Over the years the Whitney Biennial has gone from anointing American artists to defining the very idea of American art. This time it wants to go one better: it is out to create American art.
For the 2008 Biennial, art needs that extra help. It is a fragile thing and a work in progress—or a work becoming undone. So, the show argues, is its favored subject, the American way of life. The Biennial hopes not just to describe failure in America's cities, but actually to commission failure. A cynic might say that it succeeds beyond its wildest dreams, but if that makes it sound more interesting than usual, I am not so sure.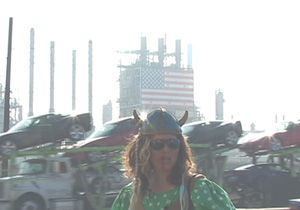 The show may serve as a Rorschach test for contemporary art. Those who revel in art's reaching out to wider audiences—with installations that tumble over into dance, theater, film, and sound—will have a field day. Those who instead long for good, old-fashioned fine art on the other will demand Robert Hughes back. In practice, alternatives like these make too much of a generally sedate, muddled Biennial. They also make too little of the show's signs of life, including a fascination with politics, the West Coast, and the museum itself. Note: in a postscript, I consider assaults on the curatorial language in presenting the artists, what I like to call martspeak.
The Biennial as installation
Does art really need help? Maybe so, but this Biennial responds, big time (while the 2010 Whitney Biennial and 2012 Whitney Biennial will cut back, but the 2014 Whitney Biennial grows to three curators, archives, and dead artists). More than in recent years, it turns to big names from the art scene in New York and, notably, Los Angeles. With fewer than eighty-five artists, it allows them to work big, too, with installations. Elsewhere, concentrations of work by a single artist blur the line between art objects and installation. The Whitney has commissioned much of this itself. If the art boom shows any signs of fading with the stock market, here it can run at least till June.
Video, too, fills entire rooms. The Biennial has projections integrated throughout rather than left to computer monitors and the second-floor screening room. A video by Spike Lee, about the terrible costs of Katrina and political neglect, first ran successfully on HBO. Bert Rodriguez even turns an elevator cab into a movie house—with film closing music in the air and The End in Hollywood script on the doors. For almost three weeks, too, still more large-scale art spills over to the Seventh Regiment Armory on Park Avenue, much as the 2004 Biennial took on Central Park. Entrance to the armory is free, but some events booked to capacity almost instantly.
One could indeed treat the entire Biennial as an installation. Back at the Whitney, Rashawn Griffin's hanging tapestry blends with exhibition banners as it leads down to the gift shop, and Mungo Thomson replaces cloakroom hangers with chimes. Lisa Sigal tapes stairwell edges here and there, like a haphazard attempt to bring the museum up to code. Many works also resemble one another, to the point that one might think a work the floor above never let off. The 2008 Biennial may not offer installations as literally works in progress, like those that opened Exit Art a few years back. Still, it could pass for a single derelict construction site.
Time and again artists rely on exposed wood risers, in obvious competition with the museum's late modernist walls. One can walk through House That Frank Lloyd Wright Built, actually built by William Cordova. One can enter Eduardo Sarabia's The Gift, its shelves covered with chilly replicas of jugs, semiautomatic weapons, and elephant feet. One almost dare not enter a more primitive shed by Mika Rottenberg, where a collective of women farmers on video is molding cheese—or perhaps someone else's liquid remains. Mike Tajima and Howie Chen, calling themselves New Humans, support plywood and mirrors with orange knapsacks or life vests. Much the same structure from Heather Rowe stands on its own, the Sheetrock ripped and the mirrors slightly askew.
Rowe's musty shelves failed to disorient viewers not long before, in "Undone," the last show at the Whitney at Altria. Mitzi Pederson's bent wood and cinder blocks amount to similarly abstracted architecture. And indeed much here has the stale air of DIY—or perhaps undo it yourself. Ruben Ochoa actually calls his torn fencing An Ideal Disjuncture, leaving it unclear whether to emphasize the ideal or the disjunction. These artists strip human habitations of their domesticity, much as a photo by Louise Lawler shows gallery walls and floor just after an installation has come down. Even Carol Bove's quietly allusive furnishings look homeless, although a tapestry of bronze rods echoes The Night Sky over New York.
When images from life do appear, they, too, could well belong to a larger work. Those elephant feet appear in four separate works, including a quasi-Pop Art canvas by John Baldessari but also as real animals. Javier Téllez's video, for one, retells the old parable about blind men and an elephant. In art now, no one has the entire picture. In art, too, it seems to say, the blind are leading the blind.
A history of American trash
Why all this concern for creation and self-creation? One can see it as simple recognition of the museum's role. No institution as important as the Whitney—or the Biennial—can report on the state of the art without changing it, if only by pinning it down. Call it art's uncertainty principle: measure the creative act and it atrophies. In this way, the Biennial returns to its old role after a dozen years of themed shows.
One can see the tactic instead as a reflection of the museum's limits. Who even needs a Biennial, amid perpetual bienniales and global art fairs? If the museum stops reporting on artists and starts collaborating with them, could that work as a survival strategy—at least this once? The Whitney partners with the Art Production Fund and Park Avenue Armory, a new organization out to put the armory to work for art. Although Sigal's white neon illuminates the drill hall so often shared by art fairs, other works explore the stylish private meeting rooms without quite illuminating them, including Olaf Breuning's Robot Army of discarded desk lamps.
Conversely, one can see trashy installations as a reflection of a gallery scene already littered with them. Art galleries feel the pressure to go for splash and entertainment, and artists feel the pressure to make gestures worthy of their celebrity. "Unmonumental," at the new New Museum, has several of the same artists, and renovation projects by Gedi Sibony might have fit here as well. In all this, the art market follows closely on markets across America. Even apart from the housing boom and collapse, reduced space for new suburban communities and more space for malls means that DIY has become an industry. Instead of the local hardware store, the guy in his garage has Home Depot, so why not Madison Avenue?
One can see it, too, as a reflection of its curators, Henriette Huldisch and Shamim M. Momin. At the Whitney at Altria, Momim exhibited Sue de Beer, who plants videos and the viewer in an installation, and "Burgeoning Geometries," which invaded the public atrium. She has also worked on site-specific installations for the uptown lobby gallery, by Terence Koh and others. Huldisch's "Summer of Love" had less to do with art than with recreating a be-in. They boast that one can enter this Biennial at any point, as if previous ones had somehow required a route map.
One can see it as a natural progression in how an institution like the Whitney asserts its power. Way back when a few galleries competed for dominance, one went to a Biennial to see which dealers scored the most points. With Postmodernism and the culture wars, everyone started to worry about defining art, and the 1993 Whitney Biennial took to the battle lines—before the 1997 Whitney Biennial backed away. With Chelsea hot, the 2000 Whitney Biennial sought out emerging artists, and the 2004 Whitney Biennial went for sheer entertainment value. With Chelsea now a part of a global scene, the 2006 Whitney Biennial let in international artists. In these incestuous times, from definition to self-definition seems the obvious next step.
What one thinks of trashy installations, like those of Cai Guo-Qiang over at the Guggenheim, will determine whether one notices most the limits or the litter. The Times called this a bare-bones Biennial for the recession, while the Associated Press found it cramped. Installations like these command a viewer's space, but without making the viewer's response part of the work as in Minimalism. The Biennial skips interactive digital art outright. The armory works are pretty much site-specific in name only, except in the trivial sense that the awkward hum of sound art fills a room. One piece ignores the period room altogether, in favor of a neat white cube at its center.
The bicoastal Biennial
Those who deem the whole art scene a sham will harp on both the limits and the litter. I prefer to see the 2008 Biennial as creating a history of all that trash. Make that a history of American trash, for for it draws on American art to create a picture of America. It takes a direct line from old media to installations. And that line runs right through California.
A good fifth of the artists were born overseas, but not like those last time out. The 2006 Biennial chose such artists as Rudolf Stingel and Pierre Huyghe—art-world carpetbaggers with an international reputation and money for a New York loft. Instead, this is the bicoastal Biennial. It has room for forty artists based in New York, thirty from the West Coast, one or two from Miami, and almost none in between.
The story unfolds starting with Baldessari's elephant feet, flat colors, and human body parts—an eye here, a nose there. Baldessari might still be the young man in a video now at MoMA, intoning "I am making art." From there, one can imagine a path to the lobby, where the late Jason Rhoades leaves his assembly of CDs and other objects stuck to poles, like a machine for human destruction. Rottenberg gives her confrontational environment a feminist interpretation. Rhoades gives it an ugly, self-destructive one.
A parallel route might consider the Biennial's meager engagement with painting, as if leaving that for the more conservative National Academy Annual. It starts with Robert Bechtle sun-drenched Alameda streets. It includes worthwhile abstract art by Mary Heilmann, based in New York but, the Whitney argues, "born of the Southern California surf culture." After that, one has only Joe Bradley's bright, unpainted vinyl, Oliver Mosset's gold and olive polyurethane spray, James Welling's washed-out blue photos, and Karen Kilimnik's Rococo kitsch (each based in a different city). Seth Price's silhouettes could illustrate Matisse for Dummies.
Sculpture follows much the same blandly garish path. Jedediah Caesars' block of found objects in colored resin offers the pure puke of America. Perhaps Charles Young lean, irregular white sculpture has a superficial resemblance to portraits by Alberto Giacometti. In reality, he bases them on his own photographs of bird droppings. This being California, expect blue herons rather than pigeons. Out on Madison Avenue Fritz Haeg sets an eagle's nest and other Animal Estates for native New York species, but beware of any installation outside of Vegas or Disneyland in which animals address you as we.
The path leads through LA in a more provocative way as well, as the site of what the curators call heterogeneity and dispersal. When they look past Chelsea, they see "the decentralized American city" and "urban decay." They see the dislocation within installations as reflective of real "postindustrial landscapes." Work like this may look formal or informal, but it has political overtones.
Dislocation, location
Often the politics vies for space with the architecture. In Cordova's imagination, Frank Lloyd Wright built that house for two Black Panthers killed in a predawn police raid in 1969, and the studs outline their home. Ochoa's fencing could keep people out or keep them in. Leslie Hewitt in her photographs runs through permutations on another almost empty interior, but they include a book called Black Protests and the report of the Kerner Commission on civil rights. Her urgent title, Make It Plain, has to do with her message as much as with the room's appearance. And they are not the only ones to put dislocation in context of violence and race.
For once, black artists have escaped a Biennial corner ghetto, thanks in part to Thelma Golden of the Studio Museum. A Biennial adviser along with Bill Horrigan and Linda Norden, she has exhibited some of the same emerging artists in Harlem. Michael Queenland props a gorilla mask against sculpture after Constantin Brancusi, while sagging black vinyl by Rodney McMillian snakes off the wall. Daniel Joseph Martinez calls down Divine Violence, with nearly a hundred gilded posters of "terrorist" groups that put Mossad and Bush on equal terms with Hezbollah and bin Laden. Adler Guerrier alludes to the 1968 Miami riots, and Gardar Eide Einarsson's posters supply the weapons for riot control. At least two videos, by Coco Fusco and Omer Fast, document war-time interrogation.
Other works interpret dislocation in geographic terms, such as Walead Beshty's grainy Travel Pictures, which recall the Beirut of Lucien Samaha, or Breuning's video of a tour group in Papua New Guinea. Amy Granat and Drew Heitzler follow a young man from inept social encounters to a search for redemption in the company of Robert Smithson earthworks. Closer to home, a Valkyrie gives a cheerful guided tour of an LA mall, in video by Harry Dodge and Stanya Kahn. Stephen Prima wraps it all up in a pop ditty about "economic integration" and the "unstoppable abyss" of capitalism. His lounge furniture may illustrate that "infantile disorder" or just help one enjoy it.
Still others take dislocation personally. Ellen Harvey's Museum of Failure embeds studio fragments within real or painted ornamental picture frames. Frances Stark reflects on herself in drawing, collage, and PowerPoint as "woman artist teacher mother ex-wife." Rita Ackermann's portraits in Plexiglas, fabric, photography, and paint speak of a Broken Heart in the same space with Lady Di. Edgar Arceneaux has to settle for his own stand-up comedy act.
All this bicoastal anxiety grows unnervingly narrow and chillingly urban middle class, not unlike the art market. It is the site of poetic advertising by Matthew Brannon, framed by a therapist's office curtains—or the "art therapy" sessions by Rodriguez over at the armory. It is where the curators, under the direction of Fia Backström, shape words like espresso and focus group out of modeling clay. It spans Rachel Harrison with mad portrait sculpture and an assemblage of golf balls and Gatorade by Phoebe Washburn. It certainly includes Alice Könitz with her Bauhaus-inspired furniture, at once abstract, attractive, corporate, and plainly dysfunctional.
The 2008 Biennial can feel glib, cold, confused, and way too spread out, not unlike a New Yorker's view of LA. It is also capable of parody and passion, although not nearly half as often as it hopes. It makes far too little attempt to represent the range of contemporary art, artists, and media. It has too many formerly trendy names, such as Matt Mullican, and too much obvious art, like Roe Ethridge's imitation commercial photography. Yet I suppose that, too, accords with the subject of failure. This Biennial argues back.
A postscript: interrogate me
Of course, the Whitney Biennial is the show everyone loves to hate—at least until the New Museum has its 2009 triennial, "Younger than Jesus." But does everyone have to hate the wall labels, too? As I wrote soon after the opening, "the show may serve as a Rorschach test for contemporary art." Now the laboratory subjects are obsessed with its language.
In her blog, Carol Diehl has offered up some real howlers—what she labels "Impenetrable Prose at the Whitney Biennial." According to one curator, Carol Bove's " 'settings' draw on the style, and substance, of certain time-specific materials to resuscitate their referential possibilities, to pull them out of historical stasis and return them to active symbolic duty, where new adjacencies might reactivate latent meanings." MK Guth "creates space for the articulation of intention," and so on. Man, I need my space, too. Another smart blogger, Catherine Spaeth, warns of the anti-intellectualism of the blogosphere. She has a very good point, too, but naturally no one wants to defend nonsense.
Conservative culture critics live for moments like this. In the Wall Street Journal, Eric Gibson quickly pined for "The Lost Art of Writing About Art," pointing to such models as Erwin Panofsky, the great historian of the Northern Renaissance. Only slightly tongue in cheek, Richard Lacayo in Time handily boils things down to five words worth banning—interrogates, problematizes, references (as a verb), transgressive, and inverts—and ugly words they are. Only one problem: what started as Diehl's sensible assault on lazy writing and lazy thinking has become an excuse for yet another cliché, contemporary art destroyed by academic theory. One can fairly ask whether radical art and philosophy can exist after Modernism, especially every other year at the Whitney. But complaining about the challenge is not going to make it any easier.
One theme of this site is that art takes words, not just good taste. It also takes patience—patience with artists and writers who invent challenges to the familiar. Appeals to lost standards make no sense when art has spent more than a lifetime making those standards obsolete. As Bernard Williams, the late Cambridge philosopher, said about ethics, "There is no going back on reflection." Panofsky did more than anyone to interrogate me—excuse me, to turn me on to art. In his Studies in Iconology and Early Netherlandish Painting, he used new vocabularies to find hidden meaning in Jan van Eyck or a Netherlandish diptych, more like Robert Smithson than Hilton Kramer, and his essay on the movies approaches structuralism.
Cries for simplicity merely reinforce the real problem, market pressures that drive the perpetual art fair and that make careers hard to sustain. In fact, those same pressures determine gallery and museum prose far more than does scholarship. The pressures produce the Met's bloated claims for lesser work and loaded attributions. They produce press releases in what I have called martspeak (and I am especially grateful to Diehl for quoting me at length). They make me want to add at least one fashionable term to Lacayo's list, gallerist. In contrast, the Whitney's vocabulary is not all that abstruse, just strung together like a Dada performance.
The 2008 Biennial does say a lot about the art of its time—here and there, even intentionally. As I wrote back in 1997 about martspeak,
"Putting it all on critics is like blaming psychologists for all the managerial vocabulary of vision, impact, and change. Maybe money talks and bullshit walks, but they also talk intimately to each other."
Art and ideas can still matter, but do not hold your breath waiting for the Journal or Time to stand in the way of free markets. "What I'm calling for," Diehl adds, "is not a 'dumbing down' but a 'smartening up.' " Without that, art becomes just a dreadfully expensive variety of mass entertainment.

The 2008 Whitney Biennial ran through June 1, 2008, at The Whitney Museum of American Art, with additional art and events through March 23 at the Park Avenue Armory. You might wish to look ahead to the 2010 Biennial, 2012 Biennial, 2014 Biennial, and 2017 Whitney Biennial—or back to the 1993 Biennial, 1997 Biennial, 2000 Biennial, 2002 Biennial, 2004 Biennial, and 2006 Biennial.