The Art of Endangered Places
John Haber
in New York City
Diana Thater and Ed Osborn
Adriane Colburn, Cheryl Molnar, and Leonardo Silaghi
Years ago, Leo Marx wrote on the theme of "the machine the garden." In a planet poisoned by war, climate change, growth, and pollution, the machine may well seem to have taken over. When art looks at disasters, does it reduce them to objects of contemplation and the picturesque? Maybe, but it can also turn seemingly distant environments into experience.
Diana Thater and Ed Osborn do not put one in the middle of a war zone, but it may sure feel that way. The first finds slow recovery even around Chernobyl, but not for survivors. The other lets one see and hear the melting of polar ice. For Leonardo Silaghi, paintings are more like dump sites, abandoned only after others have stuffed them to the gills. And Adriane Colburn and Cheryl Molnar bring the choices concerning growth from the Amazon and the Arctic to Brooklyn. Maybe to change the world, one must first find love among the ruins.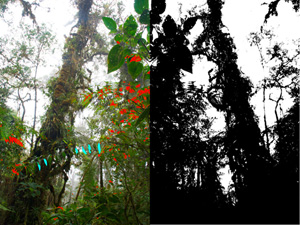 More distant disasters
As the flood waters resided after Hurricane Sandy, one of Chelsea's largest galleries struggled to be among the first to reopen. With two of its doors still shut and a big exhibition put off until January, David Zwirner directed its efforts to just one room, its adjacent garage-like space furthest from the Hudson. It surely helped to have on tap new media on temporary walls, not the fragile physical space of painting and sculpture. And the show of normalcy is both revivifying and haunting, for it puts one in the very middle of a disaster area. One can see oneself in it, and one has no way of knowing when it will recover. One has entered Diana Thater's Chernobyl.
Thater had this planned well in advance, although not its coincidence with the storm. She can take pride in the added resonance nonetheless. Those full-screen projections angle off the old walls, surrounding one entirely. The small projectors rest on the floor by opposite walls, so that one's larger-than-life shadow in motion becomes part of her images. One can hardly help confusing oneself and others with the shadowy presence of a statue memorializing someone who left his own damage (Lenin). Thater's projections have the haze of old film, and at their center is a darkened theater much like her own, built long ago for the workers and reduced to rubble.
So was an entire city, in 1972, although it is now part of an exclusion zone thirty kilometers wide. Unlike Chelsea, only those with a proper purpose (say, video artists) can enter it, and it has been closed since the nuclear catastrophe in 1986. That is enough time for nature, for once left alone, to stage a recovery. One can find beauty in swans on a placid lake, wild horses that run freely, or the sheer enormity of the landscape. Still, the human imprint is everywhere, from the desolation to passing freight trains, workers like her own crew, a long pan across power lines, and one's shadow. Thater notes that the horse remains an endangered subspecies, with other wildlife depleted, and the exclusion zone could not contain the contamination to Russia and the Ukraine.
One can gladly surrender to "disaster chic," just as for Detroit in photographs by Andrew Moore. Now, for all her impressive video temptations, her sequence of images may feel arbitrary or random. The temptations are real, though, and they are a conscious part of the work, in a landscape shot through with human decisions. Thater's coarse colors and artificial light almost obliterate the distinction between outdoors and interiors, humanity and nature. The cycle of abandonment, regrowth, and decay is both a natural and human-made cycle. So, in a sense, is the work.
Hurricane Sandy foregrounds another seemingly distant drama, in the impact of climate change. For just one week, also right after the storm and in Chelsea, Ed Osborn could take that drama to its limits, in what he calls the "polar imaginary"—and the real melting of polar ice. The Arctic always inspires bleakness and awe, and the three-channel video captures them with long shots across land and water, shadowy close-ups of ice and water, coastlines near the edges of the picture plane, and jagged cliffs beyond the horizon. Osborn found inspiration in a 1931 flight to the Arctic, from which the radio transmissions are long since lost, and he planned a debut for ISSUE Project Room's 1926 theater in Brooklyn. Nostalgia and the Romantic sublime also enter views upward to a ship's mast and the choice of black and white. A gorgeous sound system, with seven speakers at ceiling level, further encourages silent contemplation.
Again a more or less random sequence takes on a startling precision. Albedo Prospect takes its name from science, the fraction of radiation reflected off the surface. The sound track comes down to ice melting, fragments breaking off, and water dripping. The point of view shifts ambiguously among water and land to accentuate the vanishing ice. It must sound like an old joke about late Modernism, not to mention avant-garde cinema like Warhol's Empire, Stan Brakhage, or Jane and Louise Wilson in Berlin under Communism—that it is like watching ice melt. This time, though, it is also about listening, and one had better listen.
What a dump
Leonardo Silaghi works fast, smearing black and white into gray on canvases ten or more feet across. The young Romanian managed to complete quite a few on just a short stay in New York. Part of the pleasure comes in the broad curves, casual fillips, and the drips that seem hardly to have dried. Part, too, comes in making out what they describe. They seem more to have called it quits than reached completion. Between paintings and dump sites, they give life to what Cyprien Gaillard calls his "post-industrial version of the picturesque."
Whatever they describe, a painting seems hardly to contain it. One can make out jet engines, shafts, and all sorts of industrial waste, piled high and angled sharply toward the viewer. The gray helps identify them as steel, and the black and white help lend them depth and mass. Often enough, though, they remain unidentified, other than as busted. Color does enter here and there, whether in modeling or, conversely, in the push toward abstraction. Either way again, its chief role is surprise.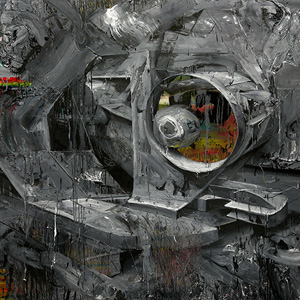 Paintings like these do not need much in the way of impasto to force themselves into the space of the gallery, although deep space emerges all the same. Their all-over smears have an obvious debt to Abstract Expressionism, perhaps closest in style to those like Alfred Leslie and Jim Dine who pushed into Pop Art and realism—or like Wayne Gonzales and his grisaille parking lots today. The whole idea of a painting that works forward rather than in perspective has ties to Cubism or Picasso in black and white. The sheer accumulation of outlines curving back on themselves had me thinking for a moment of Giovanni Battista Piranesi and his dizzying eighteenth-century prisons. Neo-Expressionism is back in fashion, too, as with Ahmed Alsoudani or Pieter Schoolwerth, in part as a response to globalization and war. The subject matter also fits with the contemporary indulgence in "disaster chic."
Just what, though, does it all mean? Was Silaghi thinking of environmental art—of toxic waste piled high for a post-industrial era? The stumbling of Eastern Europe into capitalism, as in the New Museum's "Ostalgie"? How about the dysfunctional economy and loss of manufacturing jobs everywhere in the West? Mostly, he seems to be thinking about painting, with an impulsiveness that could easily become a trap. For now, the visceral impact alone is worth it.
Downstairs at the same gallery, Thomas Bangsted has his own dealing with industrial waste. Last of the Dreadnoughts captures a battleship going nowhere, with the preposterous zebra stripes of camouflage from the first and second world wars. The ship seems doubly abandoned, foundering just off the rocky coast and apart from a shimmering wide-open sea. The Danish-born photographer is definitely not above manipulating the appearance of black and white. A tennis court stands empty, surrounded by woods by day and a nighttime sky, while a waterfall seems similarly to have dropped out of nowhere. Bangsted's humankind is comfortable neither with itself nor with nature, but a bit in awe of both all the same.
Bangsted shares his scale, theater, and cool intellect with Jeff Wall, and sure enough the homage to black and white continues with Wall in the same room. He contributes just one photograph, from 1997, but then his stagings take time. This one shows a woman dressed in loose men's clothing, her face hidden in profile. She stands motionless outside a rural house, stuck between the closed door, a patio just above her head, and maybe her own hands collaged behind her. Given her black hair and ambiguous gender, Wall could be staging an album cover for Neil Young. Maybe all three artists have arrived only after the gold rush.
A jungle out there
As human communities encroach on nature and climate change wreaks havoc with communities, something has to give. It already has, at least in the progressive imagination. Planners have demanded the political implications of architecture, from building codes to the visionary assaults on Modernism in what MoMA calls "9 + 1 Ways of Being Political." Other architects have asked to rethink the American dream of life on the edge—but not to recapture it in the face of suburban sprawl so much as to remake the suburb as city. After all the conflicts of ideals and politics, though, maybe someone should just look beyond, to what is there. Or maybe one could just as well make make the whole thing up.
Two artists have. Adriane Colburn and Cheryl Molnar offer that stark choice, like Babs Reingold contemplating the fate of entire civilizations in their last tree. Colburn has traveled with scientists to the Amazon and the Arctic, and she recreates natural beauty as controlled growth. Molnar sticks to paintings, for suburban and exurban neighborhoods so elaborate that they put "cloud cities" and science fiction to shame. Colburn calls her work a Spectral Reckoning, and the day of reckoning is both unnatural and at hand. Molnar calls hers Better Homes and Gardens, but this version of "better homes" does not carry advertising. Either way, it is a jungle out there.
Colburn covers entire walls as collage and video—the first a long wall indeed, the second on screens as alcoves. They also peek out from behind the walls in miniature and make sculpture something of an obstacle to crossing the floor. The collage of cut paper picks up the decorative symmetry of rather old-fashioned wallpaper, but apart from the wall itself, like hanging vines. The floor sculpture of wood beams hosting, I am guessing, artificial plants, looks like Minimalism dealing badly with overgrowth or collapse. Both pick up the outlines of projected tall grass and wildflowers, except that the projections depart from the literal with their rapid motion and their heightened reds and greens, as in a color negative. Two small, round holes give access to video as diorama, in one case a continuous and seemingly artificial waterfall.
Molnar's territory looks more at home in Brooklyn, thanks to the architecture of Europe and America. Her very reliance on strict geometry, with thin paper strips across birch panels, align her paintings with an architect's studio practice. It is, however, a wide-ranging practice, including past, futurism, and maybe anything but the present. One recognizes the tract houses, but from the air and at a strange remove, and their dense, regular array would have anyone heading for the distant hills. One recognizes lavish glass and wood cantilevers or native species out of Frank Lloyd Wright and more historically distant topiary gardens—some of the more threatening bushes cut into oil-stained wood. The same lines that go into exaggerated suburban perspective can also become exaggerated decorative tiling and landscaping.
After Colburn's multimedia, Molnar's strict design may seem mere illustration, but it quickly runs wild. After Molnar's fantasies, Colburn's mind games may seem schematic, but they stick to the facts—and turn the facts into a multifaceted installation. They also have more in common than may appear at first glance. Both work with cut paper, the occasional lines of text indicating a source from newspapers and magazines. The type adds texture, along with each artist's staining and brush, and it serves as another reminder of crises of the past century, but in the art of collage. It is also unreadable.
All the same, the design choices are real and in the present, just as in politics. If eighteenth-century French garden, the forest of Fontainebleau for the Barbizon school and its own Romantic landscape, or South American waterfalls seem exotic, all sorts of strange visions are defining America, very much as Leo Marx imagined. The two-person exhibition opened the weekend of Dumbo's fall arts and street festival, with gentrification everywhere, families lining the streets, fewer and fewer studios, and sculpture bobbing just off-shore. The art indoors is entertaining and celebratory, too, especially when it gets foreign and scary. You get to stand back or to peek into corners. You just may never know what you will see soon enough.

Diana Thater ran at David Zwirner through December 22, 2012, Ed Osborn at Bitforms through November 10, and Adriane Colburn and Cheryl Molnar at Smack Mellon through November 4. Leonardo Silaghi, Thomas Bangsted, and Jeff Wall ran at Marc Straus through April 21, 2013.