Visiting Hours
John Haber
in New York City
Gallery-Going 2006: The Studio Visit and Site 92
Michael S. Riedel, Pierre Huyghe, and Asylum NYC
Art commented on itself and its owners long before Postmodernism. When Renaissance painters first boasted of their skill at illusion, art already became a part of its subject matter. And when frescos and tapestries covered palace walls—or when tempera and gold created altarpieces—art already functioned as a part of its environment.
These days, of course, one can hardly walk into a gallery without encountering overt self-reference and yet another oversized assemblage. Art today, it seems, can hardly stop commenting on its own creation and installation. It overflows an exhibition space, while directing one's eye to a gallery's bare walls. It gives museums the flavor of public landfills, while welcoming one into an imagined artist's studio.

Four recent exhibitions make these paradoxes explicit. With "The Studio Visit," Exit Art compresses a city-wide open-studio month into one room, where one hardly gets to look at actual art. At Smack Mellon, "Site 92" documents the Dumbo gallery's own remaking. Michael S. Riedel, too, gives art a back seat compared to where he first encountered it—in this case, in the same gallery but by another artist entirely. Finally, Pierre Huyghe reflects on a classic modernist center for the arts, along with his own inability to encompass its history, while "Asylum NYC" reduces the studio to a detention center.
Open and shut case
Exit Art has a formula: find a sufficiently vague but punchy catch phrase, and turn it into a call for proposals. Disseminate it by email—or behind the thoroughly annoying gay-male stereotype on the institution's home page—and see how many submissions can fit on Tenth Avenue without spilling across the Lincoln Tunnel. In short, it invites artists to brainstorm. When the formula works, it enables them to push familiar forms and old political debates closer to the edge. When the nonprofit reopened on the west side, "The Reconstruction" helped reconstruct Exit Art itself.
When the formula fails, it suggests instead a dealer's forced march through slides and studios. What, then, if "The Studio Visit" itself becomes a theme? For barely three weeks, one-hundred sixty artists open their studios, virtually, for up to ten minutes apiece. About an hour's worth of video cycles through each of fifteen screens—each, appropriately enough, in an small, enclosure suitable to the New York real-estate market. Step right in. Seven artists also try to move their studios into Exit Art's shallow windows, as if to make you grateful for the space you can afford.
Frankly, I rarely enjoy open studios—and then mostly as a kind of block party, as in Dumbo's annual weekend of "Art Under the Bridge." Issues of quality aside, one person can never see all the art bubbling up to New York's surface, and gallery-going already reduces one far too often to first impressions. Fortunately, "The Studio Visit" maintains the party spirit. I wandered casually from booth to booth, more in the spirit of making friends than of judging art, and contributors may use their video to spoof themselves. One artist hangs out in front of speakers and a turntable, like a rap star who has finally run out of things to say. Another reflects half her moving image vertically across the screen, like a cross between a vagina and a kaleidoscope.
Others dutifully pace their studio, revisit their art, talk about it, apologize for it, or ignore it entirely. Only a few actually make art, and it may say something that an older generation cares most often even to bother—and in videos of greater length at that. The show tends to discourage acquaintance with art anyhow. Unlike in an actual day of open studios, one cannot linger over good work, take a card, snatch a candy, and move on. The videos play out at their own pace, and while each booth lists the artists and the length of each contribution, titles identifying the artist appear only between clips. In a leisurely visit, I must have passed through thirty or forty studios, but I could not always say whose.
The show's drive has a real drawback, for it replicates yet another day in the art world's perpetual shopping mall, where everything this season feels at once overly familiar and too much a private vision. Exit Art includes some established artists, some rising stars, and any number of discoveries new to me. You can see, however, why I hesitate to single anyone out for mention. At the same time, Exit Art further transforms actual studio visits: it necessarily makes the studio—or indeed the artist—the work of art. And that, too, reflects knowingly on art now.
This transformation becomes most evident in the seven windows, like department-store displays with no time left for holiday shopping. They include Joyce Pensato with her messy gathering of Mickey Mouse and gorilla masks, along with Aaron Krech's name-brand bottled water and pristine, inflatable plastic armchairs. The studio functions as physical stage set, with the artist's output as literal window dressing. It makes perfect sense that Chris Clary or J. Morrison invites one to participate in a photography or t-shirt project, while others tantalizingly withhold their presence. It makes sense, too, that Francis Palazzolo depicts himself as the whore in Edouard Manet's Olympia or that Cynthia van Buhler posts her own reviews—along with menstrual blood and fingernail clippings. Paul Wirhun's ecology lecture and ghoulish eggs shun such extremes, but he, too, responds to consumer culture and to the artist as its avatar.
On Site
"Site 92" could pass for a literal remake of Exit Art's reopening exhibition in 2003. Perhaps it has to return to that theme, with another space in transition, and at first that new space left me cold. In fact, as a work in progress last fall, down to the bare essentials, Smack Mellon probably left its staff literally reaching for sweaters. Besides, the inaugural clutter of videos, all together in the one new room, did not exactly attempt to hang together. The Dumbo gallery also seemed to lack the ramshackle charm of the abandoned one barely a block away. Its old split level revealed its caverns and its art only slowly, and it cried out for installations responsive to the site.
With the latest group show, however, Smack Mellon won me over completely by soliciting just that, site-specific work. Sure, I may wish one day to find a gallery not displaying either video or a jam-packed installation. Moreover, a review like this can never treat two dozen artists with any semblance of fairness. However, "Site 92" serves as a fine belated introduction to large, flexible interior, even if the doors still let in winter air if visitors do not behave themselves. Like Exit Art after its move in 2003 or the more intimate landscape of an artist's book, it allows artists to participate in defining one's future understanding of the space.
Some do so by architectural imagery. Maria Levitsky's photographs explain How to Stretch a Building and How to Turn a Building Inside-Out (presumably, with caution). Amy Yoes plays with two dimensions and the geometry of a building plan in her wall drawing, while Dannielle Tegeder and Lili Herrera base theirs on the air vents, electricity, and other "hidden systems." Trevor Stafford also echoes an actual structure of gallery windows, while Suzanne Song's especially nice acrylic only looks like a wall drawing. Its soft blacks can at one moment suggest pencil shading, at another contradictory planes in three dimensions.
Others push into the gallery's nooks and crannies, not to mention the bathroom, inviting one to keep looking until one has explored it all. I almost overlooked Megan Piontkowski's Birds perched over the entrance, and it took me a moment to figure out how Ruby Palmer's Floor Plan could cantilever over the stairs. Bobby Neel Adams uses a mix of photography and construction materials to turn a half-hidden back wall into community of its own, while Heesop Yoon invites one into the stairwell—only to find that his masking tape allows more visual than physical access. If one has not seen quite enough, Yuichiro Nishizawa points a telescope into the main area, although its electronics resolve the actual interior into points of light, like a night sky normally hidden by Brooklyn light pollution.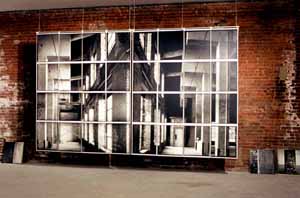 Others adapt architectural elements for their own metaphors of inside and out, as Gordon Matta-Clark once did with his power saw. Danielle Dimston calls her corrugated cardboard A Walk in the Woods, and it does look like tree fungus growing on a structural riser. Kim Beck blocks an actual look out to nature, thanks to her alternative foliage in green vinyl overlaid on the windows. Perhaps I liked the title, A Weed Grows in Brooklyn, more than the routine image, but it describes the Brooklyn I know better than the novel can. Claire Watkins deconstructs nature with another science experiment, in which needles appear to line up in an unexplained magnetic field.
Finally, some simply take over the central area, for a playful appreciation of its scale. As in past sculpture and performance at Smack Mellon, Karen Dolmanisth invokes unstated nature rituals, with twigs and other common objects. They create a space of their own within, and the old metal column they enclose seems to belong to it rather than to the gallery. For a nice contrast, Luisa Caldwell's adjacent column of space sticks to the present tense. Color Falls consists mostly of thread and candy wrappers. If that sounds cloyingly sweet, she allows one to think of falls as both a noun and a verb—which now has me thinking about "Smack Mellon."
The Matrix
Tired of too many studios, industrial spaces, and personalities? Turn next to an artist obsessed with his own gallery and with someone else. How do I appropriate thee? Let me count the ways. Faced with Michael S. Riedel I may already have lost count.
His exhibition title alone, "Neo," surely counts for half a dozen. In reviewing "Sensation," the Saatchi collection of no-longer-Young British Artists, I used up the filename "Neo-neo" five years ago. Of course, you can download and reproduce that file—or this one. Just do not confuse the artist here with Michael J. Riedel, who makes computer games. This Michael Riedel, too, promises a return, but a return to territory already mapped out in countless movements, stratagems, and fashions, mostly themselves appropriations.
Riedel in fact intends a specific return, to a German artist sixteen years his senior—a painter who just happens to call himself Neo Rauch. Rauch's work involves a playful pastiche of past styles and histories, not unlike the ruins of postwar Germany as seen through the eyes of Soviet Realism. One reviewer called him "the coolest name in art," but I vote for the hottest, since Rauch means smoke.
Rauch happens to show at David Zwirner, where Riedel at once represents, reproduces, and deconstructs his past exhibitions. Individually, the black-and-white wall pieces function as installation photographs, giving each painting its accustomed place. You may recall that Louise Lawler has photographed art in galleries and museums for twenty years. She makes one more appreciative and yet more skeptical of a work as a product of its display. However, Riedel treats even that critique as a found object. In the past, he has even supplied a fake catalog.
Riedel's technique further ups the ante on art in an age of mass reproduction. Up close, one discerns the dots familiar from inkjet printing or, before that, Roy Lichtenstein. Riedel also mounts the work on something as disposable as commercial fiberboard. From a distance, the four large pieces cohere across walls or across distinct rooms, as a simulated exhibition—or rather they almost cohere. I found myself moving from side to side, hoping in vain that their represented sightlines would align.
I admired the installation for itself and as my own space, like a Minimalist's theater. I also came to admire the rooms, the monochrome, and the dots for their spare elegance. Besides, I liked the challenge to keep count of the appropriations. Riedel may not pull off Rauch's historical resonance or Lawler's institutional critique. He heightens the glibness of both more than I care to say. However, he leaves a space for contemplation amid the mind games, and maybe that still counts as something new.
Dream On
Where a museum exhibition once made claims for "The Museum as Muse," these artists all dream about their actual workspace. However, even in his dreams, Pierre Huyghe has control issues. First he took over Central Park's skating rink and an army of penguins in the interest of the Whitney Biennial. Now he takes on Modernism's most fearsome master of planned living and makes him dance. In this marionette theater on video, Huyghe—or a suitably qualified, dutiful underling—pulls strings.
Asked in 2004 to respond artistically to the Carpenter Center for the Visual Arts, Le Corbusier's only construction in America, Huyghe takes control not just of the building and its architect. His cast includes the latter's patron at Harvard University back in 1963—and the duo commissioning Huyghe's video. Harvard itself appears as a cross between a praying mantis and Darth Vader. So, for that matter, does a puppet Huyghe, at one point pulling the strings on still smaller puppets. In a postscript, an actual human being appears, for a professorial discourse on the meaning of it all. Naturally enough, his lean features recall the wooden Le Corbusier.
In this meta-meditation on creativity and control, one sometimes catches a glimpse of the miniature theater itself, with another shadowy audience facing silvery walls that already evoke architectural fantasies. Huyghe's title, This Is Not a Time for Dreaming, by itself promises a postmodern lecture on dead white French people and modernist utopias. As the song goes, "I could shake my tiny fist / and swear I wasn't wrong, / but what's the sense in arguing / when you're all alone?" However, the video artist feels the loneliness, too. Along with the imposing designer late in his life and five years into a commission, Huyghe allows himself and his audience to dream as well.
Early in the video, a wooden Huyghe in miniature lies listlessly under a bare tree, its leaves fallen to the ground but with hints of a nature littering the earth with strange hues. By the end, thanks to a seedling brought by a bird, vines have grown out of the building in all directions, to give it a new life. Even Darth Harvard appears as a germinative as well as threatening force. He (or it) rescues the artist from despair at the mounds of documentation surrounding a project that a contemporary artist can only hope to understand. Later it helps the arts center take shape—first as a frame somewhere between Vladimir Tatlin's monument and the casual chaos of Jessica Stockholder, later as a resounding gathering of modular arcs, blocks, and ramps.
Modernism has taken a lot of hits. Last year, the press all but blamed Le Corbusier for riots in a Paris suburb. A postmodern critique, too, can undervalue the modesty of the original dreamers, who all but begged for a democracy of art, with room for knock-offs of their designs and an environment that could nurture fresh lives. Paradoxically, the critique of idealism also puts way too much faith in design as a solution. That faith helps motivate plans for the High Line and High Line extension on Manhattan's west side right now. By coincidence, I found myself in Boston two days after seeing the video, and the Carpenter Center's fluid embrace of open spaces and bridges to its surroundings took me by surprise and delight.
Huyghe's sympathies lie with all dreamers, like Carsten Höller, although he prefers ones more accepting of entropy. Moreover, he acknowledges his own controlling streak. When the puppet Le Corbusier breaks into a forlorn cabaret act, has the architect fallen into despair at his failed utopia, released a repressed spirit of fun, or turned the spotlight on Huyghe's all-encompassing demands? And why do all the puppet faces, even the curators from Cambridge, look so French? Should one see Huyghe's critique as another tired ritual, a celebration of the past, or a charming meditation on both? The video may try so hard to say it all that it never adds up, but the archly appended lecture alone reminds one that Huyghe probably likes it that way.
The studio as confinement
One can see all these exhibitions as plays within a play or, alternatively, as transpositions of studio into gallery that recall Robert Smithson and his notion of a nonsite. Of course, art often reflects on its materials and origins, includes performance elements, or responds to the installation space. Good art likes, too, to keeps a sense of humor about how those conditions thrust the artist—or a surrogate—on center stage. For Marina Abramovic or Chris Burden, those demands have made performance an act of endurance. When Yoko Ono in conceptual art recreated the windowless space in which men and women died attempting to cross the border to America, it made an unseen performance space a microcosm of political trauma. Surely the next artist would have only to explore the similarities between performance and reality television.
Sure enough, last month a show in Chelsea aimed to combine the elements. It combined over half a dozen onsite studios, feats of endurance, immigration politics, and the voyeurism of TV culture. A German collective invited artists from abroad to spend a week at White Box under extreme constraints. They had to live and work within a minuscule area—a pretend room defined only by tape marks on the floor, not unlike the set for Dogville. Visitors could enter only through its similarly marked, imagined door.
The artists could not leave or even acknowledge one another. They could draw but not on the walls or floors, and they could not so much as read a book to pass the time. They could bring no electronic devices or a camera. If their work normally relied on new media or photography, they had to learn again to work by hand. In return, they received such rations as oatmeal and raman noodles, along with constant scrutiny from eyes like my own.
They had to get there on their own dime, too. At week's end, the German "guards" promised a startlingly modest reward—a lawyer to help present the application for extended residence as a creative artist. The United States grants such visas to only a tiny fraction of applicants, mostly based on recognized career success. Surely access to a lawyer would not number among the major obstacles. To add to the irony, the prize eventually went to an artist in absentia, who attended only virtually because of his own last-minute visa problems. One can hope he had a more pleasant and creative work week.
You can see why I encountered a talented woman reduced to tears by loneliness, constant interruption, degradation, and fatigue—including wrist fatigue from a day with nothing to do but draw. I also found the entire show abhorrent. The work purported to draw artists together in performance to make a collective political statement. Instead, again like Dogville, it did exactly what it claimed to denounce, using other people as means to rhetorical ends. It displayed a thoroughly muddled politics at that, confusing the long lines downtown for presenting visa applications with detention centers at European airports. It further confused the rapid, exploitative politics of immigration affecting poor people and global economics with the position of creative artists.
Some of the cast did receive visitors bringing food. In fact, the sympathy of a friend of mine led her to visit many times, bringing creature comforts and a refreshing new performance element to the weary. To their credit, the "guards" went from arguing with her to confessing their own divided sympathies as performers. They also let one prisoner play with tape lines on the floor, to make the shape of the prison into a maze and a work of art, and I must duly report that participants felt a shared understanding by the end—although I have serious doubts about how that differs with the identification with one's captors common to any repellant experience. I can only hope that the sponsors see fit to extend their offer of legal assistance to each and every one of these struggling contestants. They could do a lot better job at using the limited clout and sadly limited talents of a nonprofit space to get the artists some press attention in New York as well.

"The Studio Visit" ran at Exit Art through January 28, 2006, "Site 92" at Smack Mellon through March 5, Michael S. Riedel at David Zwirner through December 23, 2005, Pierre Huyghe at Marian Goodman through April 8, 2006, and Wooloo Productions's "Asylum NYC" at White Box through April 29. A later note says farewell to Jeanette Ingberman of Exit Art.