A House Built on Sand
John Haber
in New York City
Katharina Grosse and Outdoor Sculpture
2016 Summer Group Shows
In one of New York's most remote and abandoned corners, Katharina Grosse imagines a house swept away by sunlight, as a project for MoMA PS1. It is an actual house all the same, and it was almost swept away in the darkness of a storm.
It had me extending my tour of 2016 summer sculpture a long way. More permanent sculpture rests in some suspiciously private spaces. Then, too, one can slip back indoors to recover the transient beauty of long afternoons, with a round of summer group shows.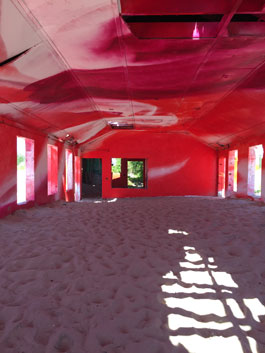 After the storm
I can never forget leaving my apartment and descending nine stories after Hurricane Sandy, emerging from lack of electricity into the light. I can never forget, too, the many days after, getting to know neighborhoods again in the quiet of shuttered galleries. As I wrote then, I feared most for midlevel galleries and their artists. I feared for those who thought that they were helping one another and even succeeding. Even before I could reach out to those I knew, I could only imagine what they were thinking, assuming that they had time to think about anything other than the inventory of their losses and their art. In a business better known in the popular press for celebrity artists and big money, had they built their house on sand?
Still, for all its show of empathy, that question overlooks something more urgent: some people woke up to find that they had lost everything, because they really had built their house on sand—the kind that burns and gives way beneath one's feet. And Katharina Grosse insists on the urgency in calling her summer project Rockaway! She saturates a building in Gateway National Recreation Area in bright red, inside and out. You might see it as drenched in blood, although she wanted to capture a sunset, extending to painted pavement on the ocean side. It stands abandoned empty but for sand, and it will be demolished soon after the project ends.
I cannot swear that I would recommend it to anyone not dying to devote hours to a tour of the city's dingiest subway stations and worst neighborhoods. I approached it the long way, by subway to Rockaway Beach in Queens, off Jamaica Bay. One discovers not a beach but a community, very much still standing after the storm. It takes nearly two miles to reach Jacob Riis Park—and a further mile or so along the Atlantic Ocean before that, too, comes to an end at Fort Tilden. Thoroughly lost but with no easy turning back, I eventually found my way across a football field long overrun with weeds, past fences that all but shout keep out, and to three empty buildings near the water. All three rest on sand and are covered with graffiti, but only one is also painted red.
The spray paint leaves swirls of white, the better to evoke a sunset. Yet it has to compete with mixed messages every step of the way. A bus from the subway runs all the way to Fort Tilden, although one would never know it, while the house lies outside the fort's fences. Two horses greeted me at the fort's entrance, but neither was talking. Riis Park has no signs other than to say that one is there. Another sign, right in front of the house, forbids entry, but the work demands it.
The work may look better still in photographs, where the reds deepen and bounce off sunlight on sand. From the outside, the pattern looks less intense and less like a sunset. The nearby buildings and their graffiti offer serious competition as well. As with the house on the Met roof by Cornelia Parker, the reach for theater may even get in the way of the work's message. With its exclamation point, it almost sounds like a Broadway musical, awaiting tourists who will never appear. MoMA's description does little to ground it in climate change—or in the gains and losses of an island community.
Yet the context is real, much like an artist's studio after the storm for Tom Burckhardt, and it does almost as much as the paint to bring the work alive, between public sculpture and community. It came together for me as I rode a different bus, up Flatbush Avenue into Brooklyn. After the immensity of the Atlantic, I was passing chain stores on the way to Brooklyn College and a very urban community. I could finally bring together the disparate experiences of being lost and found. Thinking further back, I could hope again for galleries and artists. Just do not wait for them to paint the town red.
The Great Pumpkin
Does Yayoi Kusama believe in the Great Pumpkin? In The New York Times, her sculpture appears to tower over the viewer, not to mention Peanuts fans, reaching almost two stories.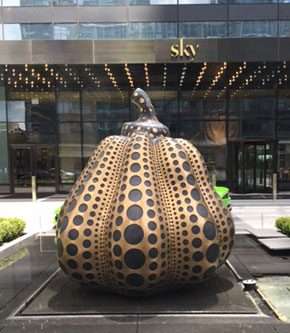 From its gold veneer and bronze polka dots, it looks at once monumental and lightweight, befitting an artist who traffics in crowd pleasing and spectacles. It also befits its site, luxury rentals further west on 42nd Street than they have any right to be. Residents new to art will find their tastes and their wealth instantly confirmed. This is like no pumpkin you have ever seen.
In person, Pumpkin (L) is no taller than many a visitor, perhaps even Linus. Resting on a shallow fountain, it does its best to lend value to the driveway behind it. Now if only it could spare some for itself. Kusama, who has turned out ever so many like it, says that pumpkins appeal to her as ever so "unpretentious"—unlike, presumably, certain works of art. Besides, she adds in a plaque by the work, they have a "solid spiritual basis." The spirit is willing, but the art is weak.
The Times photo graces Randy Kennedy's rundown of sculpture in privately owned public places. As a reporter rather than critic, he understandably leads with art and architecture not yet even built, and he omits such old excuses for selfies as LOVE by Robert Indiana in midtown and Red Cube in the financial district by Isamu Noguchi. Anish Kapoor will, no doubt, contribute an imposing blob to a tower by Herzog and de Meuron in Tribeca. Tadao Ando will alter the lighting for a building of his own design in Soho. Art works in mysterious ways, and so does real estate. Come back next year, and we shall see.
With a beat centering on collectors and institutions, Kennedy's tastes lean to corporate art, even as he turns a tough eye on its surroundings. He praises a shiny balloon rabbit by Jeff Koons, in IBM's offices off Astor Place. If it, too, seems like pandering, its intended audience is way too knowing to care. Besides, Kennedy observes, it gains an edge from oversized ears that resemble female private parts. And Koons might well agree. But then he could find female private parts in balloons everywhere, if not indeed in everything.
The tour continues to MetroTech center in downtown Brooklyn, where Bruce Nauman has a less conspicuous but nearly as stale contribution. Nauman often pairs neon words, here Read and Reap, so that they blink alternately on and off. His pairs relish contradictions and clichés to match those of the art world. It was only a matter of time before they came to Brooklyn. Not all the news is bad, though. One can always return to 42nd Street.
On the east side, but not so far east that the building cannot claim a Fifth Avenue address, James Turrell transforms an entire lobby with light. A blue mist pools along the floor, running the length of the side walls, as if descending from a fountain above. Other colors turn architectural elements into windows onto mass. Turrell does everyone a favor by raising once more the tough challenges of public access and private means—as the Times headline puts it, "Real Estate for the 1 Percent, with Art for the Masses." Art quite generally is struggling with both, but for now lighting and the Great Pumpkin frame New York's most famous numbered street with points of rest. Linus would get a good night's sleep.
From sunlight into black
Face it: summer group shows can be a chore. Who wants to see a gallery trot out its stable? Who wants too many names to remember, a forced theme, or no theme at all? As it happens, many people, grateful for the chance to catch up with friends—and to wind down from the madness of winter. That first week in September will come all too soon.
A much expanded stable at Canada positively shouts its ambition, as "Make Painting Great Again," and not altogether ironically. The return of painting has even MoMA's endorsement, but Katherine Bernhardt, Joe Bradley, Daniel Hesidence, Michael Williams, and Xylor Jane can still set me reeling—even if Bradford has descended to the Simpsons. And swimmers for Katherine Bradford or dark color fields for Lily Ludlow can still settle me down. Thierry Goldberg offers the simpler indulgence of a three-person show. Lenz Geerk and Anthony Miler make the human subject unruly, like Cubism as dense scrawls. Jordan Kasey leaves it masked with color and cropping, like bedroom scenes too dangerous to speak their name.
A lack of theme suits Bitforms, where new media bring their own constraints. "Temporary Highs" breaks with the picture tube and into space, with prints on aluminum for Katherine Frazer and Addie Wagenknecht, on suede for Ry David Bradley, and on Plexiglas for Jonas Lund.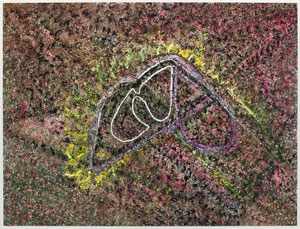 The break takes place within video for Hannah Parry, with a cigarette piercing its flame. Like many a theme, "False Narratives" sounds at once too broad and too much to bear, but it must hold special significance for Pierogi. The first Williamsburg gallery, with all the neighborhood's former promise, it has turned like so many others to a corner of the Lower East Side. There Tavares Strachan creates windows of broken glass out of each neighborhood's past, Nadja Bournonville recalls Freud's narrative constructions with a look back at "hysteria," Brian Conley imagines beetle tracks as marks on ancient steles, and the diorama of a conference room by Roxy Paine reminds me why meetings seem never to come to an end.
One can forgive the obvious at Marlborough. At least one can when landscapes encompass private parts for Betty Tompkins along with the elusive outdoors for Richard Estes. Ditto with "The Female Gaze" at Cheim & Read. A woman's gaze takes men as a matter of course for Diane Arbus, Catherine Opie, Nan Goldin, and Berenice Abbott, because the strangeness of their vision and their company would be meaningless without men. Who remembers, though, that Cindy Sherman looks at others than herself? Who knew that Bradford's swimmers could be fathers?
Sometimes both men and women have skin in the game. They do in "Skins" at Garth Greenan, where the point is tactility and not torture. The work, mostly from the 1970s, often gives physical shape to a woman's experience. Mary Beth Edelson lingers in the darkness of what could pass for abstraction, fruit, or sex. Kiki Kogelnik drapes pink vinyl over hangers like empty bodies, while waxed canvases by Harmony Hammond and Lynda Benglis have unexpected affinities. More unexpected still, Howardena Pindell creates a tondo from hole-punched paper and smears of color.
Pindell could appear in any show of "Blackness in Abstraction," but not at Pace. There black abstraction has a different meaning, as a monochrome, with some sixty works. It leans to large work at that, furthering the connections among blackness, materiality, and abstraction. The low lighting does not suit everyone, least of all Ad Reinhardt and Louise Nevelson. Yet when African Americans do appear, blackness takes on a double meaning, between identity and paint—and between self-assertion and effacement. After Ellen Gallagher, Adam Pendleton, Rashid Johnson, Lorraine O'Grady, and Glenn Ligon, it takes daring to step outdoors into sunlight and summer.

To continue my tour of 2016 summer sculpture, Katharina Grosse ran at Fort Tilden curated by MoMA PS1 through November 1, 2016. These summer shows ran at Canada through July 15, 2016, Thierry Goldberg through July 1, Bitforms through July 31, Pierogi through July 31, Marlborough through July 29, Cheim & Read through September 2, Garth Greenan, through July 29, and at Pace through August 19. Randy Kennedy on public sculpture appeared in The New York Times for July 8, 2016.