North of Paradise
John Haber
in New York City
Hélio Oiticica, Lygia Pape, and Grupo Frente
In December 1970, Hélio Oiticica moved to New York. Had he brought Brazil with him or left it behind? The Whitney shows him searching all his life for a sense of belonging and freedom.
So what if now and then they got in each other's way? So what, too, if the creator of an installation called Eden never found paradise. Meanwhile Lygia Pape was working away on modern art when something remarkable happened: she stumbled onto the 1960s. Yet she never left her roots in drawing behind. In Brazil in the face of dictatorship, she helped to bring a decade alive.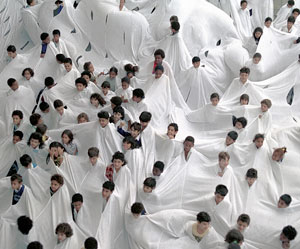 Before globalization
It has taken a while, but Oiticica has at last plenty of company. In short order, every major New York museum of modern art has put Latin American art and politics at the forefront of its agenda. As his retrospective opened, the Met Breuer was still wrapping up its survey of Lygia Pape—in the Whitney's former building. Lygia Clark had her retrospective just two years before at MoMA. Doris Salcedo, the Colombian sculptor, appeared at the Guggenheim the year in between. Other are rediscovering Cuban art and the Caribbean.
With Pape and Clark in Brazil, Oiticica launched a movement. The Neo-Concrete manifesto of 1954 asserted their place in Modernism and geometric abstraction, and it connected both ideals to personal freedom. Oiticica liked it so much that he used the movement, Grupo Frente, as the title for his early art. Works on paper break from the grid, with elements in motion in debt to Kazimir Malevich, Paul Klee, and Piet Mondrian. A painting in shades of red has a luminosity and rigor that would have done Ad Reinhardt proud. Just in case you have not had enough of the group, it appears in a Chelsea gallery's summer group show.
Not bad for an artist in his twenties, nearly fifty years before museums and markets embraced Latin American art. Yet he came to New York not as an apostle of modern art, globalization, or cultural identity. He came to belong and to create. He had already survived the dictatorship that took over Brazil in 1964. He had watched as friends suffered exile, jail, execution, or silence. As an artist and a gay male, he found new friends and new life in East Village art. From the look of his work from the 1970s, he had left painting and politics alike all but behind.
Ten years later, he quit the city, under pressure from immigration agents and under suspicion for his sexuality. His proposed urban architecture had gone nowhere. Still in touch with Clark, he wrote that he felt "in prison on this infernal island." He returned to Rio, but not to the formal exuberance with which he began. He died from a stroke just months after his return home, at age forty-two. In his short life, every discovery came at the cost of the abandonment of another—and every step toward release became confining once again.
Born in 1937, he gave up the formal constraints of Art Concrete almost as soon as he began, much like Carol Rama in Italy. The retrospective has little to show for those years—less, in fact, than the Chelsea group show. As curators, the Carnegie Institute's Lynn Zelevansky, the Art Institute of Chicago's James Rondeau, and the Whitney's Elisabeth Sussman and Donna De Salvo are determined not to pigeonhole him with a movement. They prefer his other media and more public side. They follow him gladly from Rio and back. Do they ever, though, find a truly public act?
The show fills the museum's largest floor for temporary exhibitions, along with an alcove for photographs by Willa Nasatir, but still feels leisurely and uncrowded. It recreates installations both large and small, with invitations to enter—or, when work has become fragile, warnings not to touch. It stresses Oiticica's commitments to "social interaction" and "community responsibility." It bears the title "To Organize Delirium," although it falls short of intoxication or organization, because so did his art. It cannot, though, wipe away the feelings of exclusion and confinement. Where Pape turned to artist books and happenings, Oiticica seems less comfortable with himself or a larger community.
Belonging or freedom
The search for belonging and freedom appears from the start, along with their tensions. Belonging is obvious, given a moment and a manifesto, but so are the free-floating elements of geometry. Malevich became a hero to Minimalism in America for his spare paintings. The curators, though, suggest that he meant something else again in Rio—much as Soviet art in its time stood for new beginnings. Still, Grupo Frente quickly felt confining, and Oiticica sought to free his work from canvas and the wall. He adapted his planes to sculpture for others to enter, and he placed a mirror on the floor beneath one piece, so that others could see themselves.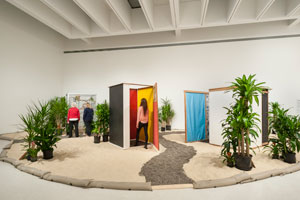 He called smaller works Bólides, or fireballs, beginning in 1963, so that the explosions could continue. He gave wood cabinets movable shelves and filled glass receptacles with pigment, crushed brick, organic substances, and earth. They hint at his identity as a sexual being in a native landscape. That landscape expands, too, to include others, but refuses the labels that others place on him. Tropicália from 1967 allows "participants" to follow its pebbled paths or to wander on their own in sand. Its plants, TV footage, and caged birds place the work in the tropics, but allow for a recreation anywhere. It offers a place for reading and contemplation, while contemplating stereotypes that Oiticica abhorred.
Two years later, he created Eden at the Whitechapel in London. Now the paths are gone, leaving open sand and cryptic enclosures. You may stumble onto a floor of leaves, hay, or running water, so watch your step even in paradise. The Whitney sets the two installations side by side, leaving you to discover for yourself where one ends and the other begins. It also leaves ambiguous what counts as a beginning or an exit. His model for an unrealized public garden lacks for greenery and takes the form of a maze.
Not long after the first Bólides, the nation had taken the ground out from under him with its military coup. Oiticica replies with more fire power, but also with his rare explicit politics. A flag on its pole resembles a meat cleaver, and a banner bears the image of Che Guevara. Other works state their defiance with text: "be an outlaw, be a hero," and "sex and violence, that's what I like." Cross-dressing appears again in wearable art called Parangolés (or "paranormal")—and the Whitney includes a video of a dancer and a mirror, so that you can sway to the music while trying them on.
Then comes the fall from Eden. Work in New York runs to slideshows, like The Ballad of Sexual Dependency for Nan Goldin without the drugs, despair, and sex. Oiticica takes an African American artist, fellow Brazilians, and a drag queen to the rooftops, the subways, the Gay Pride parade, the Flatiron building, MOMA, and Fillmore East. He accompanies one slideshow with Jimi Hendricks on the soundtrack and hammocks in the gallery, so that anyone can rest, relax, or feel the heat. In time, though, the artist once again found neither a home nor an escape. He models Manhattan out of unfinished gray stone, as a monument to a brutal island.
And then he is back in Rio. He had left the infernal island for a hotter climate and death. His last works in New York take on Brazil from a distance, with more assemblages of architecture, sand, rocks, curtains, and water. He called them Penetrable, Rijanviera, but they defy penetration. He took their subtitle from James Joyce and Finnegans Wake, with a play on Rio as the Riviera in January, but they are at most a last resort. So where did he belong, and was he ever free?
Happening on Concrete
Coming into the Met Breuer, you, too, can stumble onto a happening. A photo covers the entire wall across from the elevators, with dozens of heads popping out of a rippling white sheet. Who knows what it hides—and who knows how many more children of the favelas extend beyond the photo's edges? Like any happening, it brings people together in the name of chaos, protest, or play. Lygia Pape first staged it in 1968 and called it Divisor (or "divided") rather than assembly, but then the decade that inaugurated the culture wars was notoriously divided. Her retrospective ends with bursts of color, including a red table and chairs covered with parrot feathers, like her very own strawberry fields.
Pape was not at the center of a mod London, and she was too old for a baby boomer. She was bringing a changing century to the Americas. Modernism had arrived before, with Grete Stern and Horacio Coppola in their travels from the Bauhaus, and yet abstraction was still something of a novelty in Rio when Pape, born in 1927, joined with others in founding Grupo Frente in 1954. Frente means the front, as in the vanguard, but this avant-garde looked way back to Mondrian in the Netherlands and what Theo van Doesburg back then called Art Concrete. It had a lot of catching up to do. Five years later she and others, including Oiticica and Clark, issued their Neo-Concrete manifesto.
Her work keeps moving back and forth between book art and, on film, performance. She traces parallel lines in ink and woodcuts, but with gaps that transform the image into overlapping triangles and circles. She cuts and peels paper so that it becomes an object in three dimensions or a frame for whatever lies before her. Even when she works in wood blocks or paint, she sticks to small dimensions, and she spoke of her most ambitious projects as books. They include the books of time, night and day, architecture, and creation—each suggesting art or a woman's life as a coming to be. The first, or Livro do Tempo, cuts into and layers onto small squares, one for each colorful day of the year.
Art itself, then, has become a happening, as for Hassan Sharif in Dubai. It has the desultory pace of the crowd that gathered into a circle, as Espaços imantados (or "magnetized spaces") in 1995. It has the intimations of violence of her woman with a stabbed tongue—like the woman shot in the eye in Sergei Einstein's Battleship Potemkin. Pape knew about violence at first hand, too, for she lived through a military coup in 1964, soon after Grupo Frente disbanded, and chose to remain in Brazil at the cost of imprisonment. She retains, though, the optimism of her tales of creation and change, with her Objects of Seduction from 1968 and Wheel of Pleasures from 1976. The first involves false eyelashes and make-up mirrors, the second white bowls of colored water.
The water makes use of food coloring and flavoring, including such native ingredients as banana, coffee, and coconut. And Pape keeps returning to her nation's poverty and indigenous people along with her Modernism and sophistication. Barely clothed men play tribal percussion in one video, and they hang out near a house on stilts by the water in another. Pape obtained her BA and MA only in her forties, and she taught architecture at a time when Roberto Burle Marx and Latin American architecture were thriving. Her layered paintings and books could pass for architectural models as well, much like those of Mateo López later in Colombia. Yet they keep looking for a culture present for her at the creation.
"A Multitude of Forms," curated by Iria Candela with the Projeto Lygia Pape, keeps up well with her shifting interests until her death in 2004. Yet a decade's tale of becoming is present all along. At first her vocabulary is right out of Mondrian, as is the matte white of her gouache on board—but the lines and squares land with the spontaneity of the I Ching. The parallel traces from 1956 cohere all at once into black stripes exactly like those of Frank Stella three years later. Years later, with Ttéia (or "web" with an extra T), much the same parallels become shimmering masses in metallic thread, like rising beams or falling water. A new concrete is finally happening.

Hélio Oiticica ran at The Whitney Museum of American Art through October 1, 2017, Lygia Pape at the Met Breuer through July 23.