Fairs Without Tourists
John Haber
in New York City
Summer 2017 Group Shows and Flora Fantastica!
Francisco Ugarte, Shara Hughes, and Patricia Treib
Summer group shows are like art fairs without the tourists and collectors. They carry the same promises and the same dreadful sense of obligation, even as the crowds have left town—perhaps for another art fair.
The summer of 2017 brings little in the way of a trend, but then a trend is hard to find anywhere now apart from anything goes. To add to the confusion, a dozen galleries even mimic art fairs by hosting artists from galleries from out of town and abroad. This year does, though, bring some more than halfway creative shows. They include unthemed recaps and creative themes.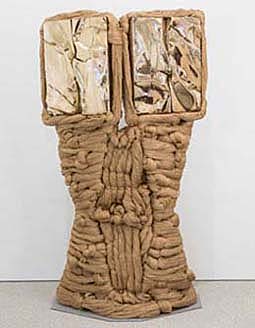 Other group shows on the Lower East Side share with Wave Hill their secret garden. Summer also includes abstraction with more than a hint of landscape by Francisco Ugarte, Shara Hughes, and Patricia Treib.
Business as usual
Art fairs without gawkers and buyers must sound like galleries without artists or a future—but I would not rule that out either, alas. It might be the last remaining avant-garde. Yet summer shows do make me think of fair week. They, too, offer the chance to take stock or to catch up. Bitforms even calls its show a fall preview, including video as sculpture in, he explains, four dimensions by Gary Hill and swirling video colors by Sara Ludy. Like fairs again, they also tempt me to sit them out.
Who needs yet another forced theme or unthemed sprawl? Not that recaps of old and new friends are all bad. Canada gallery makes clear that it has some shocks left, with a full room of streaming black cords by Heather Watkins approaching life forms—and with art between torn clothing and posters by Kristan Kennedy visible on the back wall. Lennon, Weinberg allows gallery artists like Jill Moser and Melissa Meyer to choose counterparts and influences that, often as not, blend right in. A stalwart defender of abstraction like McKenzie can approach routine, but several artists there go big, including Plexiglas triangles high on the wall by Doreen McCarthy and wide brushstrokes by Andrea Belag. Don Voisine shows that he need not use black to add translucency or to unsettle his symmetry.
Not all themes are forced either. At their best, they may even sound routine. In the case of women artists, make that overdue to sound routine, and Michael Rosenfeld makes the point in its exhibition's title, "The Time Is Now." It also has the commitment and resources for a credible history. It outdid the Studio Museum in Harlem with its survey of Alma Thomas, who again appears. So do the likes of Magdalena Abakanowicz, Grace Hartigan, Louise Nevelson, Lee Krasner, and Joan Mitchell.
Not everything, though, is a textbook history of the late twentieth century. In accord with its program, the gallery includes such black artists as Thomas, Betye Saar, and Barbara Chase-Riboud. It also reaches back to Surrealism by Dorothea Tanning, Kay Sage, and Irene Rice Pereira, along with early fabric art by Lenore Tawney. Lee Lozano looks unusually sleek in her machine-inspired abstraction. Perhaps the first drip painter gets her due as well. Janet Sobel was not just an outsider artist.
Galerie Lelong, too, has a shot at what is becoming the usual. After retrospectives of Lygia Clark and Lygia Pape, plus one this very summer for Hélio Oiticica, it must seem that museums can no longer get enough of Latin American art or Neo-Concretism. Yet one can almost forget that Grupo Frente in Brazil was indeed a movement—one that could make the elements of geometric abstraction pop. "Brushless" at Morgan Lehman has to sound like more business as usual. A roller, a rubbing, or a palette knife should not come as a surprise, not even in such capable hands. Still, poured paint from Carolanna Parlato, shaped by tilting the canvas, and hard edges by Halsey Hathaway, made with an atomizer, had me wondering that they pulled it off.
The most ambitious theme may well be the simplest, with two full floors of "White Heat" at Marc Straus, for all its limits. It cannot offer white painting by Alberto Burri, Robert Rauschenberg, Jasper Johns, Agnes Martin, Valerie Jaudon, or Robert Ryman—or lattices of white cubes by Sol LeWitt. It includes sculpture, where a patina of white is more an option than a reduction, even with deadly nightshade covered in frost by Jeanne Silverthorne or a brutal torso by Nicole Eisenman, like a horse by Raymond Duchamp-Villon as a frat boy. Mostly, it eschews color in favor of a textured surface, with Europeans more concerned for elegance than a revolution. Yet it, too, reminds me of summer. Even in off season for galleries, the heat is on.
The secret gardens
Do people leave town in summer to get closer to nature? On a Wednesday evening in July, several galleries on the Lower East Side joined together with much the same aim, as a way to get people back to the city. In truth, not all the galleries in "Gardens on Orchard" stuck to its theme. (I have already cited McKenzie for its abstraction, with no flora in sight.) Visitors, though, reveled in summer's lushness. I soon enough lost track of the number and even identity of the artists.
Lesley Heller opens with a sly promise of a wider meadow in Astroturf, which Jim Osman sets in painted boxes reminiscent of modern design from the Bauhaus to Memphis. Katherine Newbegin hints at the promise betrayed, with her photo of an empty swimming pool. In between come strategies of painting, often on the verge of Op Art, sci-fi fantasy, or "pattern and decoration," but with the fiercer creatures of Judith Linhares invading the garden. KK Kozik leaves nature to the illusion of color postcards pinned to a bookcase in black and white, but all is well—even with nature pierced by a highway or seemingly on fire. Not quite on Orchard Street, Freight + Volume has a still greater abundance, as "The Secret Life of Plants." Its secrets range from the Postmodernism of Neil Welliver and Ross Bleckner to the dreamlike contemporary states of mind of JJ Manford, David Humphrey, Benjamin King, Alexis Rockman, Cristina de Miguel, H. Peik Larsen, and Emily Noelle Lambert.
Back on Orchard, Pablo's Birthday returned to nature by returning as well to its very last show. Nik Christensen had not made nature easy to find. His canvases look almost like vintage TV screens on the fritz, only in a vertical format and on the scale of a wide screen today. On the gallery's second floor, they once again accumulate black, white, and gray in diamonds instead of pixels—and in an unexpected variety of scales. The pleasure comes in tracking them, as the image accumulates, clarifies, and once again dissolves. If I am not mistaken, they belong to forest scenes with people at their center but not altogether at home.
One of Heller's artists, Elisabeth Condon, also helps bring nature to Wave Hill, which amounts to overkill all by itself. A private park in Riverdale, in the Bronx, it offers carefully tended lawns and sometimes elusive, sometimes dramatic views of the Hudson and the cliffs of the Palisades beyond. At its heart, though, are gardens, flowering trees, and the Glyndor Gallery for art. This year all three collude on a mix of native and exotic species as "Flora Fantastica!" One can almost excuse the exclamation point, because the flora look less fantastical than running wild. In the tradition of Flemish and Dutch still-life, the artists also bring one close enough to touch.
Jill Parisi does so literally, although touching is verboten, with paper and tissue flowers. Her hand-colored intaglio and digital prints burst into color and three dimensions. Nancy Blum lets flowers grow larger than life in ink, colored pencil, gouache, and graphite. They bring a fine line out of old botanical studies and seductive fantasies. Like both artists, Amy Cheng combines species in a single flower, with patterning in oil that leaves the edge of the canvas to break its intricate symmetry. Condon does sketch what she sees on the spot, in black ink, but she also thrives on the contrast of flowing ink and more detailed acrylic.
Not part of the show, Jan Mun has a talking plant in the sun rooms, where the speaker expounds on the parallels between Western imperialism and invasive species. It could be the reincarnation of Mr. Ed as a politically correct vegetable. David Rios Ferreira has flowers, too, covering the window panes, but also images from children's books and housing projects. They invoke the actual environment for the Bronx kids with whom he collaborates. So is art about gardens in summer a natural, superfluous, or a confusion of the imagination and real life? The puzzle has a long history in representation, and it is not going away any summer soon.
Beyond the horizon
Summer brings New Yorkers outdoors—and early summer in the galleries brings the outdoors in. Sometimes it seems that abstract art can encompass anything, but sometimes, too, it is rooted in landscape. Francisco Ugarte brings the outside in ingeniously, with a single brushstroke. It may be only the illusion of a brushstroke, but then it is only the illusion of a landscape as well. Ugarte restricts himself to the mark of a loaded brush, like a simpler David Reed, dragged across the center of an empty field—and then he recreates or reimagines the mark, painstakingly, on paper or canvas. The black acrylic gathers and scatters, while also drawing thin and leaving the fainter lines of individual bristles.
This art is determinedly abstract, but a video makes it hard to ignore the resemblance to a horizon line or the texture of rock and soil. It shows hills going nowhere fast, perhaps near his native Guadalajara, as the backdrop to a whiter and more inscrutable plain, while a car crosses much like his brush. Past work has used paint tubes and shadows to conjure up model cities and foil-wrapped furniture to bring the discomforts of an arid landscape indoors, but here things stay plainer. Ugarte subtitles each work Brushstroke. And then he calls the show "Three Lines, One Square" to insist that he is only painting lines. As for the square, I never found it, but (like the brushstroke) it may have broken up some time before.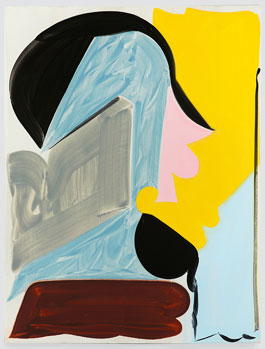 Shara Hughes is more summery and a lot less summary. It takes a whole show to discover the abstraction in her abstract landscapes or studio interiors. Her all-over painting looks representational enough, like Pierre Bonnard on steroids. The sheer density of dabs puts vegetation at its center. Some images, though, become harder to make out, apart from exercises in mostly primary colors. Taken together, as in 2017 Whitney Biennial or an earlier show of "Post-Analog Painting," they become a compendium of approaches to making a painting.
Patricia Treib is cleaner, but the compendium is there all the same. She combines firm edges with looser strokes to deepen her warm colors. Although their flatness may recall Henri Matisse and his cutouts, they go well beyond primaries to include browns and purplish blues. She also gives her color fields plenty of room to breathe. Their curves may overlap, or they may nestle up against one another without touching. The show's very title calls attention to the "Interstices."
That leaves the emphasis on the shapes. They may seem abstracted away from a profile or the dowels of old furniture, and the domesticity lends them a greater calm. And then the wiggles keep things moving again. One might even interpret a shape here and there as a large Greek letter. Pattern and Decoration, Pop Art, folk art, color-field painting, expressionism—none of the labels seems quite right. That is much of what makes the paintings interesting.
All these artists belong to the revival of abstraction, but without the formulaic scale and brushwork of "zombie formalism." Treib especially messes things up. They also offer an alternative to the frequent invasion of the human figure into abstraction—or, for Ellen Berkenblit, horses. They can still have even diehard fans of abstract painting like me wondering. As I have to keep asking myself, when anything goes, where is painting going? For now, it is happily preoccupied with itself.

The group shows ran at Bitforms through July 30, 2017, Canada through July 21, Lennon, Weinberg through September 16, McKenzie through August 12, Michael Rosenfeld through August 4, Galerie Lelong through August 5, Morgan Lehman through July 28, and Marc Straus through July 30, Lesley Heller through August 18, 2017, and Freight + Volume through September 8. Nik Christensen ran at Pablo's Birthday through June 18 and again through July 30, "Flora Fantastica!" at Wave Hill's Glyndor Gallery through August 27, Francisco Ugarte at Cristin Tierney through July 7, Shara Hughes at Rachel Uffner through June 25, and Patricia Treib at Bureau through June 18.