"Whoever looks you straight in the eye is mad." Roland Barthes was describing the power of photography to picture a life fully apart from our own.
For Geoff Dyer, though, the ultimate photograph captures someone who can never look you in the eye. It only seems that the person can, with the eerie stare of the blind. Would he care that an entire exhibition at MoMA refuses to look back?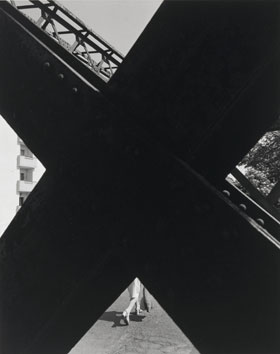 Walker Evans hid his camera under his coat, because nothing else would allow his subjects to speak for themselves.
In Camera Lucida, Barthes confesses to his inability to approach photography that pictures anything but lives. For him, it is about the "enthusiastic commitment" to human society, or studium, as revealed in the punctum—a telling object, a passing glance, or a transient moment. It remembers "the people, the entertainments, the books, the clothes." Dyer might well agree, in The Ongoing Moment, but he finds its ultimate expression in a blind woman as seen by Paul Strand. Photographers keep returning to the blind, he argues, because they are always engaged in the encounter between the camera and its unwitting subject.
Neither Barthes nor Dyer has much patience for photography about anything other than people. Robert B. Menschel sure does, though, in the five hundred photos that he has donated to the Museum of Modern Art—well over a hundred in the last year alone. A selection as "The Shape of Things," through May 7, has a special fondness for photographers out to catalog things in themselves. It includes Jules Janssen, with his sky atlas spanning seventeen years, through 1894. It includes Charles Marville in the 1870s, out to document every design of street lamps in Paris, and Bernd and Hilla Becher with their obsession with water towers one hundred years later. It includes Charles Harry Jones around 1900, with onions too pristine ever to eat.
People are surprisingly hard to come by and never quite themselves. Dora Maar photographs a worker, but with his head lost in a manhole, and Weegee a man cross-dressing—not because he is transgender, but because he cares too much for performing to worry about his authentic self. John Coplans treats his own back as an obstacle or a blank palimpsest, his fists raised above. Robert Frank turns to Times Square at night, but from a distance and in a blur. An-My Lê photographs the Mojave Desert as a site for combat exercises, with the emphasis on exercises rather the dangers of combat. David Leventhal goes the next step, to toy soldiers for his apparent scene of war.
They still testify to a sexual or cultural context, indirectly or not. Yet they largely avoid documentary or commercial photography, with the allure of politics, portraiture, and fashion. John Gossage sees the city from behind the support for a bridge, its lives cut off by a thick black cross. Hans Bellmer sees sex itself as akin to a mechanical ballet. Harry Callahan seems least at ease with his own wife. William Wegman may come closest to other genres, but with his dog—posing on a couch after Gustave Courbet or balancing a book on its head like an aspiring model.
The show falls in three sections, but their stated chronology quickly falls apart. "Truthful Representation" begins with William Fox Talbot in 1843, with a street as Pencil of Nature, and ostensibly ends in 1930. "Directorial Modes" turns to the recent past, with truth or representation now in scare quotes. In between come "Personal Expressions," but a photograph from any date can appear anywhere. The collection's heroes fall in the middle section—with decades of blank facades from Callahan, sidewalk smears from Aaron Siskind, and torn posters from Lee Friedlander. The curators, Quentin Bajac with Katerina Stathopoulou, do not hesitate to note the parallel shift in painting from Abstract Expressionism to Pop Art.
They supply a history of photography for all that, although almost without color. Even a still life by Jan Groover appears in black and white, while a glass of water from Neil Winokur is downright shocking in its blue. They also tell a human story after all, but one of the passage of time—like buildings new to Paris in the 1890s, but now as picturesque as can be, or the George Washington Bridge for Berenice Abbott in 1936, when it was still the shock of the new. The show's title derives from paired photos by Carrie Mae Weems of African forts. One has its gate facing front, promising an entry or a haven in the present, while the other stands as mud pillars, like totems from an ancient civilization. Ultimately, the title derives from The Shape of Things to Come, by H. G. Wells, but without its last two words. In a photograph, what was to come is already the past.
Read more, now in a feature-length article on this site.