An Embarrassment of Riches?
John Haber
in New York City
The Governors Island Art Fair
The Drawing Center: Open Sessions
Fictions and We Go as They
Artist collectives and big group shows have their place: they keep emerging talent alive. They build anticipation—especially if they bring summer to a close by the mouth of the Hudson for the Governors Island Art Fair. Yet they can also have one wondering if anyone is in charge.
Shows like these present an embarrassment of riches. Still, they also run the risk of embarrassment, so by all means turn to the Drawing Center. It may call a program Open Sessions, but it is taking stock of drawing now. The results may not look much like drawing.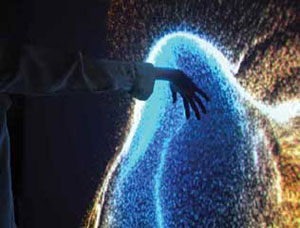 Still not satisfied? When it comes to taking stock of new talent and people of color, the Studio Museum in Harlem once again shows how it is done.
If orange is the new black, where does that leave you if you are black? You may have no choice. Sherrill Roland spent sixteen months in jail for a crime that he did not commit. Back in grad school, where he did have a choice, wearing orange became a testimony to black lives, not least his own. His performance also appears in "Fictions," the fifth in the occasional shows of emerging artists at the Studio Museum. It coincides as well with the artists in residence in "We Go as They."
Shore leave
The Governors Island Art Fair celebrates ten festive years with an act of forgetting. True, Castle Williams has reverted to a display of the island's history. Yet that leaves the fair to the former officer's housing of Colonels Row, starting Labor Day weekend and continuing a month of Saturdays and Sundays. Art as an encounter with the abandoned Navy and then Coast Guard base at the mouth of the Hudson has given way to the fair's main concern all along—solo rooms for roughly a hundred participants. Does that make it just another art fair? No doubt, but one never knows what may have washed ashore.
Like any artist collective, the fair is an unholy mess, and it embraces artists who make a mess as well. It has the forgiving spirit of alternative art fairs like Scope and Fridge, with the emphasis more on funk than form. Peeling paint and decaying fixtures may identify the former bedrooms or kitchens, but the work aims for the site specific only in packing as forcibly as it can into what remains. Andrew Harrison transplants a tree indoors, accompanied by postcards overlaid with the tracing of imagined earthworks. elin o'Hara slavick uses cyanotype to conjure up architecture after Hiroshima, while Weiheng Qian uses sand and a video for a beach more sublime than the island will ever see. A projection through bell jars and model towers, by Alice Pixley Young, evokes a rural America far from the sea.
Getting in touch with the past takes patience, and Richard Sigmund calls his art a temple for daily practice. Peter Stankeiwicz uses welded steel in modernist tradition, closer to the Sculptor's Guild in its quarters elsewhere on the island, in Nolan Park. More often, though, even abstraction runs to pleasure in excess. Acrylic circles by Gregg Emery have more in common with tree rings or optical disks than target paintings from Kenneth Noland, and Anna Frants may have a basis in Sol LeWitt, but her black lattice also holds monitors, robotics, and curios. Sculpture spills out further on the lawn outside, like spiraling wood slats by James Payne, an assembly of shotgun shells by Margaret Roleke, and a Visual Playground by Marek Jacisin. Thea Lanzisero starts with pyramids of shipping palettes, only to top each one with burlap and moss.
Art like this runs amok because the artists want it to come alive. Outdoors, that includes white spoors by Sui Park and a rearing cow by Will Kurtz. Indoors, it runs more often to the human. Painting sticks almost exclusively to it, in varying degrees of expressionism and primitivism. Ken Goshen straddles the human and the inhuman, with paintings of challah bread as In His Own Image. Others, too, stick to those they know, including immigrants for Zhiyuan Yang or nudes with flowers and, literally, egg on their face for Aleksandra Stone.
Where there are people, there is politics. And Stone does reserve egg on their face for men. The politics becomes explicit when Joshua Starcher and Melissa Estro cut away the outlines of people, leaving only text to attest to housing foreclosures. Eliot Greenwald renders "visitors" to America as stark photo IDs, and Richard Fleming combines text and borrowed imagery to document a Latino's disappointed American dreams. Mostly, though, the fair has little patience for big ideas. It is having too much fun.
It comes closest to complexity across the lawn, in Liggett Hall. There it also departs from praiseworthy rooms for single artists, in favor of more creative encounters. Some allow only a peek behind closed doors, like David Nelson with pixilated family, close to color portraits by Chuck Close that refuse to cohere. A single room brings together wind chimes by Joseph Morris, dark paper lanterns by Jisook Kim, a nude out of Edward Hopper or George Segal by Lauren Carly Shaw, a ship wrecked in ice after Caspar David Friedrich by David Grainger, the animated Death of a Sun by Simona Prives, and a video Evolution of Rhythm by Biwei Niu. The brick hall separates the island's historic north from its newly landscaped south. Maybe next year it will find its place between past and future.
Standing for drawing
So where do we stand? The future of the Drawing Center looks reasonably secure after five years in Soho (although it did once get the boot from plans for Ground Zero). So does Open Sessions, its program of artists in residence. What, though, of the practice of drawing? "Where Do We Stand?" looks at thirty-six artists, and their work runs to almost anything but pen or pencil on paper. Has one stumbled onto just another summer group show?
Do not be too sure. It starts innocently enough, with a touch of interactivity? Srinivas Mangipudi leaves out a mix of text, images, and white space, like William Powhida without the critique of the art world. Those with enough interest in her private thoughts can touch a screen to "be aware." Once inside, though, beware. The show includes drawings and collage, but also photographs, video, and sculpture.
One might have seen it coming. The Drawing Center's last show had gorgeous scientific illustrations—but not by its sole contemporary artist. Mark Dion instead recreated a laboratory. Other recent shows have had architecture by Mateo López and stereo speakers by Gabriel de la Mora. Since moving to the Bowery, the International Center of Photography has had as much interest in surveillance cameras and news footage as artistry and photojournalism. Now things get really busy.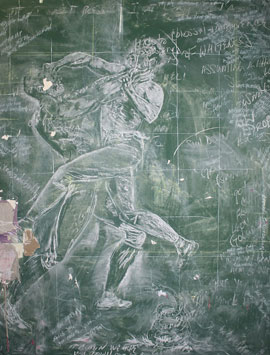 The curators, Lisa Sigal and Nova Benway, describe Open Sessions as a "hybrid exhibition/residency program," which goes without saying. Where would artists in residence be without a concluding exhibition, as with the Studio Museum in Harlem ? The surprise comes with the sprawl. With so many artists, plus a handful more to follow, its residency could border on a homeless shelter. And the question of home appears often. Cut paper by Olalekan Jeyifous depicts Crown Heights in Brooklyn, urban signs from Ezra Wube evoke housing projects, photos by Rodrigo Valenzuela stand between architectural models and ruins, and photos by Nsenga Knight resemble tape marks or graffiti. More photos by Hong-An Truong concern family memories of Vietnam, while Mustafa Faruki conjures up Governors Island as a refugee center for immigrants from heaven.
Mixed media continue with animation by James Mercer and Lei Lei. Drawing has its fashionable bow to the graphic novel as well, with bullfights as thought balloons for Jennifer May Reiland. Abstraction is rare apart from cutouts by Sara Chang Yan. And then things boil over into sculpture, with measuring tape as markers of identity for Sreshta Rit Premnath, railings by Gabriela Salazar, pagan ruins by Farael Kelman, and a tap dance of audio plugs by Thessia Machado. With a show so unthemed, it makes little sense to pick winners, but jc lenochan dares anyone to do so in what looks like a chalkboard. The wrestling figures surrounded by text fragments are dual or dueling intellectuals.
Drawing still has a home, if not in the Center's three galleries. Jackie Ferrara covers a corridor with the colorful geometry of an empty city. And Gary Simmons pursues his practice of text art and erasure beside the stairs. Ghost Reels has a descending roster of African American silent film actors, like closing credits. They look like ghosts, and one must take his word that they ever existed. If you wonder where you stand, they may also have you reeling.
Fact and fiction
One might not wish to put too much weight on a fiction. "Fictions" at the Studio Museum comes after shows of "Freestyle," "Frequency," "Flow," and "Fore" as just one more F-word. The title notwithstanding, fact and fiction become hard to disentangle. One need not even put too much weight on a roundup of emerging artists, in competition with MoMA PS1, the New Museum triennial, and more. One has to welcome, though, a show willing to stick to just nineteen artists—from a museum that cares about emerging talent and African American art. From its opening wall text, it lays claim to a given for both fact and fiction, a context in culture, place, and history.
In practice, fact intrudes on fiction and the treachery of memory on fact. In practice, too, context gives way to displacement, just as Roland kept returning to a life apart from what he knew as his own. Sable Elyse Smith spent time in prison, too, for 7667 Nights–Falling and 7667 Days. That translates to twenty-one years of undesired culture, place, and history, as seen in Polaroids isolated against black suede. For accompaniment, Nikita Gale wraps a guitar in towels. Political art is supposed to provide feedback, but not that kind.
Art here seems more than a little lost. It can leave one as high and dry as animal skulls on clear plastic shelves and benches, by Matthew Angelo Harrison. It can leave one as fighting mad as female boxers and sleepwalkers on video, by Deborah Roberts. It can leave the subjects of a painting just out of reach in the lush colors of an unspecified great outdoors, by Walter Price. Patrick Martinez sees LA through neon trees and artificial flowers. Landscape becomes more encompassing but stranger still for Allison Janae Hamilton, in a room of birch trees, animal heads, bird calls, and projected eyes dancing across projected waters.
Installation cannot guarantee a sense of place, not even when Roland tapes an orange rectangle to the floor. It entraps visitors in the boundaries of his performance, but with a device that museums more often use to keep visitors at a distance. Maya Stovall displaces the visitor, too. One can view glass shards and mason jars that she scavenged in Detroit—or just oneself on a bench, between two mirrors. Krista Clark leaves her studio empty on moving day, while Genevieve Gaignard leaves a living room uninhabited except for a porcelain Aunt Jemima in a bird cage and an empty chair. A sickly green clock does, though, tell the right time.
In portraiture, Amy Sherald and Devan Shimoyama adopt the glitter that serves Mickalene Thomas or Kehinde Wiley as a token of glamour. Yet they have a thoroughly mundane, humane, and individual subject matter—and, at times, only eyelids or ceramic flowers in place of eyes. Christina Quarles is more painterly, but just whose hand is whose? For Paul Stephen Benjamin, Lil Wayne and Aretha Franklin perform "God Bless America" as the counterpoint of incantation and soul. Nearly fifty monitors allow black America its triumph, but in a virtual sea of colored ghosts. Texas Isaiah calls his shadowy photos My Name Is My Name,, and that conclusion will have to do.
Among the 2017 artists in residence, Julia Phillips makes the museum the setting of a dangerous experiment, with sculpture that could pass for broken shields, instruments of torture, or chastity belts. Andy Roberts has a more reassuring context. His Nocturnes have their setting in Harlem and their style, like their title, an allusion to James McNeill Whistler. When Autumn Knight promotes cockroach milk on video, warnings about side effects mention systemic racism, but he, too, lives halfway comfortably between fact and fiction. When a woman's hand moves across a wall, it displaces paint, but her heels move gracefully across the peelings on the floor. Harlem appears through a haze of soap bubbles, but with a persistent motion that may yet outlast this year's culture and history.

The Governors Island Art Fair ran through October 1, 2017, Open Sessions and Jackie Ferrara at the Drawing Center through September 17, 2017. Gary Simmons remained there through January 14, 2018. "Fictions" and "We Go as They" ran at the Studio Museum in Harlem through January 7, 2018.