America the Conceptual
John Haber
in New York City
The 1997 Whitney Biennial
Ah, the Biennial, the show I love to hate. The elements were all there, even before curator Lisa Phillips made the contemporary scene her personal province. Is this art of the last two years—and the next two? Is there no way around contemporary battle lines? And if this means war, does it have to be so much fun? Visitors know to be disappointed—and that is why they come.
This time the Whitney seems, at first, to be reaching out to a greater New York. It drops the strident, P.C. tone of 1993. It avoids 1995's forlorn air of a dull private party.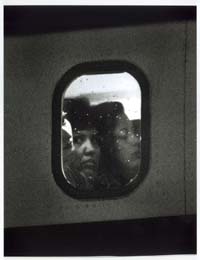 Phillips even brings in a co-curator, Louise Neri, from an international arts magazine. As one sign of how little the 1997 Biennial annoyed me, I made it out in just 90 minutes. That was also how little it affected me.
I recognized a huge chunk from the hot new Chelsea galleries. Either the Whitney is no longer out of it, or Soho is dead at last. (My spell check still offers cheeses for Chelsea.) One even sees photographs that in Chelsea I had felt sure no one but me would love. John Schabel catches adults and children within the spare oval of airplane windows, dripping with rain, lost in boredom, anticipation, and fear.
Beneath it all, however, a savvy visitor knows just what to predict. Here are the obvious suspects, blending Pop Art and savage politics, such as Chris Burden, Richard Prince, and Sue Williams. Most of the artists I had not known hail from places with lots of minorities and plenty of cause for outrage, notably Los Angeles, Texas, and Puerto Rico. Still other artists remind me of the European neo-expressionist invasions, such as Roberto Clemente. I guess the latter counts as American since finding a pricey Greenwich Village apartment.
Artists appeal to Phillips who shout the loudest, not to mention right at the viewer, since visitors to museums are apparently responsible for mass culture. That means a preference for video and other installations. Paul McCarthy even goes back over Karen Finley's chocolate-coated woman and the Brit pack's snarl. I appreciated Ilya Kabakov's lower voices, as he combines family memories with haunting re-creations of a mental ward.
It also means a heightened awareness of gender, some nasty looking use of the human body, and lurid imitations of suburban America. Jason Rhoades's huge installation catalogs what real men might crowd into the garage, while Michael Ashkin models America in miniature, as an empty highway. (Perhaps the two should meet for a drink.) Kara Walker covers walls with black silhouettes of black stereotypes, at once eerie and comic, if without the challenging pornographic overtones of her version now on display in San Francisco. Hey, New York is a family town.
The rare artist over 40 comes as the best surprise. Ed Ruscha gets in, thanks to painting words rather than things, not to mention his anti-corporate wording. So does Louise Bourgeois, who evokes the body in delicate fabric. So does Vija Celmins, whose canvases of the night sky play dire tricks with abstraction, Pop, science, hype, and photographic realism. Surely others too paint abstractly at least somewhat for its own sake—but not in this show.
What happened to the (allegedly) good old days, when curators showed less-conceptual things, when art grabbed more attention than a visitor's clothing? Those wild cards in the Biennial, the older artists, brought me back. I take it for granted that American art is art. Maybe the Biennial really is dull, but for a reason I had never imagined. As in the first days of American Modernism, the place of American art has changed forever.

This Biennial ran through June 1, 1997, at The Whitney Museum of American Art. You might wish to look ahead to the 2000 Biennial, 2002 Biennial, 2004 Biennial, 2006 Biennial, 2008 Biennial, 2010 Biennial, 2012 Biennial, and 2014 Biennial—or back to the 1993 Biennial.