Performance in Black and White
John Haber
in New York City
Clifford Owens, Rodney McMillian, and Rico Gatson
"Act African American. Act very African American." Those words by William Pope.L became the text for a performance by Clifford Owens, but is there a uniquely black performance art? Maybe, or maybe not. To answer at all, one would have to define both blackness and performance art once and for all. And that is precisely what Owens and Rodney McMillian put in question.
When Owens or McMillian performs, neither acts overtly political. They offer no overt protest, and they do not play the heavy. Nor do they try to pass. When Rico Gatson performs in whiteface, he turns Al Jolson inside out, but here what you see is what you get. All three mix media and performance. They also put up with almost anything, but turn the tables on their audience all the same.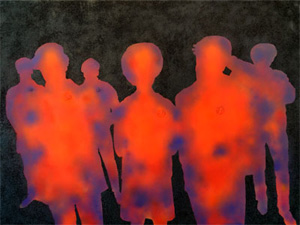 Black performance has included Kara Walker awkwardly strumming guitar, playing both herself and the blues. One has to appreciate, too, other oblique forms of self-portraiture, such as Lyle Ashton Harris photographed from behind or Leslie Hewitt through images of her own studio merged with the gallery walls. In an implied performance, David Hammons has made invisibility an art form. They know that there cannot be a black performance art, because they know performance art too well for that. They know that there cannot not be a black performance art, because they are a part of what they do. And they know that I as a white person has no right to either answer.
Are they performers at all? For a black under white eyes, no doubt life is already a difficult and treacherous performance. Their blackness is inescapable, but none is obviously "acting black." They cross the boundaries of black and white, confrontation and collaboration, all the same. Remember the instructions to "act African American"? In the end, the words became a white taped path for navigating a museum.
Accommodations
Clifford Owens must be the most accommodating man alive. He will let you feel him up, slap his behind, or dump a can of beer or soda on his head. He will dress up for you, in a white shirt and fez, or go naked. He will sweep up after himself or totally clean house. He will thank you personally for showing up, with a kiss. A French kiss.
He accommodates other artists, too. He asked twenty-six of them, all African Americans, to script his performances, and he followed their prescriptions to the letter. In turn, MoMA PS1 accommodates him. It gave him a studio for several months over the summer, and that grew in no time to the whole run of the building. He continues to make use of it, with "Anthology"—a chronicle in text, photographs, video, and scheduled performances. A week after the opening he was still there, speaking softly and taking questions.
When it comes to museums, he might be reluctant to leave. He was an artist in residence at the Studio Museum in 2006, where he cursed his audience, and I could not help noting how tame the curses seemed. I got the tone right, but I was wrong to see that as a failing. Performance to him is not a stand-up act or a play. It is more literal and yet more malleable. His solo show at PS1 is at once so direct and so changeable that it "anthologizes" a time in residence, a career, and contemporary African American art.
If he takes advantage sometimes, forgive him. True, he pisses on the Richard Serra on the museum's roof, but it does look like a drainage ditch, and Serra's rolled and forged steel is confrontational enough all by itself. True, too, Owens ups his demands on his audience, from a kiss to sex, but then he quickly backs down—in fact, blames the audience for assaulting him. If he interprets another artist's text his way, one has to forgive that, too. He is the artist, after all, and he is putting in question what a collaboration would mean. With the mix of media and live performance, he even questions when his practice begins and ends.
He calls the texts "performances scores," and Charles Gaines indeed wrote his in musical notation, while another piece calls for the black national anthem, "Lift Every Voice and Sing." Score also leaves open the question of how much is scripted and how much left to the performance. Where William Pope.L asked so little, Kara Walker went to the other extreme, in those detailed instructions starting with a kiss. Glenn Ligon asked that Owens annotate an existing work of art, and Owens mimes David Hammons, who previously pissed on Serra. Annotation becomes at once derivative and defacement, like street art. He ran wilder still for a group show in Harlem last year, "30 Seconds off an Inch," but that show was about the boundaries of performance.
For Owens, breaking boundaries means dealing with black stereotypes and realities, like the sexual predator or the janitor sweeping up—and one cannot help noticing that the recipients of his kisses or of skin care, thanks to Derrick Adams's request to "preserve your sexy," are white. In that fez he dresses as Bud Powell, from a score by Terry Adkins—and in time one makes out the spooky audio track as the two syllables of the pianist's name. Rico Gatson asks him to enact the notorious black power salute at the 1968 Olympics, although alone on a platform Owens might be riffing off Marina Abramovic. Everything is subject to interpretation, from identity to performance. Sweeping up sand for Senga Nengudi becomes a weave of color, while the cleanup job for Nsenga A. Knight, "Come clean," has him vanishing in watery mist like a magician in a puff of smoke. When Dave McKenzie has him literally climbing the walls, unable to escape the corner of a room, he could be trapped by performance itself.
Cotton candy
An enduring theme of performance art has been, reasonably enough, endurance. Like Chris Burden across broken glass and Marina Abramovic the length of the Great Wall, from cramped lockers to MoMA's atrium, performers have put themselves through hell in the name of art and through art in the name of hell. Remember John and Yoko in bed for peace? On video at the Studio Museum in Harlem, Rodney McMillian destroys even the bed, and that feat from 2009, too, takes endurance. It leaves him trapped by blackness and performance in his own ways. It also takes a wicked sense of humor.
For twenty-five minutes straight, McMillian tears into a futon—with a knife and, increasingly, his bare hands. He empties it of its cotton, which piles up in the foreground. Then he bags it and tosses the bags just off-screen to be hauled away. And joking aside, he takes the job seriously indeed. He flips the mattress over more than once to leave nothing undone, and he stops only to fetch the trash bags and masking tape to bind up the remains for disposal along with them. Then he walks off, leaving the bare room and a puff of cotton behind.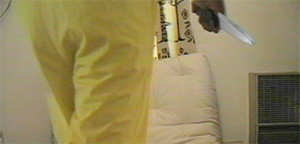 The obsessive pawing over the contents of the futon may suggest buried treasure. If so, it is again a deliberate exercise in futility. The LA artist enters a room bare of anything but an empty shelf and the futon, leaning up against the window, and he leaves it even barer. Since even a futon's covering is cotton, harvesting its innards for cotton is futile anyway. Think of what picking cotton once meant to a black man. No wonder McMillian quits arbitrarily, the hatchet job never quite done.
McMillian may have a problem with home furnishing. In "Into Me / Out of Me" at P.S. 1 in 2006, he made abstract art from a badly battered rug. One might think of painting itself as home decor for the wealthy, and postmodern critics often do, but he has done his creative damage to that medium as well. He has contributed his dark mix of latex, vinyl, and acrylic as an emerging artist at the Studio Museum, to the 2008 Whitney Biennial, and again to "The Bearden Project," on the centenary of Romare Bearden. Almost any assault on New York real estate could become an assault on whiteness, he reminds one, starting with the whiteness of the futon. Yet it is also an assault on the artist's own sense of place.
Video may differ most from film by bridging installation and performance. For such pioneers as Gary Hill and Bill Viola, images begin as performance but step outside of time. Untitled (Futon) does have a beginning and an end, but one is more than likely to walk in on the middle, to discover a man hacking away. One might as well settle in. Even a master of self-torture, Paul McCarthy, kept it short. McMillian has been at it a long time.
A shorter video at the Studio Museum, by Robin Rhode, has trouble enough running in straight lines, much as at ICA in Boston. In Parabolic Bike, a child peddles as best she can along a nasty curve. McMillian sure works hard to stay on track, constantly pushing his overalls back on his shoulder. Their electric yellow echoes the patterned drape that catches light from the window, but I thought first of clean-up after a toxic emergency. The sound track, which exaggerates his breathing, makes his exhaustion all the more comic and more obvious. Fortunately, one can relax on the floor to watch—or take a nap.
Evidence of blackness
Rico Gatson sees things in color. More to the point, he sees America in color—and I do not mean red, white, and blue. That may not sound like much for an artist or a person of color. Yet it means that he is tackling head on symbols of race and of America. The results can be sparse and repetitive for an artist in his mid-forties, but also consistently down to earth. As Exit Art puts it, for a rare one-man show, he is out to transform "abstractions in black and white."
Not that he avoids black entirely. His sculpture includes black Magic Sticks, which rise up from the floor like thin, broken columns—or perhaps Minimalist totems. It includes a couple of wall pieces that I could also live without, of staggered black boxes and electric lights. He is searching for an alternative heritage or two, in art or in Africa, and the appeal lies in his very clumsiness. "Three Trips Around the Block" takes its title from conversations with his brother after the latter's fifteen years in prison. Gatson is obsessed with trying to reconnect.
Things get mixed up, even in black and white. The earliest work, a video from 1994, shows him in white face, playing an inverted Al Jolson until he drops. White Flag does not so much pay tribute to Jasper Johns as mute both gesture and symbol. The raised white spots on a white rectangle reverse the pattern of stars and bars, to the extent that a pattern becomes visible at all. First Black President adds an unwelcoming stain of glitter to its radial fields of black, white, and gray, as if the first black president himself were all too eager to please or all too subject to smear attacks. The octagon leans against the wall, as if unable to get off the ground.
Along with glitter comes fire. Shadows may fall against a flame-colored field or as flame-colored silhouettes against black. They may represent political and cultural icons, from Stokely Carmichael and Huey Newton to Michael Jackson and Josephine Baker. They may represent flames, in the fires of the Watts riots or Iraq. A video of fire also alternates with the white hood of the KKK, displayed within a decidedly confining white picket shed. Again, symbols abound, but they do not settle whether to identify with them or to fear them.
Similar colors decorate or deface familiar symbols in wood. Alternating red, blue, and yellow stripes cover an American eagle and a standing cross, which also happens to function as a whipping post. Where the photos may gleam or obscure, the paint shuns transparency or glow. An abstraction in the same colors looks that much more like a flag. It is not the Pan African flag or the African American Flag by David Hammons, but one could easily think so. These blunt objects could recover African American history or appropriate it for the present.
Gatson may have seen a lot of history, but he got a slow start at transforming it. Exit Art caught him at his most postmodern but also most tactile just this spring, with the strips of felt in "Geometric Days." His flames appeared in "Freestyle," the Studio Museum's 2001 show of emerging artists, and all but some video dates to the last decade. A wall of monitors pretty much sums up his imagery, from television to fire to a warplane, all from the 1970s. They flash by quickly and illegibly, often folding into Rorschach's tests, as what he calls Evidence of Things Unseen. He is still sorting out the evidence.

Clifford Owens ran at MoMA PS1 extended through March 7, 2012, Rodney McMillian at the Studio Museum in Harlem through March 11. Rico Gatson ran at Exit Art through November 23, 2011. Portions of this review on Owens ran in ArtExperience:NYC. A publication commissioned but then rejected the review of McMillian altogether as confusing and as a misrepresentation of video or performance art. You decide.