May Showers
John Haber
in New York City
The 2017 New York Art Fairs II
I entered Frieze chilled to the bone and anything but eager for another mammoth art fair. I had sat for half an hour in the ferry to Randall's Island with my feet in puddles of water and the city's looming just beyond windows curtained with a driving rain. Looking back, I have to wonder that it ran at all.
Inside, though, I could almost have found myself at home. Why? This conclusion of a two-part review wraps up the March fairs with some often overlooked variety. Moving Image has even introduced virtual reality—but then the season of perpetual art fairs can seem altogether unreal. The story then picks up in May. Sure, blame Frieze for extending that season, but it is hardly alone.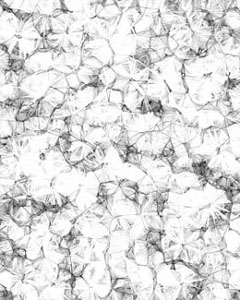 Moving on
Not every cool kid has a trust fund. At least two exhibitors at NADA have galleries about as small as their booths—and those are already members of the New Art Dealers Alliance. Meanwhile nonmembers line the former High Line terminal, well west of Soho, with displays the size of closets. For all that, the show runs to packed group exhibitions, and painting, the dominant medium, runs to messy or out of control. Not surprisingly, it does not look anywhere near its best, although chaos has its own rewards. of emerging artists and dealers pays off. AES+F, a collective with Transfer + Mobius, indeed translates modern office life into a carnival, in slow motion.
Moving Image has moved. Its twenty-eight artists still occupy the comforting Tunnel warehouse west of Chelsea, but with a strikingly global cast. Yet they are able to return home, thanks to virtual reality, with you as their guest. For Jakob Kudsk Steensen, home is a tropical island, only partly of his imagining. For Rebecca Allen, it is a space apart shared with a nude cyborg, green mountains, and the interior of the brain climaxing in a burst of light. They and others ask you to put on a headset and to explore, if you dare.
I was mostly too terrified of falling, especially when Christopher Manzione and Seth Cluett placed me high above a ravine and a studio interior. Whatever else, this art is vivid. So, too, are equally bold but less immersive media. John Craig Freeman offers an app that overlays Saint Petersburg onto Chelsea as you walk, including the High Line. Yet even the predominant single-channel videos tend to focus on single actors with their own challenging environments. They include an African woman warrior from Robert Hodge, burn victims from Damir Očko, a man ascending a high rise open to the weather from Nina Fischer and Maroan el Sani, the displaced in an internment camp from Tamiko Thiel and Zara Houshmand, and a man out for a walk on a shifting slope in Rio from Marcus Bonisson and Khalil Charif.
Not that the fair entirely neglects its old staple in pulsing abstract, natural, and fractal images, most notably from Casey Reas. Its altered reality may also seem at times more a demonstration of the media's power than of art. With a biker held close to the picture plane in the rain, from Alexandre Mazza, it returns to Bill Viola territory, overstatement intact. Still, the emphasis has shifted to the subject's or viewer's eye, and that eye is now global and gendered. Arda Yalkin, in turn, captures a moment in a job interview, with a demand on the candidate to surrender privacy forever. And when Yalkin places you in the center, between employer and candidate, the demand may come from or extend to you.
Whatever the future, it will not be Scope. It has in its superheroes and its pop stars. It has enough gold leaf for Kehinde Wiley, Zarina Hashmi, Barkley L. Hendricks, and then some. It has only token presence from New York galleries, if at that. Just on the way in, at Soho Arts Council, oversized museum wall labels by Brian Blocks face abstract tokens in the negative hues of a photogram by Harry Buzman—as the twin markers of conceptual and sensory overload. Even so, intellect and visual acuity will be few and far between.
So are the fairs any less oppressive—or any more essential to the future of the galleries and of art? After a week devoted to the art market, is it any clearer what they bode for art or for business? I have my doubts, but it plainly depends where you stand. Someone high on the food chain may be struggling to care, and someone low on the food chain may be struggling to survive. Yet both may feel the pressure to stand on the side of glitz and not art. The question, as I move on to May, is who is left in between.
Out of context
Miami New York would just as soon forget about Miami, but it has a long way to go. Divided and renamed last year for a double helping of New York, it still has no local galleries of note. Art New York promises the breadth of art and Context New York the cutting edge, but both look familiar for all the wrong reasons. Set on pier 94, like the Armory Show but without a pier for older artists, they also feel lost in the gap between Modernism and today. Did I spot a target by Kenneth Noland, a silkscreen by Robert Rauschenberg on an off day, an outtake from Cindy Sherman, yet another a cartoon animal by Jeff Koons, a half-forgotten Abstract Expressionist, and a ton of Andy Warhol? Nope, but it sure looked that way, for seemingly every artist, however contemporary, is stuck on retreads of the past.
Art fairs could stand a little context, but forget about social commentary, creative pairings, or artists in depth. The sole direct encounter with art history amounts to tacky copies after Caravaggio. Even the more than forty "special projects" never loom large. Some hang together on a long wall, like a badly curated group show, while others stand meekly beside a booth like an extension of its artists. When Pablo Helguera dedicates his project to text paintings announcing that all proceeds will go to his favorite causes, even politics becomes a sales pitch. I, for one, am not buying.
I could not bring myself to the Park Avenue Armory for a newcomer to New York from the Netherlands. While TEFAF sounds like a European corporation's stock exchange listing, it simply stands for "the European Fine Art Fair." And while its banner labels it a fair of modern and contemporary art, its Web site touts it as art and antiques, with all the aura of dimly remembered beauty. It speaks of having vetted every single object and of making collecting easy, with photos of a presumed expert examining something or other with a magnifying glass. One can only wonder what he finds, but take a hint: it may not be art.
Oh, no, another art fair—and not Superfluous, but Superfine! The exclamation mark is theirs, not mine, but the fair has its fine points, starting with its location. For its first run, it snags a space under the High Line, between Chelsea galleries and the Whitney. Its forty or so contributors have to settle for close quarters, but the meandering layout gives it a festive rather than regimented air. Besides, who can resist a fair that calls its seating areas near the café a backyard lounge? I can forgive any number of cheap green carpets and lawn tables to take summer indoors.
Alas, the art is not nearly as fine. The fair gives space to artists, collectives, and dealers—including a group of artists under thirty all the way from Mexico. I recognized almost no one, but I did recognize the style, leaning to realism with an air of street art. At least it tones down the trashy overstatement. The biggest work, by John P. Dessereau, assembles street scenes, with wiggling windows and each building its own canvas. It makes a suitable backdrop to the stage and café.
Fridge is always looking for another venue. Last year it found itself stranded in a park, and this year it crams into the tiny service corridor of a hotel and the back room of a bar a mile and a half apart—neither one even remotely within "a five-minute walk from the Barclay's Center" in downtown Brooklyn. In leaving Harlem, it seems to have left behind much of its professionalism and much of its edge as well. Work runs to dog pictures and the like, most likely tossed off in minutes and just as soon forgotten. An artist at my first stop even told me not to bother with the other. Like the fair, I persevered, but maybe next year's will not open on a bar's trivia night.
Home alone
A dank weekend put the freeze in Frieze and gave new meaning to Fridge. Even in sunlight, can anyone feel at home at an art fair, much less Frieze? It occupies an island in the East River—and a tent with two hundred exhibitors. Yet right off I spotted Blue Clock by Ugo Rondinone and two translucent planks by Anne Veronica Janssens, both at Esther Schipper of Berlin,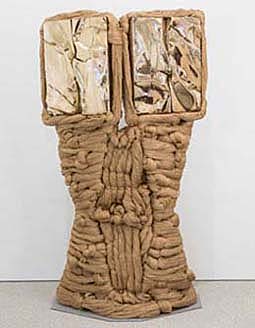 playing off against slim neon by Keith Sonnier at Pace, as alternative visions of light and color. And then to the side I saw two favorite Lower East Side galleries within a stone's throw of such blue chips as Victoria Miro and Hauser & Wirth. You know, I thought, I might actually enjoy this.
Frieze does its level best to set one at ease. It leans contemporary and welcomes younger galleries without reducing their Focus booths to closets—or setting them apart from the mainstream. And here "younger" means less than twelve years of age, an eternity in the changing art scene. Rochelle Feinstein at On Stellar Rays has an ample wall for her text, rendered all the more enigmatic by a partial covering. Frame galleries, less than eight years old, get more of a ghetto, but facing each other like a Silicon Valley open office. As for the blue chips, their booths approach what another fair would call lounges.
In a display of wealth like this fair, size matters. Hauser & Wirth has blue ink flowing over screen prints from Ebony and Jet by Lorna Simpson, for African American culture as a force of nature. A boulder surrounded by pipes by Lee Ufan at Lisson looks anything but cramped—and it still leaves space for Anish Kapoor gearing up this summer for Brooklyn Bridge Park. David Zwirner has plentiful selections of Carol Bove and William Eggleston, tied to their appearance at the Venice Biennale. Another Biennale participant, Anri Sala, makes the open area part of the show, as a bare setting for robotic drumming at Marion Goodman. Sheet metal spilling its irregular sheen onto the floor by Naomi Wanjiku Gakunga, a Kenyan artist now based in Texas, is just one among other works at October.
Like October, a London gallery, the fair hits all the right notes with global artists and women. That is only to be expected. So are the occasional projects apart from booths, although they are the least of the show's concerns. The bows to political art rarely extend to the art or politics of the present. Does that, too, comport with lounges for BMW and Deutsche Bank Wealth Management? Still, Frieze reaches out now and then to nonprofits as well, including White Columns and SculptureCenter.
Solo acts, too, come with a theme and a boast. They look back to "twentieth-century pioneers" in need of rediscovery. It takes some doing to think of Kenny Scharf at Honor Fraser of LA as neglected, rather than a product line. Still, Spotlight booths include galleries devoted to rediscovery, like Garth Greenan, Mitchell Algus, and Michael Rosenfield—here with rope and polished steel by Barbara Chase-Riboud, the African American sculptor. It also allows a fresh look at Alfred Leslie and his photorealism, at Bruce Silverstein. Here Leslie isolates not individuals in crisp light but rather groups in near darkness, for the psychological and social tensions of a death in the family or the working-class America of Youngstown, Ohio.
Maybe I had to feel at home, in a fair with cafés given over to New York staples. Roberta's pizza beats a generic champagne bar any day. Maybe I just needed to feel at home, facing a long trip back in the storm. Maybe I was half afraid of home, after photographs of bus stops across America by Ursula Schulz-Dornburg at Gallery Luisotti of LA—as anonymous and ubiquitous as gas stations for Ed Ruscha. Or maybe this is home for all too much of the art world. Wealth, art, and politics make for perplexing but inescapable company.

These New York art fairs ran mostly March 2–5 and May 3–7, 2017, wrapping up a report on more of the Armory Show and other March fairs. Related reviews report on past years, this year's AIPAD Photography Show, and a panel discussion of "Art Fairs: An Irresistible Force?"