After Earthworks
John Haber
in New York City
Expo 1: New York at MoMA PS1
"Cut a hole in a bag filled with seeds of any kind and place the bag where there is wind." It was summer when Yoko Ono made her Painting for the Wind. How innocent it seems today—just a title, a glorious time of year, and a prescription.
The words, on a label pasted to the wall, are easy to miss. Even the wall text identifying the work is larger. The room is large, too, and a film on the far wall by Joseph Beuys all but drowns it out. And I think it is safe to say that Ono's 1961 installation had no curator's wall text, because the work was open and free. It was not just conceptual art or a script for performance, but a hope for the future. Does anything of that hope remain?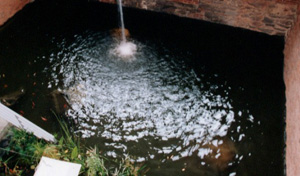 Before there were earthworks, there was earth. So many years after, what of the earth remains? "Expo 1: New York" answers with what it calls "dark optimism," though it may sound and look more like yet another art fair. It takes over almost the entirety of MoMA PS1, from educational films in the basement to a "school" upstairs entrusted to Triple Canopy, the magazine. It thinks big, too, with set pieces, most commissioned for the occasion, extending off campus. Almost any of these "modules" would be a show in itself. But then the earth is quite a planet.
It also thinks surprisingly little about the earth. "Expo 1" brings together many of the hottest names in art now, some with only a tenuous relationship to the environment. It has its planters and trash dumps, but precious little about the future. For all its international cast, it belongs to a culture for which the only present crises are recycling and storage space. The show has its moments of poetry and staying power, because good art knows when to bridge the personal and the political. Yet it may not add up to politically aware art.
Environments and cultural agents
On opening week, Argentinean architects were assembling one module in the courtyard, amidst the usual construction for summer concerts. Colony will invite "artists, thinkers, architects, and other cultural agents" to live together, in small enclosures perched precariously on a warren of scaffolding. Andrea Zittel, Lot-Ek, and their trailer parks seem stable and luxuriant by comparison. But then the architects, of the firm 177, mean to address an unstable world. The shelters could have served people displaced by Hurricane Sandy, and the odd heights could respond to rising sea levels. So could a geodesic dome under construction by the beach at Far Rockaway, off Jamaica Bay.
The modules are easiest to remember. Marie Lorenz plies the East River with a rowboat "water taxi," but only in strong currents. The struggle on behalf of nature takes continued effort, it insists, but may go nowhere fast. Right outside MoMA, Random International's Rain Room asks people to wait for hours to dance indoors in the rain. The feat of engineering, which keeps the drops away, is impressive. So is the spectacle of others caught in the torrent, the darkness, and an intense spotlight.
The modules within PS1 are further from mid-Manhattan and Disneyland, but closer to art. One is even part of the museum's history. Meg Webster first created Pool for its duplex gallery in 1998, and its drama still looks charmingly makeshift from above or below. A single pipe serves for the waterfall, as if a waterspout were running the wrong way. Plants bar the stairs to the pool, while rubber lining the brick walls holds it in place. This is the rare immersive environment that one cannot enter.
Olafur Eliasson has had his own artificial waterfalls, and his environment truly is immersive. It is also frigid, the better to maintain irregular blocks of ice from Vatnajökul, Iceland's largest glacier. One can think of it the other way around, too—as ice to punctuate a frigid environment. Chunks are breaking away from the glacier anyway after eight hundred years, thanks to global warming. Will there soon be nothing left but ice sculpture, for Icelandic winter parties? Your Waste of Time has a chilling double meaning.
Ansel Adams receives three entire rooms, for the photographer's western landscapes, all from MoMA and a worthy successor to Carleton Watkins. For once, the parent museum adds value. The fifty prints cover thirty-five years, starting in Yosemite with a Kodak Brownie box camera—and geologic time as well. See, there really was earth before earthworks and landfills. If an exhibition this self-contained fits a little awkwardly into a larger show, it also leaves one aware of the larger show's intoxicating sprawl. For many these days, Adams is just part of Modernism's overconfidence and overstatement, not to mention America's, but he has nothing on "Expo 1" today.
On the third floor, Adrián Villar Rojas's La Inocencia de los Animales ("The Innocence of Animals") serves as a stage for events. A thick gray slab bars entrance to the wing, and the installation was closed for maintenance on my first visit, making the barrier all the more stubborn. Inside, one finds still more concrete, in stadium seating without headroom. Still, deep cracks are showing, and Rojas speaks of wormholes. Beyond the day's panel or performance, more tiers rise like the reversed reality of a dream. Rojas also layers and interrupts them with other geometries, but with the passage into another space and time just out of reach.
On the verge of hope
Never such innocence again. To see what holds all this together, it helps to think outside the modules, to the parts that look plainly like group shows. "Expo 1" has a hefty number of curators at that, organized by Klaus Biesenbach of PS1 and Hans Ulrich Obrist of London's Serpentine Gallery, and they do not stick to chronology or themes. Start with the first-floor wing often used for the principal temporary exhibition, with Ono and Beuys at its center. The wing keeps coming back to the bright side of that dark optimism. This is nature precariously in balance, with humanity itself hanging by a thread.
Where Ono imagines giving back to nature, Beuys demands giving back to people what others have taken away. He films his own crew sweeping up after May Day marches in 1972. He also uses migrant workers, on a day devoted to union demonstrations. Apparently, left-wing politics was a circular firing squad even then—and, as usual with Beuys, a heavy-handed one at that. Still, he shows how the curators draw subtle connections, here between two artists involved with Fluxus. He also shows what "Expo 1" means by placing "ecological challenges in the context of the economic and sociopolitical instability."
Everything in this wing is on the verge of hope, of anger, and of human intervention—and nothing is simply the environment. Pierre Huyghe has his own creepy little ecosystem, with sea spiders and a lobster obliged to lumber around under the weight of a mask. Das Institut, a German collective, combines neon sculpture, Betty Boop wallpaper, and video of another protest. Mark Dion hangs predatory species from a tree as Killers Killed, the whole tarred in black like a 3D silhouette. Micrea Cantor places a deer in a small room with a wolf. Will they both make it through the short video alive?
Where this floor has the optimism, the floor above has the darkness. Pamela Rosenkranz, who appeared before in "A Disagreeable Object," fills a brand-named water bottle with brown liquid. It looks that much darker in a museum display case. Liu Wei documents people scouring waste to survive, and I have no doubt she means it when she calls it Hopeless Land. Reynold Reynolds and Patrick Jolley are drawn as ever to interiors and madness. I have no idea what they are doing in grainy black and white, but whatever it is, it takes place underwater.
Outside those extremes of balance and despair lies a dark comedy. John Miller gilds the ruins of past and present civilizations, Peter Buggenhout coats trash with dust, and Latifa Echakhch strews colored glass from shattered tea cups. On video, Cinthia Marcelle's forklift moves black soil in a perpetual figure eight. In sculpture, Paweł Althamer turns a sidewalk scene into an inhuman procession. In performance, Taiyo Kimura rides the subway with her head in a transparent plastic bag. Ugo Rondinone alters a room with blue over a window, so that the promise of sunlight mingles with the fear of drowning.
PS1 has given over the joint before to "Greater New York," its series on emerging artists and, now, others as well. Here if you do not recognize a name, it may well be in one last module, curated by Josh Klein. One can easily mistake "Probio" for a single-artist installation, purporting to show that "humankind may no longer be subject to Darwinian natural selection." Well, whatever, but if hope is anywhere, it is in the room's plants, pebbles, sand, and petri dishes. There is more than enough dark optimism in Dina Chang's flesh-colored diamonds alone—or maybe crystal-shaped flesh. A video, credited to DIS, cuts among pregnant bellies as, of course, Emerging Artists.
New York as ecosystem
PS1 also gave over the museum in 2011, with much the same poignancy. "September 11" had a distance of ten years from what it commemorates, after the voices had died down. Here, the voices are only barely speaking up. For once, explanatory wall text appears only occasionally, which I prefer, but often when one needs it least—and rarely when one needs it most. You may not know that De Lama Lâmina means "of mud a blade," and you will almost certainly not know that Matthew Barney joined and then restaged Brazil's winter carnival. He and his entourage came as the gods of war and the forest.
Like "September 11," too, this show returns often to familiar names. At its best, it speaks with its heart, like Anna Betbeze's torn and dyed Greek woolen rugs between abstraction, tapestry, and animal hides. At its worst, it reaches too hard for the names—and not hard enough for the medium or the message. Why Jacob Kassay and his silver emulsions, when any paint refracts the light and depends on industrial processes for its production? Why Sylvia Plimack Mangold's tree paintings or Dan Attoe's fantasy American west rather than any number of other landscapes or paintings of disaster, and why abstraction by Joe Bradley? Why labor rather than environmental protests, and why Matthew Barney yet again?
While sociology and economics provide a unique focus, they all but chase away the environment. Pollution, renewable energy, and global climate change hardly appear again after the introductory text. What about artists like Babs Reingold, who has made the fate of civilizations rest on its trees, or Sharon Lockhart, with her cultivated environments? What about David Brooks, who has made trees and sidewalks rise up into the skylight, and what of so many other environmental artists who wonder at the "machine in the garden"? What about Richard Yang Yi, whose illusion of life underwater speaks not to a bad hangover but to China after the Three Gorges Dam, or Judy Pfaff, whose space between painting and installation has taken on organic form? What about Richard Misrach, with his encounters between consumerism and the American west, or any number of heirs to Ansel Adams?
What, for that matter, about earthworks? Their entropy and ambition appear just once, with Agnes Denes, who planted wheat fields in Battery Park City in 1982—a task of four months and seven hundred truckloads of soil. "Expo 1" offers its own resources, like Colony, but for creative types, the kind that revere Buckminster Fuller and geodesic domes. Even its title sounds like a generic art fair. When a white hand on a pedestal holds a cracked eggshell, does Charles Ray mean more than a cruel joke about art and life? As the garbage piles high, does it critique the West's "consumer fetish" or reinforce it?
Denes shares a room with Gordon Matta-Clark, who drove an oxygen tank to Wall Street in 1972, as a breath of fresh air. "Expo 1: New York" comes alive with smaller curatorial touches like that one. And its most striking touch is its commitment to cities, like a collection of actual trash bins by Klara Lidén. Zoe Leonard, who appeared in "After Nature" and with her Analogues, photographs of New York from the air, but as the model city in the Queens Museum left over from the 1964 World's Fair. Nearby, Chris Burden has his own model city and his own amusement park. His Eiffel Tower straddles the Seine, while toy Titanic liners whirl about.
The museum's native ecosystem has the last word after all, in the Statue of Liberty. Steve McQueen sticks close to Liberty's head, as if to see the harbor from her point of view. Her gaze seems sad, stoic, and unmoving, and so does New York more than fifty years after Painting for the Wind. Her dark optimism shines even in the black spots on Eliasson's icebergs. The very refrigeration system designed to preserve them also degrades them. "There is hope," Franz Kafka wrote, "only not for us."

"Expo 1: New York" ran at MoMA PS1 through September 2, 2013, with "Rain Room" (reviewed separately) at The Museum of Modern Art through July 28 only.