Urban Spaces
John Haber
in New York City
Inside Out, Outside In
Corinne Wasmuht and Tom McGrath
Art has come a long way since the Renaissance, but some things never change, at least in theory. And I mean theory, the kind with which people used to talk about art. Sure the talk gets heavy, but when it comes to criticism, I miss it. And until recently, one thing they liked to talk about was space.
For old-fashioned painters, one learned to represent it. With abstraction, one learned to embody it. In its own way, Minimalism, too, was about objects in space. Sure, there was blowback in the 1980s, when (people said) painting was dead, but back it came.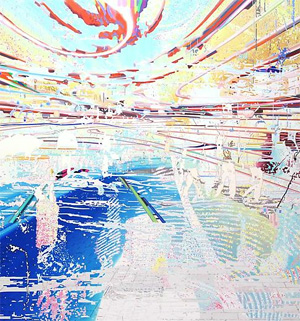 Make the objects bigger, cuter, and easier to relate to, and you have an installation—or an art fair. You may also make a lot of money. Besides, some people are still painting.
Some of them, in fact, are painting space, in part simply by working large. Some seem determined not just to represent it, but to map it, grid by grid and square by square. Only now that anything goes and theory is largely out the window, the space may go slightly mad. For the artists in "Inside Outside, Outside In," one has to cross it on the way in and then locate it again in panoramas on the wall. For Corinne Wasmuht or Terry Winters, one has to let it spin apart, and for Tom McGrath or Mark Innerst, one has to cross fencing, undergrowth, and urban canyons to enter it. If it tends toward the bewildering and impersonal spaces of airports and inner cities, all the better.
Negotiating the room
First the bad news. For a long time after Abstract Expressionism, it was a bit harder to get taken seriously without working large. On the good side, one could do it without literally making history. One did not have to repaint Guernica or (heaven forbid) Thomas Hart Benton. One could stick to geometry and impulse in the scraps of abstraction's past. One could stick to what one knew.
How about, though, painting what one saw? Even if one accepts Pop Art as just that, it took longer to map one's environment. Maybe it took getting over suburban sprawl, but it has started to happen big time. The impulse underlies urban graffiti art and the real landscapes of Tacita Dean. Each of the artists in "Inside Outside, Outside In," has something in common with all three. The scenes all look familiar, in plain ink and washes, but they move within what Olafur Eliasson once called Your Negotiable Panorama.
Negotiating can mean either dealing with another person or navigating a space. Dawn Clements obliged a viewer to do both, when she drew the huge black namesake of the Boiler at Pierogi on facing walls (and she slipped back this very month as part of yet another competitor to yet another set of New York art fairs). Now she suggests something more intimate, as close and reassuring as a kitchen table by Janet Fish. She calls it Jessica Drummond's Bedroom Wall (My Reputation, 1945), and a bedroom can hold all sorts of reputations. The subtitle names a 1946 film, with Drummond played by Barbara Stanwyck. Apparently, she can take a cue from nature in telling stories and a cue from stories while at home.
All four artists draw what they see, but their stories come with footnotes. Each of Theresa Ganz's brown wreaths consists of cut photographs, but the warmth is real. So, for that matter, is the winter dryness. The other two artists create meticulous panoramas, but their urban planning, too, is deceptive. They cut and paste fragments of the outdoors. Assembly and disassembly definitely required.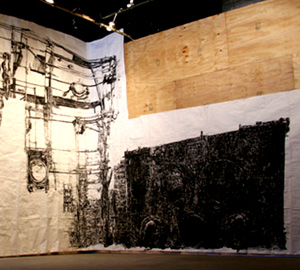 Björn Meyer-Ebrecht displays what look like taped architectural photographs, but with drawings and actual tape. Fran Siegel riddles her cyan ink washes with gaps and tears. His schools and playgrounds stand empty. Highways cross her cities seen from above. Both extend the gallery interior to a chilly ideal. Maybe this is as close as Orchard Street comes to nature or to terror.
One has a real interior to cross on the way in, and Jade Townsend makes it a challenge. For a first obstacle or partition, one faces a large wrapped canvas, supported by legs lacking a head or torso. Then come a van and a small chamber lacking its Sheetrock—the whole surrounded by thick red verticals, somewhere between gestural brushwork and studs. Oh, and the walls hold pretend antique cartoons featuring circus performers and other controlling forces. All this has something to do with "Leviathan," somehow identified with everyone's favorite Great White Whale. I doubt it makes much sense, but if this is what happens with an art mover as an installation's prime mover, so be it.
Airport blues
Something about Modernism can seem embarrassing, but maybe that takes more cynicism than common decency. For a while at least, artists and architects were out to remake the world, and they were willing to bear the consequences. Look back to Alexander Rodchenko and Russian revolutionary art or to the Bauhaus. They had seen too much to believe in science fiction, and they had fought too hard to accept dystopia. They knew, too, that they were unleashing desires and processes that they could not so easily control. The Abstract Expressionist combination of formalism, Surrealism, and the scale of history painting would make no sense without that knowledge.
Somehow or other, big designs are back, only now science fiction, dystopia, and urban planning get along pretty well after all. Elliott Hundley, Franz Ackermann, and Julie Mehretu have all worked on the scale or site of a corporate mural. All spin out deep space in intricate detail, with a more than healthy dose of fantasy. They benefit from the past, from the waning of postmodern theory, from the finances of the global art market, from street art, and from computer graphics. With Corinne Wasmuht, painting even looks like architectural models. It also looks like panoramas that refuse to come into focus.
Terry Winters has occupied this territory for a while, and he, too, is looking brighter, more open, and more fragmented himself. His Tessellation paintings have the mostly diamond tiling of the title, but with unpredictable spacing and asymmetry. They also, as usual with the artist, start with their own obsession with science and science fiction, only to end in abstraction. A few doors down, his dealer also displays studies for them, overlaid on a peculiar mix of clippings. They promise to reveal more, just as the large paintings keep promising to assemble into masks or to break apart to reveal what lies behind them. After all those striking decades of lattice spheres and biological spores, Winters may at last have learned how to refuse to be human.
Sarah Sze, too, implies connections, too, among consumer goods, public places, real and fictive architecture, and the desires driving them all. She also draws connections between her works on paper and her huge, fragile constructions of found objects. In contrast to them both, Wasmuht occupies a more abstract but also more familiar space. Like Mehretu, she includes plenty of detail, but as color rather than line. Her big paintings look brushy, but also fragmented and wide open. There is even room for people, such as they are.
Wasmuht starts with photographs, including but not exclusively off the Internet. Already one has to wonder whether contemporary life has lost its sense of place. Wasmuht takes places through which one passes on the way elsewhere—an airport, a hotel bar, a swimming pool, a construction site. They share the hot architectural style of covered plazas, tiered levels, glass cladding, and tilted edges. They might have arisen the day before. As an editor for a forthcoming history of architecture, I wanted to know who built them.
From there she applies paint in thin layers on board, in between whitewashing and sanding. The process adds to the illusion of light-filled spaces. People, like the walls, have their heads in the air and feet firmly on the ground, but with their share, too, of discontinuities in between. One can decide whether to call them empowered, alienated, or just pressed for time. It matters that others, too, are looking for alternatives to late modern architecture and institutions, like plans for Long Island City and suburbia. Wasmuht has her own vision of the future, but she knows that art been dreaming now for at least a century.
Fencing with painting
If Tom McGrath's paintings include any people, I did not spot them. They belong to a world in which nothing grows of its own accord, on the naked edge of a city. No place else can pack such density into a murky darkness. Nowhere else, too, can the darkness get along just fine with bright color and artificial light, to the point that one can hardly tell them apart. Their one distinct element is essentially urban as well. One can quickly forget, though, how much life they contain.
A chain-link fence runs through them all, parallel and close to the picture plane, while other barriers to entry run in and out of sight. Maybe some stand for elevated tracks or buildings in shadow. Bare branches, too, break or extend the chain. Fences and glare mark an actual industrial wasteland in photographs by Christina McPhee, with something of the same combination of luxuriance and terror. Deborah Brown takes pride in them, as Bushwick and Brooklyn. So much for night as a meditation on open spaces.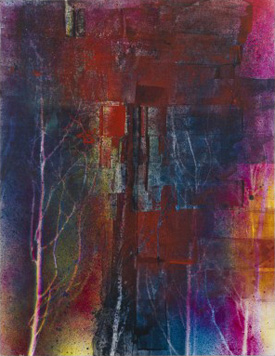 Take a return trip, though, and nature takes over the joint. Of course, nature runs wild in many a real disaster area, like a demilitarized zone, and New York is rich in greenery. Even the barest of McGrath's trees will blossom in time, too. He has plenty of leaves already, however, pressing close to the viewer, their painterly green competing for space with his fiery yellows and reds. Additional whites suggest a photographic negative or photogram—more signs of nature, but also of the artist at work. It is a harsh world, they seem to say, but get to know it, and painting is the best way to begin.
The fence suggests a point of entry to these "Profiles in Fugitive Light." Its patterning occupies a place between nature and culture, just as for Bill Bollinger around 1970. Its grid encloses and maps real spaces, just as it demarcates the canvas. Abstraction teaches that large paintings are never devoid of life, because they relate to both the wall and the viewer. So what if one can enter fully only through color and light? McGrath differs only in identifying pictorial space with contested ground outside.
Mark Innerst, too, has started to bring his luminism to the city. Robert Rosenblum identified Abstract Expressionism with the Romantic sublime. Innerst recalls not the grand scale of Frederic Edwin Church and the Hudson River School, but their quiet and patient attention. His past landscapes recall them, too, in their thick wood frames and horizon lines. Now he aims often as not for the vertical—plenty of verticals, in fact, within a single painting. And the stripes push him toward abstraction.
He still has small nature scenes, but now urban canyons as well. If these have long served as a metaphor for lifelessness, his are visually alive, much like McGrath's. Innerst imagines the plunging perspective of a real street. The empty space at its vanishing point, in turn, brings out the colored stripes to either side. He still rewards nostalgia, between recognizable buildings, like the Empire State Building, and art deco accents in his abstractions. Yet the verticals take on a life apart from the historical record, as for every one of these artists, like searchlights in the night.

"Inside Outside, Outside In" and Jade Townsend ran at Lesley Heller through May 25, 2012, Corinne Wasmuht at Friedrich Petzel through April 28, Terry Winters at Matthew Marks through April 14, Tom McGrath at Sue Scott through June 10, and Mark Innerst at D. C. Moore through June 8.