Looming over Globalism
John Haber
in New York City
Elias Sime, Africa, and Tapestry
Suzanne Goldenberg and Julia Bland
Catpc and Wangechi Mutu
Why is tapestry looming so much over art these days? Is it about challenges to art or markets hunger for more? Is it about trends or tradition?
Art sure has enough traditions to choose from at that. Elias Sime finds his sources of tapestry in Africa and used electronics, but then a circuit, too, is a weave. Wangechi Mutu finds hers in African blankets along with mud and western sculpture, Suzanne Goldenberg in Minimalism and trust in the artist's hand, and Julia Bland in abstraction and Native American art.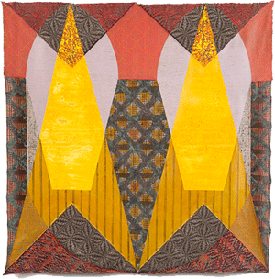 Each can look to feminist, anti-imperialist, or cultural pieties, in order to bring things back to the vital present. Others in ceramics or even chocolate are doing much the same. They also supply a handy occasion to survey more broadly the pressures and the options.
The least a show of chocolate could do is to offer free samples—and the least viewers could do is to refuse them, in solidarity with labor and with art. The African artists at SculptureCenter insist on their role as plantation workers. They also insist on the exploitation of workers by global markets. It appears in their sculpture, of people reduced to animals. If appears, too, in the sculpture's history, as cacao, and in its future, as profits that they can invest in worker ownership of the means of production. They do not offer samples, but do they do their best to ensure that viewers would turn away in disgust.
Tapestry of a nation
Talk about the perils of the art market. Elias Sime spends much of his days at the Merkato, the open-air market in Addis Ababa, and the results can be worth a fortune. Not that he is so fine a scavenger, although one could find almost anything there, or so the story goes. Not that he is even so determined, at least on the surface. His assemblages would not work half as well without an air of spontaneity. He just has a good eye for color and for the emerging picture of east Africa. He is assembling the tapestry of a nation.
Make that reassembling, on at least two levels, and at each level the tapestry has more than one weave. At the level of materials, it includes the debris of everyday life, like buttons and bottle tops. It includes older memories, in shells, horns, and animal skins. Most of all, it runs to a whole new wasteland, of circuit boards. Each has the notion of assembly already built in, and each has already become dated, including the electronics. Each, too, Sime implies, is not about to go away.
At the level of imagery, the tapestry again borrows from both the First and Third Worlds. He has his abstractions, and chance plays its role much like drips for Jackson Pollock. Assemblage derives from Robert Rauschenberg, only these are "combine paintings" in a sense that Robert Rauschenberg never intended, for they take the form of large curtains in two dimensions, like actual paintings. The largest look most explicitly to African art, with lighter colors and tapestry patterns. In between in scale are aerial maps with clear patterns of navigation, like apps. A villager would not have had that perspective before the electronics.
Sime wants it both ways, and he largely gets it—junk and craft, first and third world. He asserts both Africa's place in the modern world and the cost. "I treat them like oil paint, acrylic, or clay," he says of his materials, and he has a point, given his bold designs and still bolder colors. That way, too, an upscale gallery gets to market them as extravagant art. At the same time, he insists that the rest of the world serves as a dumpster for the West, with such nonbiodegradables as plastic and circuitry. The Merkato itself mediates between the two stances, active and passive, as a place for him and others to gather and to throw away.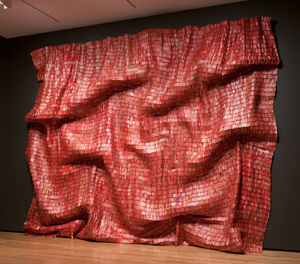 If the artist wants to have his waste and eat it, too, he is hardly alone. Much of recent art has claimed both dignity and pop culture, as well as both sex appeal and a critical spirit. Sometimes it succeeds at that, although then there is Jeff Koons. Installations as trash piles are common enough, and Sime deserves credit for sticking to something more like painting. He also fits with a wave of recovery of craft traditions. Often that comes with a specifically western history of folk art, as with Miriam Schapiro, and he gains interest by pointing insistently to Africa.
In all this, he has an obvious predecessor in El Anatsui (the work pictured here). Although nearing fifty, Sime is a full generation younger, and one could easily write him off as castoffs from the other. When the older artist presents rippling curtains of gilded metal, the kind that seals liquor bottles, the younger, too, is recycling abstraction while recovering native art and wasted lives. He has the fair excuse, though, of his correspondences between layers. He also has the pertinence of crisp patterns and present-day waste. Real politics and real conflict pretty much fall by the wayside, but not Africa's potential for orienting itself to the future.
Crafting Minimalism
A woman's work is never done. The recovery of craft for art has progressed so far that one can easily take it for granted, as a contribution to women in postwar abstraction. For Suzanne Goldenberg and Julia Bland, though, it is still unfinished business. Each combines areas of fabric with open weaving, and each looks to more than one tapestry tradition, and neither is African. Goldenberg even weaves into her work a loom or two—or is that itself a construction and an illusion? Bland looks back further still, like Jimmie Durham, to Native American tradition, but also with still more open air. Yet she, in turn, also has a greater taste for polish and perfection.
Goldenberg incorporates strips, cords, finer threads, and coarser sheets. Few run larger than a napkin, and even that looks hastily stuck to the wall. Patterns have a way of emerging, but also spilling out and apart. They can serve as a study in textures or as a sign of their own making. A couple really do look like looms, and they have the sole bright colors. Their dissonance alone might prevent the weave from coming to completion.
Bland has larger, more colorful, and more cleanly geometric compositions. Most hang vertically, with diamonds in striking symmetry, often doubled like paired animal skins or human bodies. They might fit right in with the actual Native American wing of a museum. They might also fit with geometric abstraction from a time that shunned texture or gesture. Yet they still have plenty of views onto the wall, where the thread separate. And that, too, has something in common with Minimalism.
Not so long ago, art had no time for craft, maybe especially after abolishing gesture in favor of industrial materials and appropriation. Ceramics and fabric alike were not exactly ways to endear an artist to galleries. Now both are everywhere. The Lower East Side has a tea ceremony by Takuro Kuwata, not so very far in time from Andrew Long in Chelsea, Bruce M. Sherman on the Lower Eas Side, and a whole compendium of "Vessels"—over and above such usual suspects as Ken Price and Arlene Shechet. Hangings influence artists who rely on unstretched canvas and who use weaving as design. It has led to shows of rags and banners, but also alternative views of the late Renaissance.
Neither has a strictly feminist impulse, although both give greater scope for a feminist art history. They may even recover a little ground for Modernism. MoMA still has its design collection, and the twentieth century still has the Bauhaus. All-over painting worked so hard to distinguish itself from decoration in no small part because it seemed anything but different. Bland's colors and diagonals also have something in common with the irregular polygons of Frank Stella. And, speaking of tradition, Stella did name a series Polish Villages.
What counts as complete, what as present, and what as personal? Goldenberg has her loom, Bland her spread. The first allows stains and tears, while the second insists that ground alone serves as image. The first is also more concerned for the artist's touch, the second for imagery, with titles that speak of winter and ashes. Yet she also presents work that one could more easily roll up and take away. Like Sime, both suggest that art after Modernism is still a work in progress.
Unfree samples
You may have found chocolate disgusting enough when Karen Finley smeared it on her body as performance art. (No one would remember the act had not conservatives used it as an excuse to smear funding for the arts.) The Congolese Plantation Workers Art Collective (or Cercle d'Art des Travailleurs de Plantation Congolaise) leaves its stench in the air—only subtly on opening weekend, but growing as one lingers and sure to grow further over the course of the exhibition. They begin with its production by poorly paid workers, shift to more traditional media to shape their sculpture, convert the clay to molds with 3D printers, and then reintroduce chocolate. The show comes with no end of documentation, in a video, a slideshow, books, drawings, and handouts. It comes to life, though, with a dozen works in roughly four rows, facing ominously the same way.
The show runs perilously close to self-parody. As I wrote back when about Finley, "So then it hit me—the artist as chocolate manufacturer. Minimalism is sugarless chocolate, Warhol a stack of Hershey bars. Conceptual art is just the wrapper. Postmodern art is chocolate with the beans traced to the white male exploitation of Third World resources." When it gets to sculpture, though, it has some memorable images.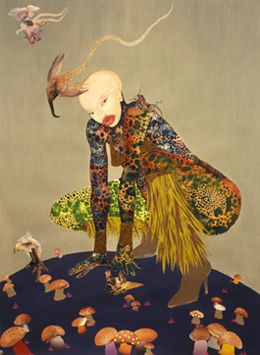 The collective's acronym, Catpc, sounds like feline political correctness, and most of the figures have cat-like faces. A woman reaches forward in anger or desperation, with something between a mammal and a fish at her feet biting down on something more powerless still. A gaunt art dealer thrusts out his tongue, while others appear only as victims or heads. They draw on myth, self-portraiture, and "the spirit of palm oil." The hectoring can grate, badly, including the obvious mockery of the art world along with plantation owners. Yet the pain in the faces is genuine, even if the bad taste remains.
Wangechi Mutu risks political correctness, too. Born in Kenya and Yale educated, she touches all the right bases and pretensions. Yet her sophistication translates into a lingering encounter between African tradition and contemporary African art, personal history and Modernism. As in Mutu's 2014 show at the Brooklyn Museum, a woman is at its center, possibly even her. She curls up close to the floor, her human body ending in a fish or serpent's tail. She says that it belongs to a manatee, the marine mammal, but its slimness takes it closer to a range of associations with femininity and nature.
It alludes to a water woman from African folklore and to sirens from myths of both Africa and Europe. Her pointy breasts assert animalism and independence, while her smooth black surface calls up western sculpture, western images of women, and blackness. The slippery encounters extend to what she describes, the aquatic creature aside, as a "terrestrial cosmology." Women may appear directly, like one standing and leaning backward, surrounded or pierced by wood. There, too, Mutu evokes a woman as both temptress and vulnerable. Yet they also appear less directly, in forms as simple as spheres.
Felt blankets might allude to refugees or to a woman as nurturer, although not bloodstained as in Brooklyn. They also rise into jagged pyramids, like ocean rocks where a siren might call sailors or refugees to their doom. The largest work may look at first like mud or bronze spheres, again from either continent, although of wood pulp. Larger spheres stand alone on pedestals, with more aggressive points on their surfaces. The ones on the floor cohere into a necklace, including a metal clip on the scale of coat hanger. Mutu turns her everyday possessions into myth, but she can still claim them as her own.

Elias Sime ran at James Cohan through October 17, 2015, Suzanne Goldenberg at Molly Krom through October 4, Julia Bland at On Stellar Rays through October 25, Takuro Kuwata at Salon 94 Freeman through October 24, Andrew Long at Barbara Gladstone through May 30, and "Vessels" at Blackston through May 3. Cercle d'Art des Travailleurs de Plantation Congolaise ran at SculptureCenter through March 27, 2017, Wangechi Mutu at Gladstone through March 25. Related reviews look at tapestry in art and Mutu at the Brooklyn Museum.