Going Nowhere Fast
John Haber
in New York City
Summer, Abstraction, and Mark Grotjahn
Anything goes these days, and nothing goes anywhere. Summer group shows, almost by definition, go nowhere at all. Or do they, and does abstract art?
The blender on high
Yes, those group shows. They make one leave town for the summer. They make one fear for art to come, when the buzz and the crowds return in the fall. With the bloom off the art market, even mainstream critics have started complaining. Jerry Saltz, for one, nails an art-school recipe for success. On his return from the 2011 Venice Biennale, he calls it Generation Blank, and there is plenty of blame to go around.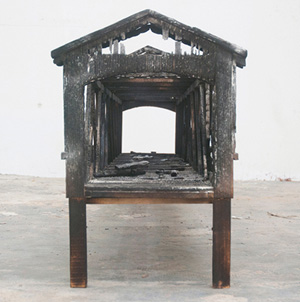 Blame Modernism, for running out of gas. Blame it for oppressive ideas, impossible ideals, and unachievable utopias. Blame Postmodernism, for seeing through Modernism while not replacing it. Blame conceptual art, new money, collectors, or (yes) art schools. Blame the changing place of art in popular culture and the urban fabric. Blame critics, for looking for love in all the wrong places.
Either way, one is blaming success. Alas, as in the economy as a whole, success does not come equally or fairly. The critical spirit of Modernism and Postmodernism alike teaches one to be suspicious of power. A scholarly mailing list criticized booths for countries at the Biennale as excuses for state propaganda. They attest instead to globalization, in which a handful of familiar artists could turn up anywhere. And they do turn up—often and with a safe mix of irony, diversity, and uniformity.
As critics always add at the end, there is a lot of good art out there, honest. But is it all a safe mix of abstraction and realism, painting and new media? Have they all gone into the blender, leaving a bland or disgusting purée? Look past the stars, though, and one sees a very different picture. It involves unfamiliar artists and familiar media. It sees Modernism and Postmodernism as still varied, productive, and critical after all.
Take a quick tour of eight summer group shows, with eight versions of mostly painting and mostly abstract art. They follow several other recent breakdowns in the formula for abstract painting as well, including Mark Grotjahn. They go nowhere, but they also go in all different directions. Those statements are not contradictory, and they have cause for despair as well as hope. Still, these shows describe alternatives. Above all, they are alternatives to the formulas of a generation ago, when (everyone agreed) painting is dead.
One or two summer shows stick closely to the formula for Generation Blank, because someone has to fill in the blanks. The others follow older party lines, which promptly break down—which is precisely what the formula meant in the first place. Maybe alternatives will never substitute for a direction, but for now they will have to do without one. At least the blender is on high, and from time to time it overflows. For now, take a summer off to look, to learn, and to enjoy it. Fall will be here soon enough.
Summer in black and white
Anyone can do it, Saltz notes, with "abstraction referencing abstraction." Fortunately, it only seems that anyone does. Honest, however, it could be worse. It could be a formula referencing a formula, and that is exactly how abstraction often looked in the dark old days. For a time, formalism stood not for self-reflection, but for boredom. Would it have lightened things up if someone added smiley faces?
Better get the bad news out of the way first: someone has. Down at The Hole, for its first show on the Bowery, the artists just want to be friends. Under the name FriendsWithYou, Samuel Borkson and Arturo Sandoval III are "on a mission to spread the idea of Magic, Luck, and Friendship around the world." Did I mention that they are based in Miami? Takashi Murakami and Tom Sachs are looking downright profound.
Okay, this one only resembles a group show, with eyes and a mouth added to everything from black stripes out of Op Art to a polygon of colored triangles. Sometimes the eyes move, as on two yellow smileys that roll against one another, and sometimes the forms melt onto the floor, as if exhausted by a late night partying after the opening. In the largest work, they embellish literal hot air, in a balloon all set for the Thanksgiving Day parade. Is this sheer exuberance and pleasure, yet another glib appropriation of Jeff Koons appropriating Pop Art appropriating Dada appropriating one's worst nightmare, or the final descent into commercialism? The dealers should know, for they worked with art's ultimate entrepreneur, Jeffrey Deitch. As for me, suppose I simply answer yes.
Maybe one should start instead at Cheim & Read with such older artists as Lynda Benglis, Joan Mitchell, and Ghada Amer. Even Jenny Holzer approaches color-field painting by replicating a censored document. The lush blues and grays of Louise Fishman are another surprise and a standout. How remarkable that this show, the most traditional, is nine women. At the other extreme, Mitchell-Innes & Nash lays out an alternative tradition in outsider art. It runs as a straight (or crooked) line from 57th Street to Chelsea and to the Lower East Side—and from Alfred Jensen to Chris Martin and to Katherine Bernhardt and her consumption habits.
Or take two words dear to late Modernism, black and white. Not everything in "Lost" at Invisible-Exports, curated by Amy Smith-Stewart, is black. It includes the elegant wreckage of maple plywood by Michelle Lopez and of an interior, in a photo by Yamini Nayar. And not everything in "Summer Whites," at Rachel Uffner, is abstract. It includes the ghostly frame of a woman's body, by Anya Kielar, and a clarinet caught in a vise grip, by Keegan Mchargue. Ad Reinhardt and Robert Ryman are nowhere to be seen.
But that keeps alive the echoes of formalism in Cube on an Octagon, a plain but obviously handmade pedestal by Sol LeWitt. Those echoes help darken Leah Beeferman's succinct graphite and laser etch or the charred model of a wooden covered bridge by Marianne Vitale. They help Ben Gocker, whose thickly gessoed circle converts an unfinished Renaissance tondo into finished wreckage of its own. Mika Tajima's Furniture Art or Ned Vena's equally slick surface look machine made. In contrast, Ryan Wallace suggests a frame without a picture and its back to the wall. When Gocker's title manages to mention beach chairs, hand prints, and receding glaciers, one knows that the human hand is everywhere.
Fill in the blanks
One may miss the days when the case for abstraction was black and white. If not, one can always try line and color. That opposition goes back at least to Florence and Venice, Classicism and Romanticism. It led to debates over Picasso and Matisse—or how to describe Abstract Expressionism. It also outlines two more summer group shows. Lennon, Weinberg sticks to geometry, while von Lintel has more layered surfaces and gesture, and again neither quite follows its own rules.
As curator, Stephen Westfall calls the first "The Ghost in the Machine," and he leaves the ghost of his own solo show from the month before, in latex on the back wall. He and Harriet Korman draw symmetrically, then color the resulting stripes and triangles arbitrarily. To me, it makes the whole thing too fussy, like paint by numbers gone wrong, but it expresses a passion for both rigor and freedom. The show's title, of course, refers to the philosophical traditions of strict logic and a strict separation between mind and body. It colors the symmetry breaking in star bursts by Nicholas Krushenick, Jennifer Riley, and Jackie Meier—or Don Christensen's illusion of a tower of pyramids in 3D. Don Voisine evokes the ghost best, with a black cross almost out of Al Held under pressure from muted horizontals above and below.
"Driven to Abstraction" may look thicker than it is, and that, too, disrupts the premise of purity. Lisa Corrine Davis gives the illusion of fresh bloodstains on interlaced strips, but up close the red becomes biochemistry, flora, or cartoons, and the strips are green stripes. Andrea Belag mimes a brushstroke under a microscope, like David Reed or Mark Sheinkman. The density is entirely real in Carrie Yamaoka's blue Mylar or Catherine Howe's messy take on late Baroque still life. Here subtlety is not the point. This is about gesture—real, fictive, or both.
Layers imply a layering in time, and Danielle Tegeder lays the groundwork for it with bare canvas and spaces out of Russian revolutionary art. Canan Tolon may suggest darkening or film strips. Amy Ellingson's layers begin in Photoshop, which all but owns the term, and then start over again on panel. Encaustic has signified both opacity and gesture ever since Jasper Johns. For her, the white wax is only the last layer, over more intricate drawing and painting in oil separated by clear finishes. By the time she is done, the grid is history.
All that leads to the near dogma of "Abstraction Expanded," the title for a mix of hot artists and unknowns at Tanya Bonakdar. With seventeen contributors, it feels like a crowded party with bouncers at the door. The puns are hip, like N. Dash's canvas pocket for his black panel—perhaps an upscale iPad case. The tributes to feminism and craft are laden with irony, like Josh Faught's crocheting soaked in nail polish, Lauren Luloff's bedding, or Anna Betbeze's singed green wool. They are also smart and even painterly. Generation Blank may know after all when to fill in the blanks.
I have joked myself about gen X art and gen Y art, but here the best appropriation is a kind of restraint. I felt the battle between restraint and excess in Analie Saban's gray on folded canvas or the deep cuts of Amanda Ross-Ho, which leave a human outline along with a pair of sunglasses. Jacob Kassay adds his silver deposits to a black-and-white rectangles in oil. Bleached ink by Sam Moyer alludes to tradition, too, in the myth of Penelope, who undid her tapestry art each night. Donelle Woolford drapes canvas strips over a clothesline crossing the room's corner. The line spins out of a wood frame, somewhere between a stretcher and a window, because neither art nor memories of home have been left out to dry.
Cloud chambers
Mark Grotjahn operates between formalism, Op Art, and a calculated madness, and physicists have a good term for it, symmetry breaking. He became known for roughly radial patterns that peel back from a central vertical, in neon colors and shadow. A central explosion might have created the division, leaving trails of radiation, like Neo-Expressionism as automatic writing. Something similar had happened to the master of symmetry himself, Frank Stella. If a painting's geometric had to define itself, Stella pushed the logic of painting to the abandonment of geometry and paint. Grotjahn even approached Stella's post-1970 shaped canvas with the larger and more intricately divided Butterfly paintings.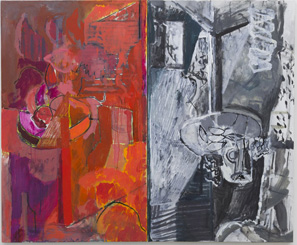 Unlike the older artist, he largely stuck to triangles rather than rectangles, illusion, and two dimensions. Now all three are gone, but not the explosions or the physics. His latest still have a teasing sense of vertical symmetry, and colors still radiate outward. In fact, they look like nothing so much as a Southern California vision of elementary particles—arcing, spiraling, surfing and catching a wave, or curling up tightly against a black ground. He also lays them on thick, in a brighter and simpler palette, the kind that comes from paint tubes. An overeager art student might have colored in particle tracks from a cloud chamber.
Grotjahn was not the only one to combine expressionism and Neo-Geo. He also starts to look prescient now that artists move so easily between art and science or geometry and goo. He also starts to look downright old-fashioned. His ovals—or at least his titles—refer not to science but to faces, flowers, Pointillism, and Claude Monet. It can be showy and repetitive, but it makes a reasonable fuss over painting. It could be a homecoming to the neighborhood of Cal Tech, too.
Stripes have some life left in them, if only as interruptions in fields of color. Torben Giehler treats them that way, only alternately flaunting and masking the interruptions. He works large, in largely somber grays and blues. Then come a few garish versions of the same colors, on an easel scale. Either way, he hearkens back to several generations of abstraction at once, only starting with the broad expanses out of postwar art. The imagery looks more like Buckyballs or Tinker Toys fading or decaying into real space.
Giehler appears to create the fictive architecture from taped lines, partly or wholly painted over. The same tape may have helped in forming the occasional broad horizontal band near the bottom of a canvas, contributing to the ambiguous depth. At other times, the background field paints over the tape, leaving it in the gap between design and material. The tape itself may play something of the role of lettering for Ed Ruscha, objectifying the blankness. As layering, it disappears entirely from a distance or in reproduction. As architecture, it only threatens to disappear.
Marks for Jesse Willenbring, too, may play the role of imagery, shorthand, materials, or ghosts. Sometimes, they scamper thickly across brushy fields. Coral and rock may thicken the field along with oil, charcoal, or acrylic, and frames play further with surface and object. Sometimes interruption of the surface brushwork creates the lines, and a work divided between red and gray seems consciously to mime Jasper Johns in ink on acetate. Johns might get along fine with the Picasso-like skull or the exhibition title, "Left to the Darkness," but things do not look too somber. Every one of these shows leaves one mapping stripes, tracks, and crossings.

"FriendsWithYou" ran at The Hole through August 6, 2011, "The Women in Our Life: A Fifteen Year Anniversary Exhibit" at Cheim & Read through September 17, six artists at Mitchell-Innes & Nash through August 6, "Lost" at Invisible-Exports through July 30, "Summer Whites" at Rachel Uffner through July 29, "The Ghost in the Machine" at Lennon, Weinberg through August 19, "Driven to Abstraction" at von Lintel through July 29, "Abstraction Expanded" at Tanya Bonakdar through July 29, Mark Grotjahn at Anton Kern through June 25, Torben Giehler at Leo Koenig through June 18, and Jesse Willenbring at Laurel Gitlen through June 12. I return to summer group shows in several years including their baggy themes in 2013 and 2014—and a step outdoors in 2016.