The Bad with the Good
John Haber
in New York City
New York to Detroit: 2014 Art in Review
Oh, sure, as a new year dawns, I could attempt a list of the year's ten best in art and New York. Sometimes, though, you have to take the bad with the good. I hope that I came halfway close to covering it all this year, and I offer links so that you can see for yourself. So happy new year, and a look back at 2014!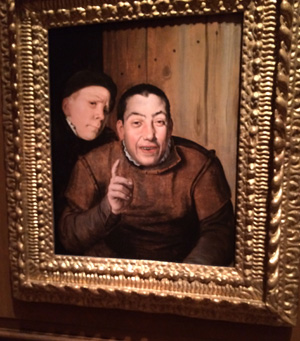 Survival and recovery
Sometimes all one can ask is to survive, and this year was filled with tales of recovery. Detroit survived, the Detroit Institute of Arts intact, with a firmer financial footing for both. I had the treat of my first visit and lots of great pictures (leaving me, by the way, with one major American museum still unseen, the Walker). Here in New York, Ground Zero returned to a kind of normalcy, with a museum opening and a new tower's accepting tenants. Its memorial plaza is all the more touching without scarier echoes of September 11, as the barriers came down, leaving no in long lines, ID checks, and timed tickets. Lower Manhattan has come so close to normalcy that the architecture critic for The New York Times slammed One World Trade Center for not matching the neighborhood's diversity. Work on the costly transit hub drags on, but a spiffy subway complex at Fulton Street returned as well.
At the same time, a great museum vanished, as MoMA swallowed the former Museum of American Folk Art. To add to the chill, demolition is a prelude to expansion on behalf of yet another luxury high-rise. (Hey, the last MoMA expansion did not go so well either, at least for the permanent collection.) And the Whitney abandoned, to my mind, New York's finest museum architecture, leaving one to hope for the best from Renzo Piano as architect of the Whitney's new home in the Meatpacking District. Ominously, it closed out Madison Avenue with a dreary Whitney Biennial and the embodiment of a soulless art scene, in Jeff Koons. The Met reopened its fountain plaza, but with nothing to show for the work but new plumbing and a right-wing donor.
SculptureCenter is back as well in Long Island City, and so are murals by Thomas Hart Benton, now at the Met, looking more glorious than even in the Great Depression. Painting is showing healthy signs of survival and recovery, too, where once all very serious people knew that painting is dead. It thrived in true classics of late Modernism—exhibitions of Pierre Soulages in black and Morris Louis with his Veils.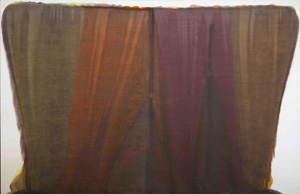 It thrived in a resurgence of abstraction in many a gallery. It thrived to the point of a huge show of contemporary painting at MoMA, so confident of its future that it bears the title "The Forever Now." It even dared one to take seriously a Young British Artist better known for excrement, Chris Ofili at the New Museum.
At the same time, painting left the guardians of art more certain than ever of its loss. One heard complaints about "zombie abstraction" and calls for "slow art." I find those slogans misleading, but I welcome heightened scrutiny of big money in art. Art fairs kept growing, but so did awareness of the burdens they place on ordinary artists and dealers—as a seemingly "irresistible force in the art world." The Lower East Side kept growing, too, with now more than double the area of Chelsea galleries and with new locations for such uptown stalwarts as Marlborough, Betty Cuningham, and Marianne Boesky. Meanwhile more than one notable LES dealer merged into Chelsea.
There came healthy reminders, though, that not everything centers on New York. Museums surveyed contemporary Arab art, Latin American art and Lygia Clark, and "global Minimalisms." A fine meeting of East and West practically slipped under the radar at the Guggenheim and the Museum of Chinese in America. The definition of art continued to expand as well, with a critical embrace of fabric as painting and of "outsiders" like Judith Scott and Ralph Fasanella. Yet could that all mean a more global uniformity, much like the global economy? A retrospective of Sigmar Polke (plus at least three gallery shows) could well stand for just that.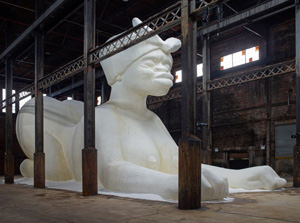 For all that, art has survived worse, as evident in "Degenerate Art" at the Neue Galerie. I can end the year on a more upbeat note with some of the very best. Art showed its history with Piero della Francesca at the Met and Romanticism in drawings and watercolors at the Morgan Library. Modernism showed its origins with prints by Paul Gauguin, portraits of his wife by Paul Cézanne, Italian Futurism, and the Lauder collection of Cubism. A more settled and exhilarating view of the last century came with Matisse cutouts and, up at Dia:Beacon, Carl Andre. I had a useful challenge to my expectations with artists as ubiquitous as Nam June Paik and Robert Gober, and if my inner jury is still out, all the better.
I am still fearful for art—and fearful for a New York in which the cops can turn their back on a liberal mayor and, literally, get away with murder. My two favorites, though, insisted on the vitality of both art and the city. Garry Winogrand photographed the theater and the terror of the 1960s, and Kara Walker took over the Domino Sugar Refining Plant in Williamsburg, for A Subtlety. The irony of the title points to her command of the factory interior, centering on a sphinx as "your mamma," in raw sugar. She also looked past her trademark plantation imagery in black silhouettes toward a broader and, sure, subtler history, one that includes the North's part in black history. As it happens, the Studio Museum staged an underrated group show on the theme of the "great migration" north, but could the migration have ended in Brooklyn? Maybe only to see the neighborhood's industrial history, affordable housing, and galleries fall to the wrecking ball.

Of course, this site has reviewed pretty much all this and more at length. You can now also see year-end reviews for 2007, 2008, 2009, 2010, 2011, 2012, 2015, 2016, and 2017.