Best Forgotten?
John Haber
in New York City
Consistency and Diversity: 2016 Art in Review
Who would ask for the best of 2016, if it means looking back at an election year that I, for one, shall be glad never to see again? Now if it only did not bode at least four dreadful years to come.
I have little love for picking winners anyway—and even less for listicles. This whole site is all about another model for criticism. Still, art is always looking back, looking around, and looking ahead. Allow me then, as usual, a few decent memories. I can even be grateful for a few things about art and New York. You can then pick your own favorite exhibitions.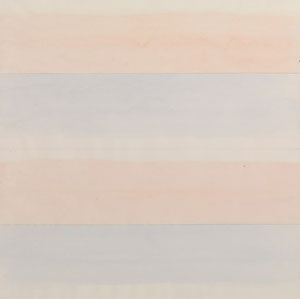 1. New and old media
Not that art was notably political. It had penetrating views of the Middle East and relived the tensions of the 1960s in photography by Danny Lyon. (I return to gender and race in a moment.) Still, it mostly just went about its business. Even when Rob Pruitt displays his paintings after news clips of Barak Obama, one for every day of his presidency, it feels more like an artist's terminal self-indulgence than a statement. More often, thankfully, art went about its business in a good way, with attention to its media, old and new.
The Whitney is onto something big with "Dreamlands," its survey of "immersive cinema." New media turn out to have a long history. Closer to the present, the same description could apply to Pipilotti Rist at the New Museum, Sophia Al-Maria at the Whitney, Cao Fei at MoMA PS1, and Bruce Conner at MoMA. Even the reopened International Center of Photography, in new digs on the Bowery, seems more interested in spy cams than C-prints. Where big installations often trash art, and where "The Keeper" at the New Museum hoarded art and trash, here they depend on an art medium.
Painting did not do too badly either, much of it abstract painting. The Whitney had Stuart Davis between Cubism and Pop Art and, only half a century or so after she began painting, Carmen Herrera. The Guggenheim gives its ramp to Agnes Martin, an artist who demands space and time, while MoMA had Edgar Degas at his most daring, although in monoprints. Galleries and small institutions, though, take on much of the job of looking ahead or looking back—as with Ronnie Landfield, Rosemarie Castoro, and Walter Darby Bannard just days after his death. It takes a posher gallery to display the last abstractions by Philip Guston and late Mark Rothko and his "dark palette." A dark year ends with a salutary darkness.
2. Women in art
Go ahead: complain about disdain for women. Still, this year they filled museums everywhere. I have already mentioned more than a few, but the Met Breuer had its very first solo show with a woman, Nasreen Mohamedi, and continued with early Diane Arbus. The New Museum also had, less to my taste, Nicole Eisenman and half a dozen more. The Frick, of all places, gets into the business of contemporary art with Arlene Shechet. The Drawing Center opened the year with Louise Despont and Jennifer Bartlett and concludes with Olga Chernysheva and Cecily Brown.
Heading further afield? Mierle Laderman Ukeles took her "maintenance art" to the Queens Museum and Michelle Stuart her natural histories to the Bronx. At the Brooklyn Museum, Marilyn Minter gets slick and raunchy as ever, but with a clearer sense of just how she went over the top. Katharina Grosse painted a house all the way out past Rockaway Beach, where a hurricane and climate change had slated it for demolition. In the galleries, Aneta Grzeszykowska and Joan Semmel reclaimed or dismembered their self-images, as did Mira Schor. Others argued for women at the origins of digital and video art.
Even MoMA gets into the act, with Nan Goldin and a haunting revival of The Ballad of Sexual Dependency. Its survey of the Russian avant-garde also gives women pride of place. Not that the bad boys are going away entirely—not with overblown museum shows of Tom Sachs, Kai Althoff, Fischli/Weiss, and Mark Leckey or with work coming up by Alan Vega. Another wealthy gallery closes its most lavish space with Paul McCarthy. Excuse me if I dissent from them all. Still, one can take comfort in good and bad girls alike.
3. The black male
One can also take comfort in the black male. It may sound like an odd place to look for comfort, and it may also sound like a curatorial cliché. Still, artists this year had every chance to reflect on themselves and African American community. Doing so gains added urgency from Black Lives Matter and Donald Trump. Ronald Lockett pictured a deer in the headlights, and a searing film collage by Arthur Jafa brings that urgency home more than anything I could imagine. As artists, they necessarily present a varied and personal perspective.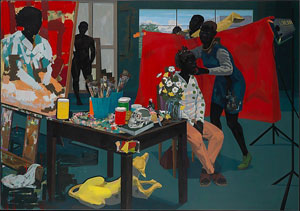 Their very differences insist on the African American experience as more than a cliché. Rodney McMillian managed three exhibitions, each close to a midcareer retrospective. He wore thin in the process, but it did multiply perspectives. So does a quirky show of black cowboys, who do indeed exist. More chastening and revivifying, Rashid Johnson in Chelsea had the chance to revisit his obsessions, and he has plenty. On a still larger scale, Kerry James Marshall at the Met Breuer moves from himself as the invisible man to the panorama of a lifetime.
Yes, there are also African American women. I could have led with them in discussing either painting or women, but that, too, might lessen their distinction. Alma Thomas did not receive the retrospective she deserves, at the Studio Museum, but it was enough. Her dabs and color fields give new meaning to "people of color." Lorraine O'Grady at the Studio Museum and Beverly Buchanan in Brooklyn meditate more directly on race and community. Buchanan's fragments struggle to become monuments, but they situate her between politics and family—and between folk art and Minimalism.
4. We survived
Be grateful for one last thing: we survived. At least some of us did, and it was not a foregone conclusion. I know, I have said this before in wrapping up past years, but it keeps getting trickier. In particular, it gets trickier to sort out winners from losers as museums expand, galleries proliferate, and yet others abandon the whole idea of a "brick and mortar" gallery. A panel on boasted instead of a "hybrid model," but it risks leaving midlevel dealers and emerging artists behind.
One could easily miss a further sign of health, quite apart from gold toilets, the sprawling Lower East Side, or museum blockbusters. It comes, in fact, in a paring back. The Met continues its small "focus" exhibitions—this year with Jan van Eyck, J. M. W. Turner, and a portrait of Ben Franklin. MoMA, too, has begun to focus on moments in Modernism's history. The display of Soviet art also draws entirely on its collection. And galleries apart from the blue chips thrive on restrictions every day.
The Whitney has more space now for its collection as well, and its new home holds up even better in its second year as a venue for art. With people gathering in the lobby and outside, it even looks like less of an eyesore. I can end with one other welcome survivor, the Whitney's former home on Madison Avenue. As the Met Breuer, it reopened looking better than ever, even if it left the Met's finances that much further in ruins. It does not have to act as an entire museum, with a permanent collection, but it will be here for another eight years. With luck, so will art and America.

Rob Pruitt ran at Gavin Brown's Enterprise through December 18, 2016, and Ronnie Landfield at Stux Haller through February 20. Paul McCarthy ran at Hauser & Wirth through February 4, 2017. Of course, this site has reviewed pretty much all this and more at length. You can now also see year-end reviews for 2007, 2008, 2009, 2010, 2011, 2012, 2014, 2015, and 2017.